Selangor Football Club today made history by becoming the first football team in the world to have their own Mobile Legends: Bang Bang (MLBB) team to compete in the Mobile Legends Professional League (MPL).
The announcement ceremony was held at the FAS Training Centre, Shah Alam and witnessed by Selangor FC Chairman, His Royal Highness Tengku Amir Shah Ibni Sultan Sharafuddin Idris Shah Haj and was also attended by the Selangor Sports Exco, YB Tuan Mohd Khairuddin bin Othman, Executive Director of Majlis Sukan Negeri Selangor, Tuan Mohamad Nizam bin Marjugi, Chief Operating Officer of Selangor FC, Aladdin Mostafa, Head of Yoodo, Chow Tuck Mun, Mobile Legends Professional League (MPL) Malaysia Marketing and Business Development Lead, Fikri Rizal Mahruddin, Managing Director of Protech, Datuk Ronnie Chong.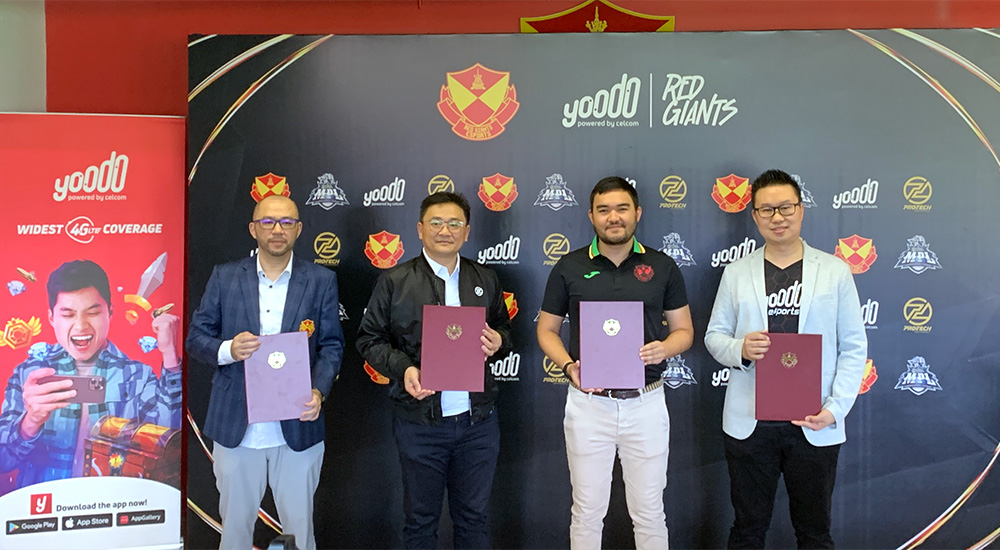 This announcement will see Selangor FC have seven players who will compete in the Mobile Legends Professional League (MPL) Malaysia that will start in early February soon.
Known as 'Yoodo Red Giants', this Mobile Legends SFC squad will be represented by Muhammad Yaacob aka ESHA OHANA (23 years old), Mohd Hakim aka KAIZER (22 years old), Syed Naufal Fitri aka SYF (20 years old), Ilman Zareef aka GOJES (19 years old), Muhammad Amir Zakwan aka ZAKQT (19 years old) and Muhammad Haqqulah aka SEKYS (16 years old). The team will be managed by Mohd Erwin aka RUSH (26 years old), an individual who is no stranger to the Mobile Legends scene.
Among the best achievements of this squad in 2022 is successfully qualifying to Mobile Legends Professional League (MPL) Malaysia Season 11, besides being crowned as champions for several major tournaments such as ESportsMY Championship, Malaysia Semi Pro League, National Youth Sports Day, GMX Cup, Nescafe SMG Cup, Melaka Chief Minister Cup and Iskandar Puteri Tournament.
According to Chow Tuck Mun, Head of Yoodo, "We are thrilled to partner with Selangor FC in support of the new Yoodo Red Giants team. Since our establishment, Yoodo has always been an ardent supporter of the local esports arena, and this is another testament of our continuous support to the development of the industry. All the best to the Yoodo Red Giants and we hope the team will garner massive success and make Malaysia proud."
"We are proud to welcome Yoodo Red Giants to the upcoming MPL Malaysia Season 11! With their rich history in football, we believe their values and work ethic will carry over to their esports team. We are excited to have them join us and with their addition, MPL Malaysia will continue growing and become one of the world's best and most competitive esports leagues." stated Fikri Rizal Mahruddin, Marketing, and Business Development Lead, MPL Malaysia.
Chief Operating Officer of SFC, Aladdin Mostafa thinks this collaboration is a new chapter for SFC as a football club and believes both parties will benefit from this partnership.
"We at Selangor FC are very excited about this announcement. Who would have thought that a football team could form its own Mobile Legend esports team? We already have an esports team for FIFA and we are proud to break into the Mobile Legends market because we know that this industry has its own followers and opportunities. We will provide our players with the same kind of support that all our athletes receive," said Aladdin.
Also expressing his excitement, the Crown Prince of Selangor who is also the Chairman of Selangor FC, His Royal Highness Tengku Amir Shah Ibni Sultan Sharafuddin Idris Shah Alhaj had a chance to share a few words shortly after the signing ceremony.
"We would like to welcome these Mobile Legends players as part of the Red Giants family and I hope that Yoodo Red Giants will be able to represent us well as well as being good role models to their peers and fans," said His Highness.
Demi Kebanggaan!