TikTok, a leading destination for short-form mobile video, is today launching the youth-focused #BeliaSediaUndi campaign to educate, empower and equip voters with the information they need in view of the upcoming General Elections 15 (GE15) in Malaysia.
With the full implementation of Undi18, the constitutional amendment that lowered the minimum voting age from 21 to 18 years old, Malaysia is expected to add another 5.8 million voters who will be exercising their right to vote for the first time. As such, TikTok's #BeliaSediaUndi is conceived to ensure that these voters exercise their rights and can make an informed decision when they head to the polls on November 19, 2022.
As part of #BeliaSediaUndi, TikTok is launching a series of initiatives in the lead-up to GE15, which includes the launch of a dedicated elections guide, strategic youth outreach, and the strengthening of policies for government, politician, and political party accounts (GPPPA).
Dedicated General Elections 15 (GE15) Guide
In the lead-up to the elections, TikTok has created an elections guide that will lead users to accurate and important information that they need to be aware of. Here, users can also refer to the microsite for election-related news and updates that can be accessed via the search banner when users search for elections-related terms such as "Belia Sedia Undi," "GE15," "PRU15", "Malaysia Elections" or "Pilihan Raya", post content, or start a live room using elections-related hashtags.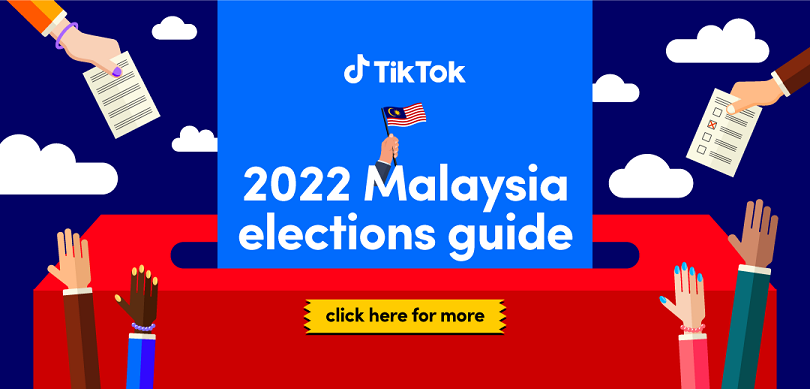 TikTok's elections guide will provide useful information for both first-time and returning voters on the election process. The election guide will include details such as who is eligible to vote, when you can vote, and how they can do so. The interactive page will also have a countdown to the voting day so that users can be reminded of when they can exercise their rights to vote.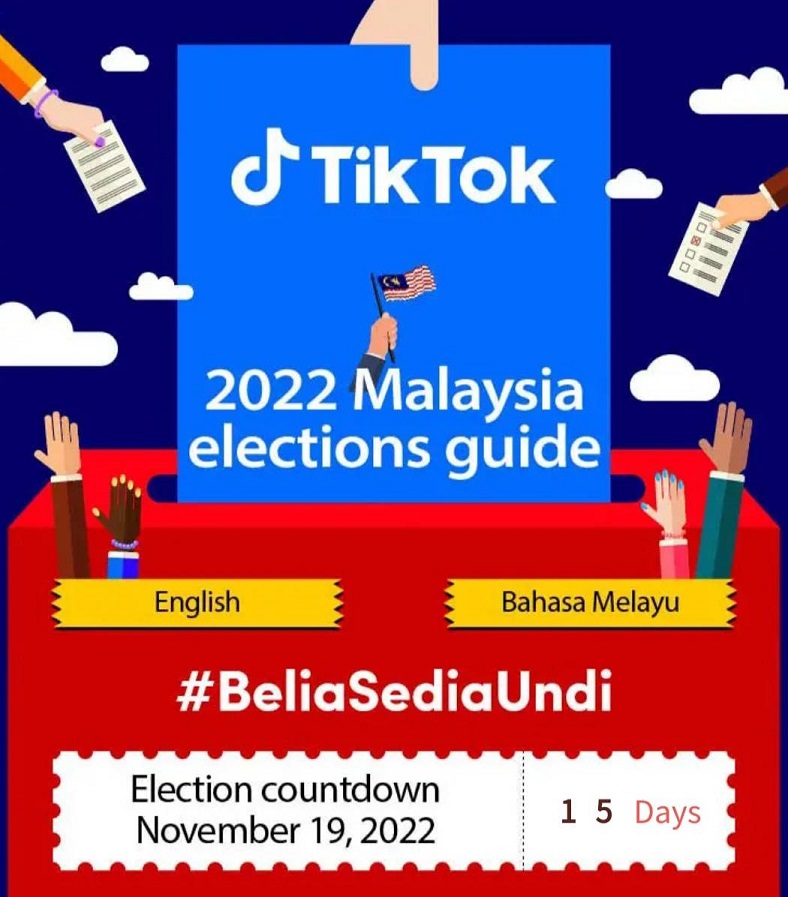 Kristoffer Rada, Head of Public Policy at TikTok Malaysia shares, "We want to continue taking steps towards ensuring this content is safe, informative and most of all, accurate at a time when our users need to be kept abreast of the current situation here in Malaysia. We take our users' experience very seriously and want to direct them to resources and information on the platform that is trustworthy and reliable."
As part of its fact-checking efforts to limit the spread of misinformation on the platform, TikTok continues to partner Agence France-Presse during this period. Should users see any content that is harmful or inaccurate, they can report it to TikTok by simply tapping on the 'share' button onscreen and selecting the 'report' option in the following menu.
Combating Misinformation with the Right Information
The launch of the #BeliaSediaUndi campaign today featured a panel discussion headlined by Mediha Mahmood, Executive Director at the Communications and Multimedia Content Forum of Malaysia (CMCF); Kristoffer Rada, Head of Public Policy, TikTok Malaysia; Amir Fareed Rahim, Director of Strategy at KRA Group and Aira Azhari, Senior Manager for the Democracy and Governance Unit at the Institute for Democracy and Economic Affairs (IDEAS).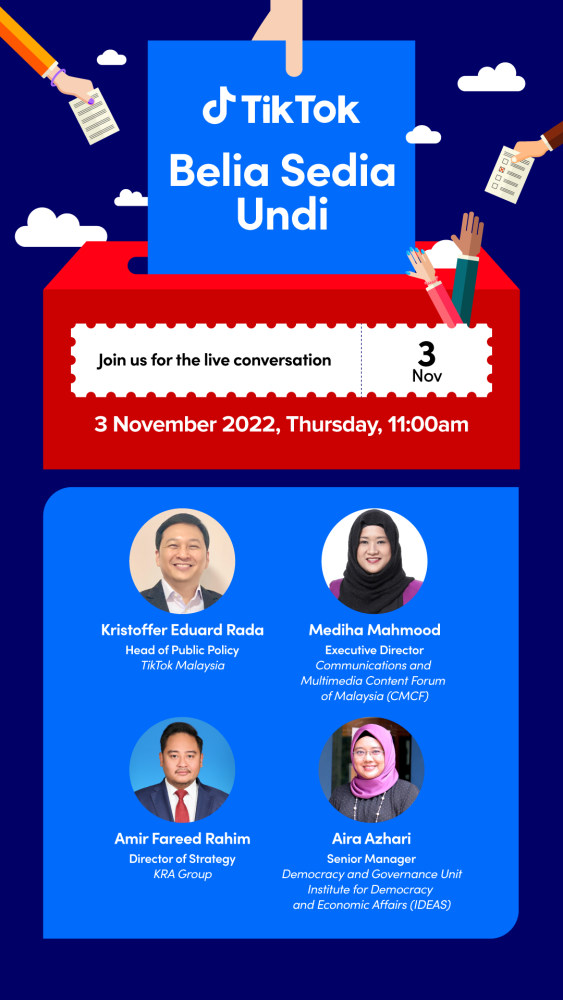 Titled "GE15: Empowering Youth to Combat Misinformation", the panel discussion saw each speaker sharing their insights on digital literacy being key in an age where information is readily available online and helping the young discern between facts and misinformation, especially, for a key nationwide event such as the general elections.
Mediha Mahmood, Executive Director of CMCF shares, "The youth in Malaysia are our future, and they each have a pivotal role to play in the development of our nation – be it as leaders, followers, campaigners or voters. It is essential that they are given the opportunity to exercise their rights while also being discerning of the information they consume online. We hope that campaigns and open discussions such as this will help them navigate the events of these next few weeks well, and they can do their part in deciding the future of our country."
Mr Rada concurs, saying, "Over the years, the methods in which users consume information have shifted to more digital, instant avenues. TikTok, as an entertainment platform first and foremost, is also now being used as a tool for sharing important information. The launch of #BeliaSediaUndi is our take on providing our users and youth with the right information so they are ready and empowered to make their decision on the ballot paper."
A youth-to-youth outreach through university collaboration
TikTok is also organizing an outreach event with Media Research Cluster – MENTION, Universiti Kebangsaan Malaysia (UKM), featuring a panel discussion by TikTok youth creators with students to build a greater understanding of digital literacy, foster critical thinking and tolerance online.
Taking place on November 9 at UKM, the event will also feature a talk by TikTok to inform young voters about TikTok's trust & safety features, GE15 guide, and TikTok's Community Guidelines.
Funding and monetization disallowed for Government, Politician and Political Party Accounts (GPPPA)
In September, TikTok announced changes to its policies for government, politician, and political party accounts (GPPPA) that prohibit them from monetization opportunities on TikTok.
With this being enforced ahead of the GE15, accounts belonging to politicians and political parties will not have access to TikTok's advertising features, and that includes gifting, tipping, and e-commerce.
They will not be allowed to share videos asking for donations, or direct people to a donation page on their website. This will enable people to discuss important issues relevant to their lives and current situations while also protecting the creative, entertaining and safe space built by TikTok.