Blueshark, the leading smart electric scooter provider, alongside EP Manufacturing Berhad (EPMB), has announced a multi-stakeholder partnership with several local industry players, including Blueshark Ecosystem Sdn Bhd and the Malaysian Green Technology & Climate Change Corporation (MGTC) as part of its market introduction in Malaysia.
Blueshark's arrival in Malaysia is set to champion sustainable mobility for Malaysians by merging life-changing technology with a holistic approach to green urban mobility. The aim is to catalyse business logistics by empowering corporates and small-medium enterprises (SMEs) while also facilitating the gig economy; thus, providing greater access to career opportunities for the B40 community.
Beyond the product and business model, Blueshark is also committed to enhancing and expanding infrastructure for two-wheel electric vehicles (2WEV) with the first viable ecosystem that is designed to support its growth on a national scale.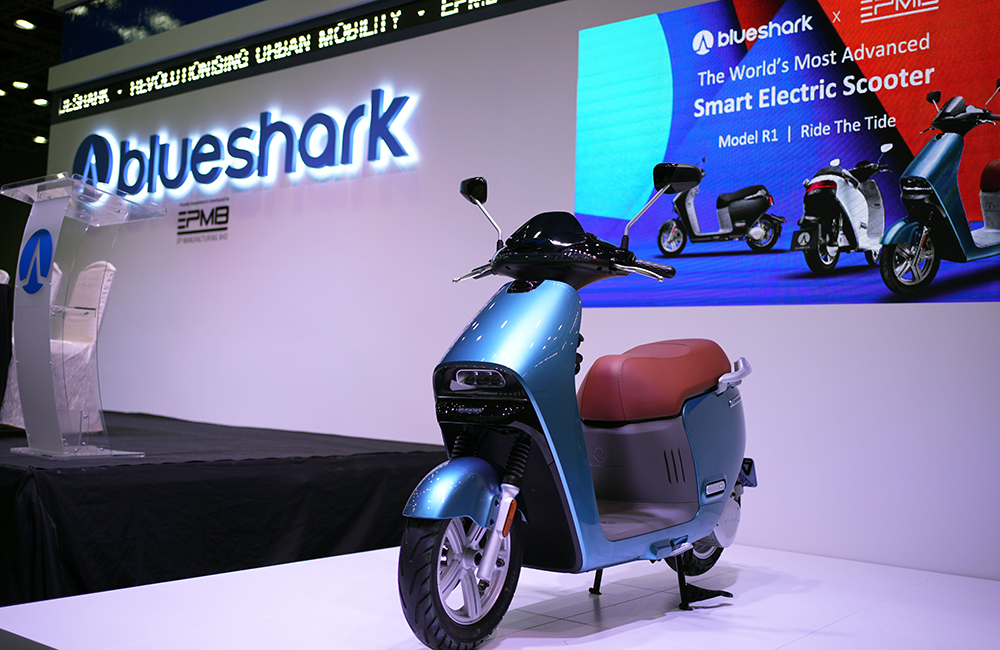 Zulkefly Bin Baharuddin, Deputy Executive Chairman (Non-Independent) of EP Manufacturing Bhd (EPMB) said, "As the world moves towards greener mobility and decarbonisation, we believe the most effective way to accelerate EV adoption is by providing consumers access to a superior, yet affordable product, powered by the most viable energy solution and complete ecosystem to support it. On that note, we believe that as an industry first-mover, Blueshark is the most credible brand with the technology, infrastructure and market-readiness at this juncture which can deliver exactly that."
"Blueshark's introduction in Malaysia is set to champion sustainable mobility for Malaysians whilst also catalysing business logistics by empowering both corporates and small-medium enterprises (SMEs) and facilitating the gig economy. Merging life-changing technology with a holistic approach to green urban mobility, Blueshark aims to create opportunities for Malaysians by providing a safe, accessible and carbon neutral alternative for their daily travels", Zulkefly added.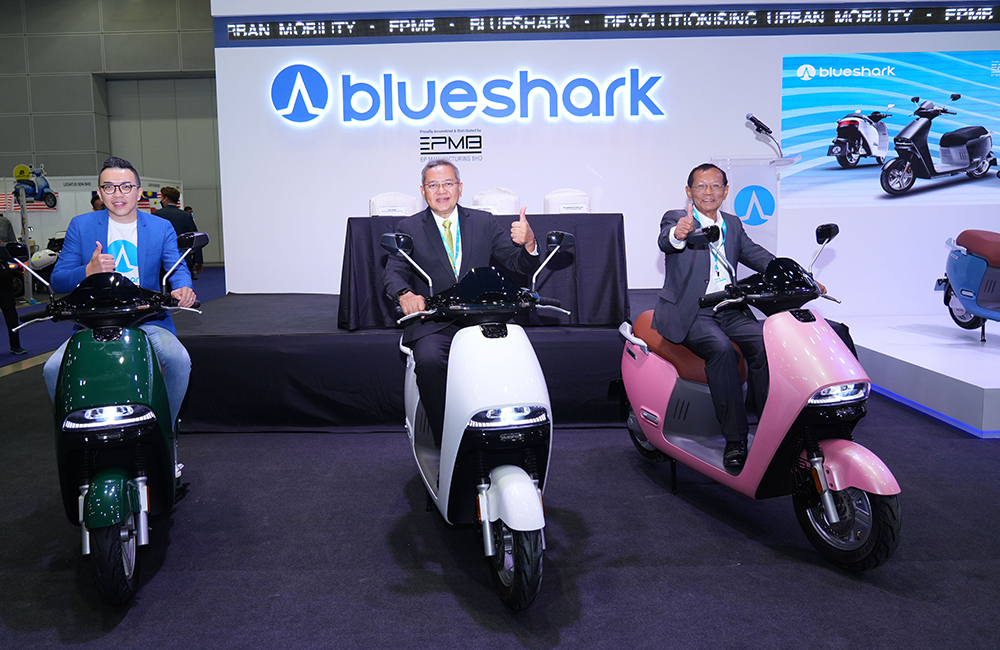 Jeff Chong, Chief Executive Officer (ASEAN) of Blueshark Ecosystem Sdn Bhd said, "In what is an unprecedented move in automotive history, we believe that with our unique product ecosystem and business model, we will be making our products accessible to all, especially the B40 group and we will be putting a lot of focus on empowering this underserved group of people with subsidies, green jobs creation, green entrepreneurship programs and much more."
At the International Greentech & Eco Products Exhibition & Conference Malaysia (IGEM) 2022 today, Blueshark inked an MoC with its key industry partners to create sustainability-led job opportunities for the B40 community in Malaysia while also facilitating the adoption of smart electric scooters here. The partners comprise of their official manufacturer and distributor, EPMB, alongside Blueshark Ecosystem Sdn Bhd and MGTC. MoCs with other key infrastructure and operational partners will also be signed in the near future.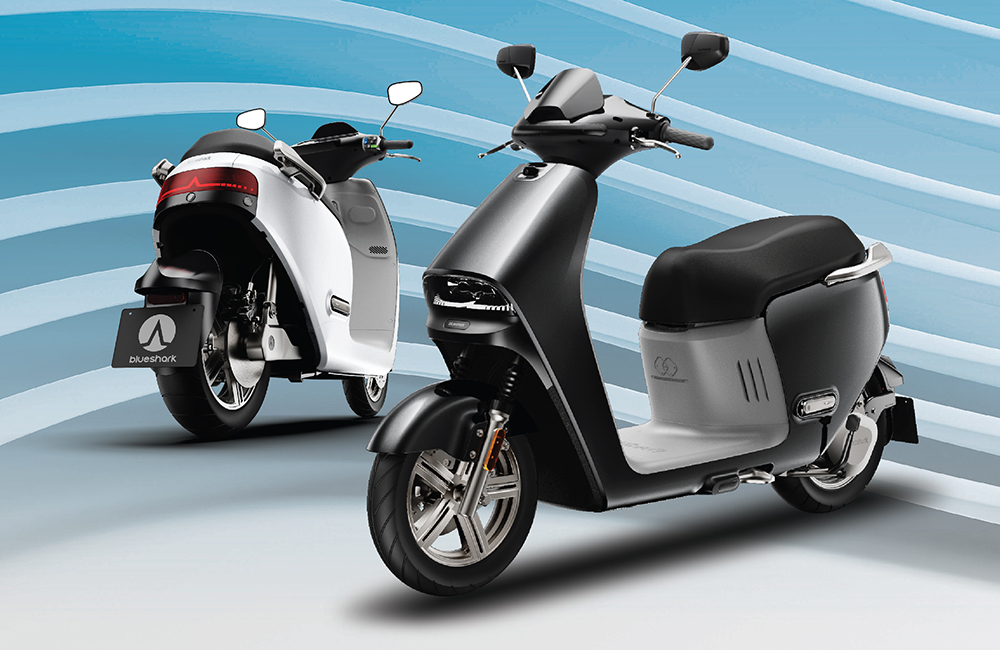 An upcoming pilot programme in the first phase in conjunction with Blueshark's respective delivery and infrastructure partners to demonstrate the feasibility of its first-to-last mile electrified platform and market-ready ecosystem in the Klang Valley to further the agenda of safe, sustainable mobility at a lower total cost of operation.
With the Blueshark R1 smart electric scooter, riders will be able to experience the integrated ArkRide OS that is proprietary to BlueShark, complemented by a cutting-edge lithium iron phosphate (LFP) battery-swap technology to enable a seamless recharge while on-the-go. Introduced with a commercially viable leasing model, Blueshark aims to enable SMEs and corporates to lower total running costs across the entire ecosystem – making Blueshark a smart choice for both the business and for environmental sustainability. This, in turn, also uplifts communities in the lower income bracket with access to green job opportunities.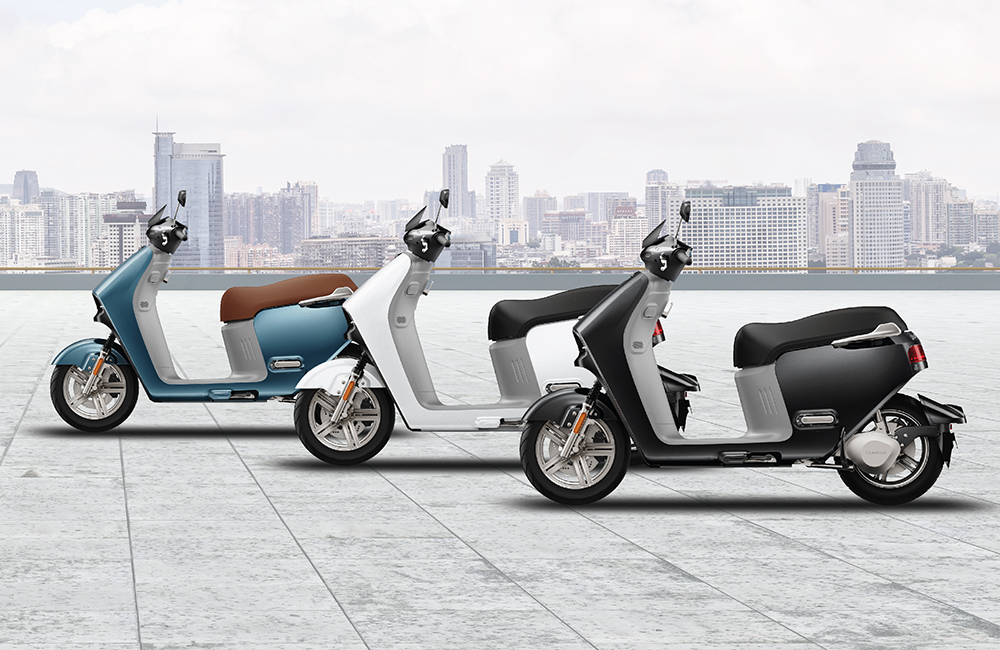 With Blueshark's first 3S centre opening soon in Glenmarie, this underlines their commitment to enhancing infrastructure and providing strong ecosystem support for riders during the pilot programme and beyond.
To learn more about how Blueshark is revolutionising green urban mobility in Malaysia, please visit www.blueshark.com.my.