Domino's Pizza Malaysia and Singapore has joined hands with the critically acclaimed open-world adventure role-playing game Genshin Impact and the leading digital entertainment enabler – UniPin for the launch of an exclusive collaboration with collectibles, branded merchandise and unforgettable treats that are up for grabs for Malaysians and the Singapore community. Domino's customers can look forward to exciting value deals and branded merchandise with this collaboration. Customers can get Genshin Impact collectibles with the launch of Domino's Pizza Emergency Food Combo.
The collaboration will involve selected Domino's stores with Genshin Impact-themed decor and a series of roadshows across the nation, lucky draws and social media activities to immerse fans and Domino's customers giving them a chance to participate in fun activities and contests. Customers and cosplayers alike will be able to take pictures in Domino's outlets with Genshin Impact branded materials, use hashtags #GenshinImpactxDominos and #DominosEmergencyFoodCombo, enter a lucky draw and get a chance to win UniPin Credits.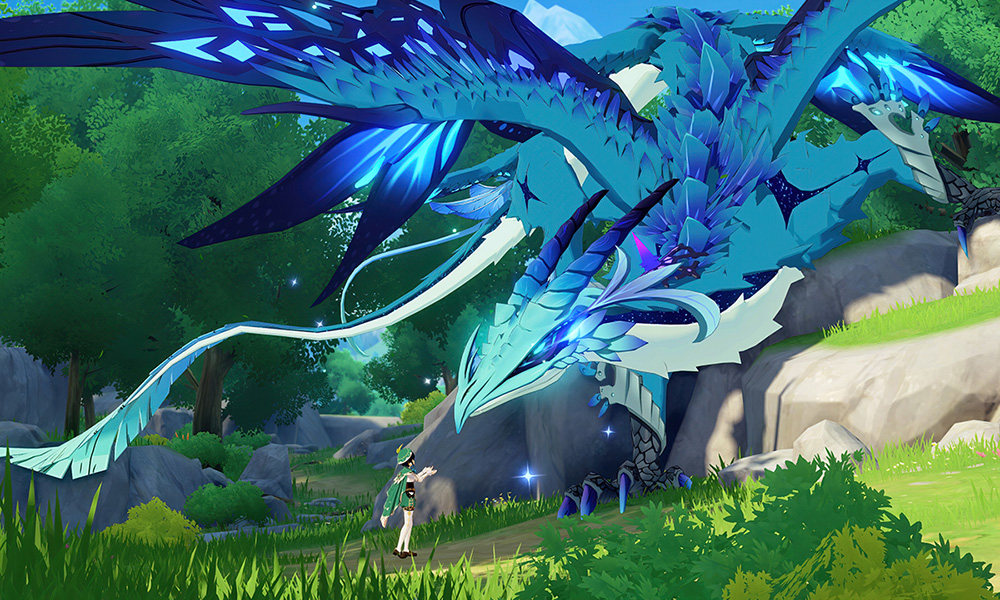 Meanwhile roadshows will kick off in Malaysia stores, beginning from Kedah on 16th September, and then followed by nine other states from 17th September to 23rd October. Whereas for Singapore, a full day roadshow on the 8th October will be held in Domino's Kebun Baru in Singapore. Each roadshow will commence at 12pm and continue to 6pm.
Below are the details of the selected stores in Malaysia that will showcase Genshin Impact decor. The first 10 stores will also run roadshows across the mentioned dates and states.
| | | | |
| --- | --- | --- | --- |
| State / Location | Store Name | Roadshow Date | Address |
| MALAYSIA | | | |
| Kedah | Domino's Alor Setar 2 | 16-Sep | 213 (A,B,C) Medan Putra, Seberang Jalan Putra, 05150 Alor Setar, Kedah. |
| Penang | Domino's Bayan Lepas | 17-Sep | 303-1-31, Krystal Point Business Centre, Jalan Sultan Azlan Shah, 11900 Bayan Lepas, Pulau Pinang. |
| Perak | Domino's Kampar | 18-Sep | 9, Jalan Batu Karang, Taman Bandar Baru, 31900 Kampar, Perak. |
| Sabah | Domino's Bundusan | 1-Oct | Lot A1-2, Block A, T1@Bundusan, Jalan Bundusan, Jalan Penampang, 88300 Kota Kinabalu, Sabah. |
| Johor | Domino's Bandar Baru Uda | 9-Oct | 16-01 & 18-01, Jalan Padi Emas 1/7, Bandar Baru Uda, 81200 Johor Bahru, Johor. |
| Melaka | Domino's Kota Laksamana | 10-Oct | No. 45 (Ground Floor), Jalan KL 3/8, Taman Kota Laksamana, Seksyen 3, 75200 Melaka. |
| Kelantan | Domino's Kota Bharu | 14-Oct | PT. 178, 179, Jalan Hamzah, Seksyen 19, 15050 Kota Bharu, Kelantan. |
| Terengganu | Domino's Kuala Terengganu | 15-Oct | No.1D & 1E, Ground & Mezzanine Floor, Jalan Air Jernih, 20300 Kuala Terengganu, Terengganu. |
| Pahang | Domino's Bandar Indera Mahkota | 16-Oct | No. A1, Ground Floor, Jalan IM 7/3, Bandar Indera Mahkota, 25150 Kuantan, Pahang. |
| Kuala Lumpur | Domino's Sri Hartamas | 23-Oct | Hartamas Shopping Centre, Lot G-13 ,G-13A, Ground Floor, Jalan Sri Hartamas 1, Sri Hartamas, 50480 Hartamas, Federal Territory of Kuala Lumpur. |
| Johor | Domino's Parit Raja | – | No. 24, Taman Universiti, 86400 Parit Raja, Johor. |
| Negeri Sembilan | Domino's Seremban 2 | – | 335, (G1 & G2) Jalan S2 B8, Seksyen B, Seremban 2, 70300 Seremban, 70300 Negeri Sembilan. |
| Perak | Domino's Meru Raya | – | No 24 & 26, Jalan Meru Bistari 2B, Medan Baru Bestari, 30020 Ipoh, Perak |
| Perlis | Domino's Arau | – | 14-1A, No, 2, Jalan 2, Kompleks Tok, 02600 Arau, Perlis. |
| Selangor | Domino's Semenyih | – | 42A, Jalan Tps 1/2, Taman Pelangi Semenyih, 43500 Semenyih, Selangor. |
| Selangor | Domino's Setia Alam | – | 9-1 (No, 2), Block 2, Jalan Setia Prima S U13/S, Setia Alam, 40170 Shah Alam, Selangor. |
| Selangor | Domino's Kuala Selangor | – | No. 23 & 25, Ground Floor, Jalan Warisan 1, Taman Warisan, Kuala Selangor, 47000 Selangor. |
| Selangor | Domino's Kota Warisan | – | KIP Sentral, 15-G, Jln Warisan Sentral 1, Kota Warisan, 43900 Sepang, Selangor. |
| Selangor | Domino's Panglima Garang | – | No. 42, Ground Floor, Jalan Utama 57, Taman Jaya Utama, 42500 Telok Panglima Garang, Selangor. |
| Kuala Lumpur | Domino's Cyberjaya Cyber 5 | – | Lot 15-1 Galleria Cyberjaya, Jalan Teknokrat 6, Cyber 5, 63000 Cyberjaya, Selangor. |
As part of the roadshow, Malaysians will get the opportunity to meet Genshin Impact cosplayers in the Test of Vanity Photo Op, take part in a physical contest; Test Of Strength, and be part of precision activities; Test of Agility. Malaysians will also be able to enjoy many more games and activities as they experience the roadshow like Test of Wits (a thinking activity that includes quizzes, charades and memory matches) and lucky draws to win a variety of giveaways including Genshin Impact merchandise and UniPin Credits. Domino's will also be offering pizza vouchers at the various roadshow locations.
Chief Executive Officer Domino's Pizza Malaysia, Shamsul Amree said "We at Domino's Pizza Malaysia remain strong to our promise of "It's All About You" and by collaborating with Genshin Impact and UniPin we aim to give customers and fans amazing experiences that bring pizza and gaming together."
Chief Marketing Officer Domino's Pizza Malaysia, Singapore & Cambodia, Linda Hassan said "We are truly excited to work together with our partners to engage gamers and we are absolutely sure that the Malaysian and Singapore community will certainly be eager to play this game with their friends and family while enjoying delicious pizzas with Domino's."
"This brings an opportunity to combine gaming with the ultimate food for gamers, and it is our pleasure to collaborate with epic brands such as Genshin Impact and UniPin who are well-known and respected by gamers to provide one-of-a-kind merchandise and collectibles for the Malaysian and Singapore community. Our amazing Emergency Food Combo deals are sure to provide great value to customers as they immerse themselves in the game with friends and loved ones. We couldn't be happier to bring pizza and gaming together", she added.
Chief Executive Officer UniPin, Ashadi Ang, said "UniPin is delighted to be a part of this collaboration with Genshin Impact and Domino's Pizza as they are known as strong brands and reputable companies in their own industry."
He added; "In this collaboration, we aim to pull the youth and community together, giving back to them by providing additional value toward each party's loyal customer and bring forward better innovation to improve gaming experience across Southeast Asia. Please expect more from us since we're preparing great combos for you to enjoy."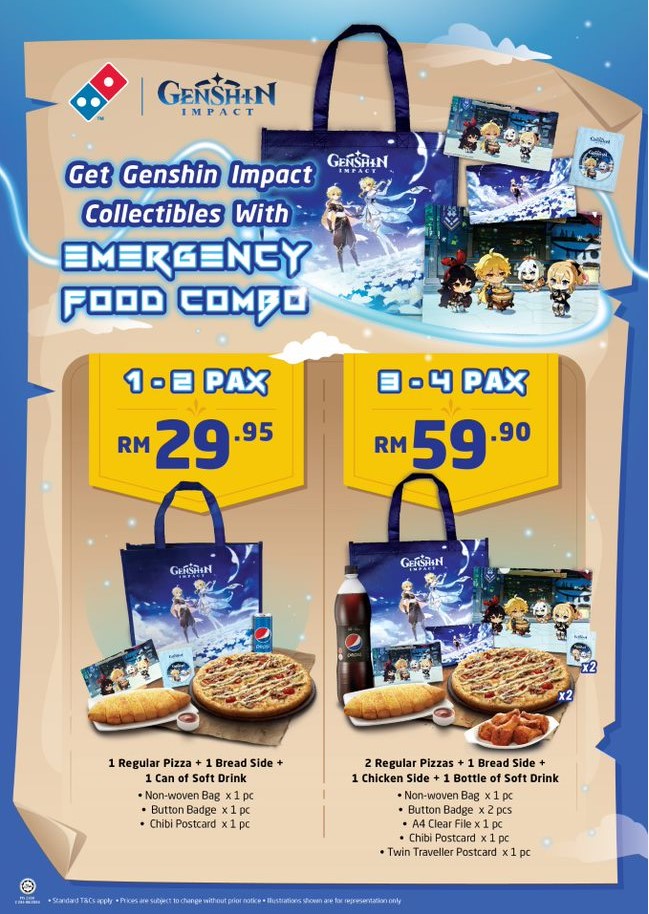 Valid for both delivery and takeaway, these value Emergency Food Combos are perfect for sharing with friends and family:
Emergency Food Combo (1-2 Pax) @ RM29.95
1 Regular Pizza + 1 Bread Side + 1 Can of Soft Drink
Non-woven Bag x 1 pc
Button Badge x 1 pc
Chibi Postcard x 1 pc
Emergency Food Combo (3-4 Pax) @ RM59.90
2 Regular Pizzas + 1 Bread Side + 1 Chicken Side + 1 Bottle of Soft Drink (1.5L)
Non-woven Bag 1 pc
Button Badge x 2 pcs
A4 Clear File x 1 pc
Chibi Postcard x 1 pc
Twin Traveller Postcard x 1 pc