Astro Radio has recently expanded access to youthful content specifically for youths and indie music fans through the Rakita Radio and Podcast channels on the SYOK application. Rakita 107.9 #MuzikPalingLit (broadcast in Malay) has been uploaded and started broadcasting in April 2022 on the SYOK application.
Rakita (Radio Kita Sdn. Bhd.), which has been broadcasting since January 2019 has found a place in the hearts of listeners and followers who are mostly youngsters in the age range of 15 to 34 years old as it always publishes the latest, informative and youthful content for young people.
Through the variety of content published that focuses on youth such as talk segments with young talents, notable documentaries for the indie community, podcast series discussing youth agendas, as well as playing songs with unique genre options such as indie music consisting of several sub-genres such as pop, ballad, rock, hip hop, metal, punk and many more. Rakita is well known among indie fans, especially within the indie music community being the primary media brand that supports and participates in the development of the indie industry.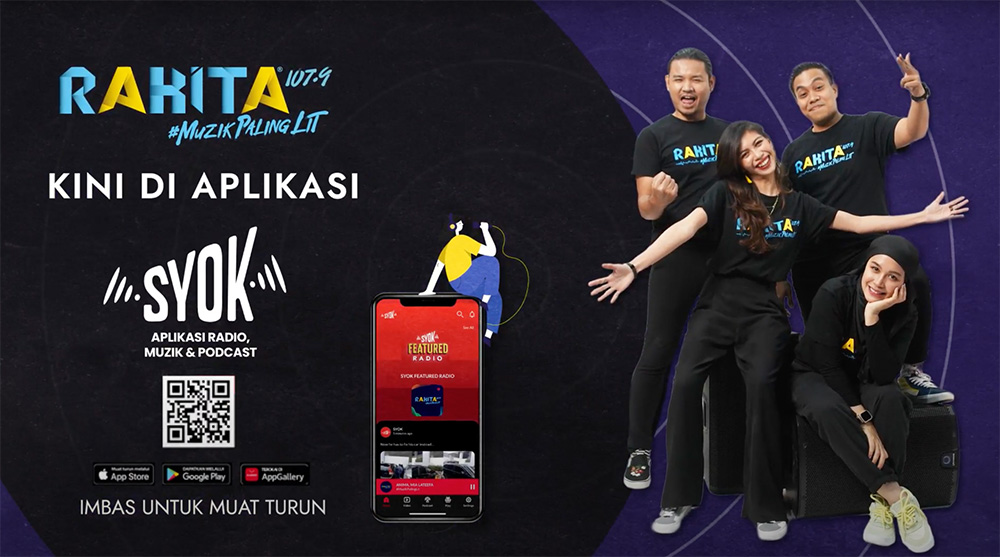 Since Rakita introduced an indie song chart called 'Carta Indie Kita' and a local English song chart called 'Lokalah Chart Show', the media brand continues to be the focus of indie music fans in the country. Then in 2020, Rakita together with strategic partners who share the same vision in developing the country's indie music industry announced the launch of the Anugerah Lagu Indie (ALI) which was held for the first time in Malaysia. ALI 2020 has recorded a total of 630 song entries while ALI2021 showed an increase to 757 song entries. This overwhelming response has proved that the group of independent musicians has its followers and is very eager to seize the opportunity to showcase their talents to the world. The annual indie song awards, ALI, is expected to kick-off this August so indie fans, rejoice!
Ahmed Faris Amir, Chief Executive Officer of Rakita said, "Rakita wants to be the voice of Malaysian youths who are not getting enough attention by sharing their talents, thoughts, and opinions. Subsequently, raising public awareness and their interest in a progressive lifestyle with youth-style delivery. That is why we always find ways to expand our access and increase the number of channels to make it easier for the public to enjoy a variety of unique indie community-centric content featured on Rakita. We hope that with the addition of channels to online listeners through SYOK, the number of Rakita online listeners can be increased. Thanks to Kenny Ong and team (Astro Radio) as strategic partners who gave us this opportunity to reach out to more young-minded followers like us."
Astro Radio Chief Executive Officer, Kenny Ong said, "We are very excited about the strategic partnership with Rakita. Through this collaboration, we are able to engage the indie fans in Malaysia. SYOK listeners and youths in Malaysia, who comprise some of our 17.1 million weekly listeners, can now enjoy a variety of fresh content from Rakita such as a wide selection of music genres and podcasts, interesting and unique, on the SYOK app now."
Apart from the Anugerah Lagu Indie, Rakita also publishes a variety of youth-specific content such as Suara Lit, an inspirational talk segment with youth talents in sports, entertainment, business, education, and more; Bisnes Muda Mudi, an exclusive interview segment with young entrepreneurs; and Akar Muda, a segment to discuss issues, policies, programs, as well as others.