realme Malaysia officially unveils its latest eye-catching technology with the realme 9 to Malaysians today. The latest addition to the brand's Number Series brings a 108-megapixel camera with the first ever HM6 sensor launched globally, giving users excellent nightscape capabilities to capture the perfect scenery. The world's fastest-growing smartphone brand introduced its latest powerhouse which packs flagship features, offering value for ringgit and accessible to the masses, and will be available for purchase starting 22nd April 2022 at realme Malaysia's Official Store only on Shopee, priced from RM829.00.
"The realme 9 offers cutting edge technology at great value, giving all Malaysians access to dive into a world of accessible quality photography," said Crystal Gong, Brand Director of realme Malaysia. "We are proud to release this powerhouse which offers outstanding photography with 108MP ProLight Camera with the first ever HM6 sensor launched globally, available for Malaysians during this festive season to capture the spark of Ramadhan and the joyous AidilFitri celebration to come."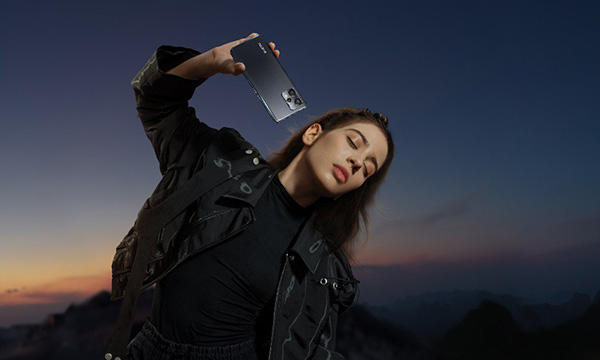 Explore a New World of Photography
Continuing to provide its fans remarkable photography features, the realme 9 boasts being the first device globally packed with the HM6 sensor – introducing its Nonapixel Plus Technology, the feature provides a 9-in-1 function, offering up to 1.6 times maximum brightness as compared to its predecessor, the HM2. With this technology, users are able capture brighter and clearer pictures in lower lighting environments. The sensor also offers users 9x Focusing Precision as compared to the HM2 sensor, providing fast focusing for efficiency in taking clear, stunning shots. Fans are also accessible to the device's super-wide 119-degree lens with an F2.2 aperture, a 4cm macro lens with an aperture of F2.4, and a 16MP front camera with the Sony IMX471 sensor for selfie shots.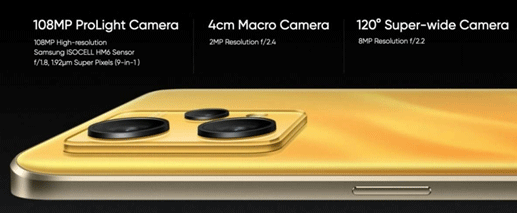 Flagship Screen Experience
The 9 also boasts a 6.4-inch AMOLED screen with 90Hz refresh rate for a smooth user experience. Continuing to provide accessible flagship features, the realme 9 offers 10,240-level brightness adjustment, allowing users to adjust brightness based on the ambient light for eye comfort on its 2.5D Corning Gorilla Glass 5 screen.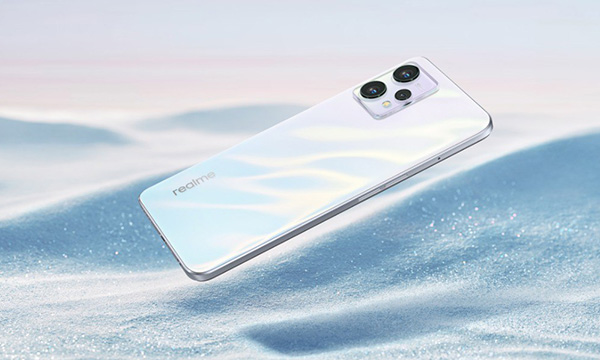 World's First Ripple Holographic Design Solution
The realme 9 comes in three riveting colour options, Sunburst Gold, Stargaze White and Meteor Black, featuring its 7.99mm bezel, thinnest recognized in its price range, and the world's first ripple holographic design created throughsix layers of exquisite craftmanship. Continuing its "Capture The Light" philosophy, the realme 9's back panel was designed with technology that combines Plasma Atom-coating Process with UV-nano Imprinting Process to realize corrugated 3D texture in order to create a design with dynamic corrugated light effect.  The first process involves utilizing plasma electron to transfer trillions of atoms onto a sheet of canvas, creating a gradient colour film as the foundation of the ripple holographic design. Then follows the UV Nano-imprinting process involves laying a sheet of UV-gel layer material on top of a ripple mold, pressed in order to permanently apply the custom 3D rippled design to the smartphone's back panel.

Top Notch Performance in Segment
The realme 9 comes built with the most advanced processor in its price segment in Malaysia, the Qualcomm Snapdragon 680 6nm processor, bringing a game-changing performance to its local fans. The advanced 6nm processor is currently the top of the line in the mid-range segment, efficiently providing 30% lesser power consumption compared to the Helio G96 (12nm processor).
Powering the realme 9 is an octa-core Qualcomm Snapdragon 680 processor paired with up to 128GB large storage. The advanced CPU clock speed is 17% higher than G96. The 9 runs Android 12-based realme UI 3.0 and there is bloatware in the software.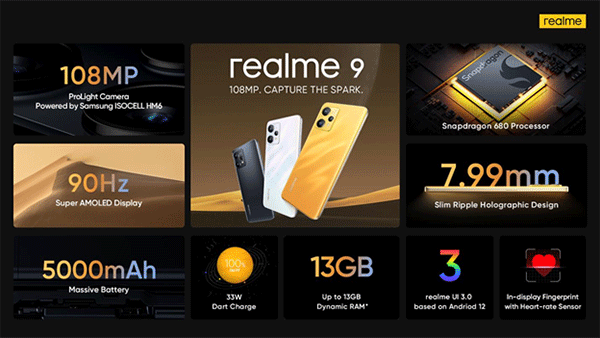 Product Availability
Product
Pricing (RRP)
Availability and Promotion
realme 9 6GB + 128GB
RM899.00
-First sale on 22nd April 2022 with promotional sale at RM829.00, at realme Malaysia's Official Store on Shopee.
-First offline sale on 23rd April 2022 at RM899.00, at all realme Malaysia's official brand stores & authorized dealers
realme 9 8GB + 128GB
RM999.00
-First sale on 22nd April 2022 at realme Malaysia's Official Store on Shopee.
-First offline sale on 23rd April 2022 at RM999.00, at all realme Malaysia's official brand stores & authorized dealers