The first Samsung Galaxy S that comes incomplete in a box – without the earphones and charger. Apart from the packaging, will you consider the Galaxy S21 your next smartphone?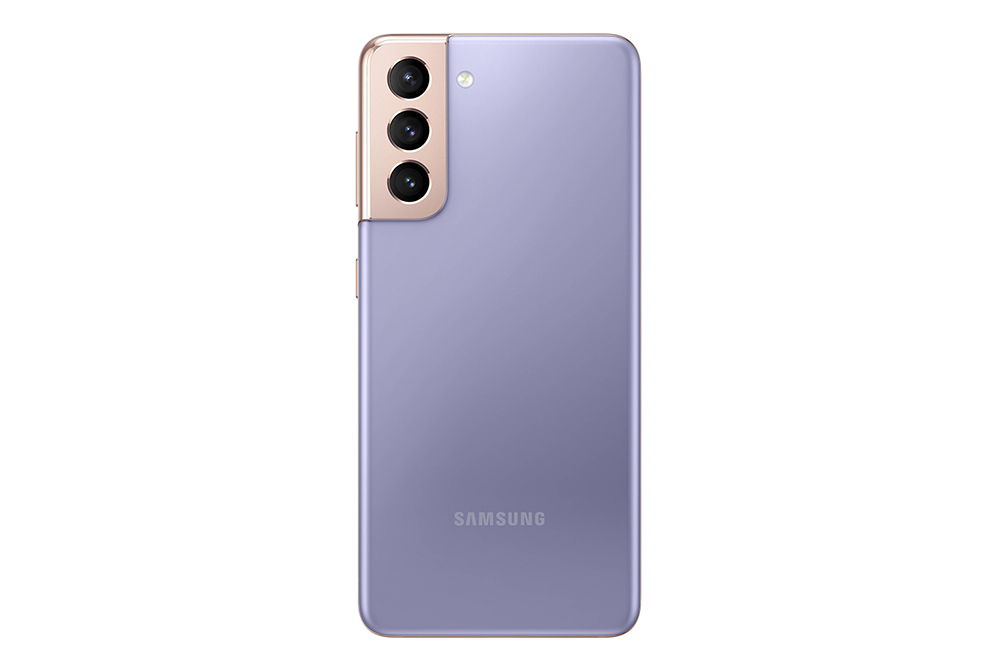 When we got the Galaxy S21 5G unit about 10 days ago for an in-depth review, the initial thought at that point of time for this model was rather impressive. It was the packaging, with a much minimalist and straight to the point presentation. It was compact, just like a box of chocolate but we can expect what was inside – just the phone itself and a cable, that was it, no charger and no earphones.
We could live with because we already have compatible chargers and earphones, that's for current USB-C smartphone users. Samsung has banked in on the probability that giving out the charger and earphones will be somewhat of a waste to most users and at the same time, do some good to the environment by creating less digital waste in the future.
Aesthetic Factor
The Samsung S21 Phantom Violet unit we have got was eyes-pleasing. with its rose gold all around edges gives it an elegant touch. Although the back of the phone is not glass enforced, Samsung has replaced it the high-grade premium plastic that looks like glass. For the first look and feel, it didn't give us the cheap feel, the semi-matt/glossy finishing on the surface was well designed and less prone to fingerprints. This material was first used on the Galaxy Note 20.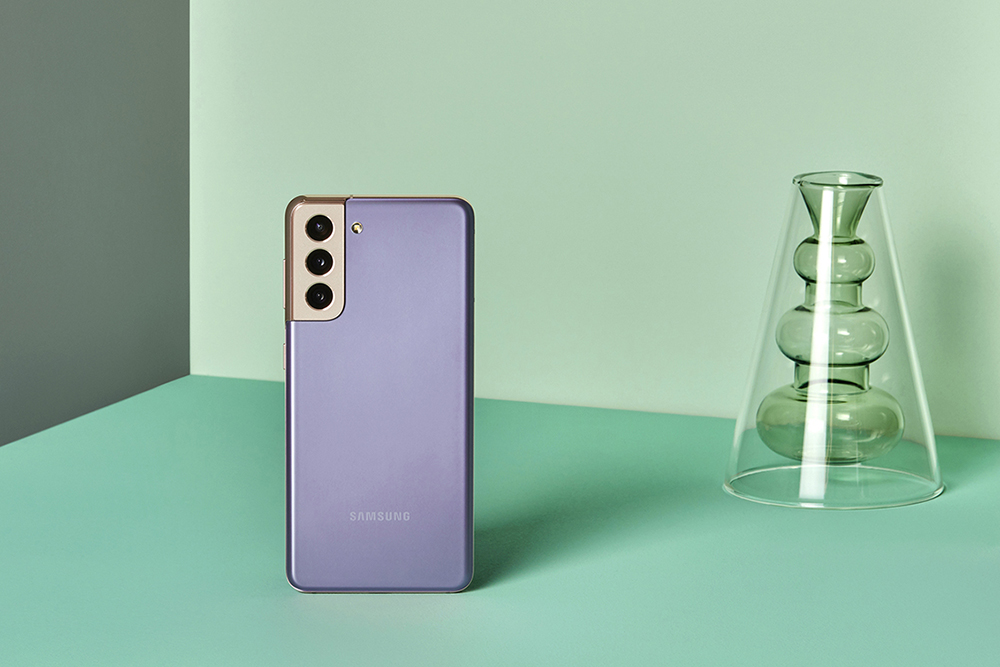 Samsung has opted for a Full HD Plus 6.2-inch display with 120Hz refresh rate for super-smooth graphics, and vivid colours, and strong brightness levels. The screen is almost filling up the whole of the front surface. The S21 may look small and palm fitting to most people but with this edge-to-edge screen, it is pretty large for viewing pleasure.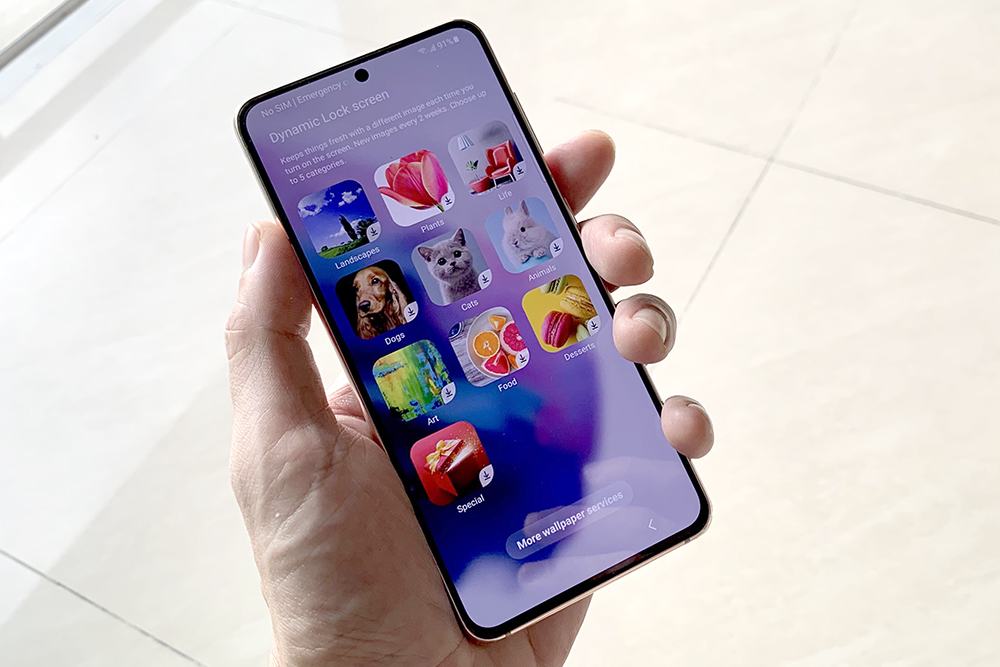 It was a downgrade from the Galaxy S20 in 2020 which uses Quad HD display was probably the biggest decision to make by Samsung to move a step back in display specs but this drives down the overall price compared to the S20 model. To us, it's hardly noticeable with our naked eyes, moreover, the S21 was meant to target the casual day-in, day-out users.
The glass panel was made with Gorilla Glass Victus which Samsung claims to withstand scratch and damage resistance that makes it the toughest glass on a Samsung smartphone.
The SIM tray was placed at the bottom of the phone alongside the USB Type C port and speaker. There is no standard headphone jack. The volume button and the power button was all aligned on the left side of the phone.
One disadvantage of this S21 model was the omission of the micro SD card function. The SIM tray was designed for dual-SIM cards only, so if you want more memory, you cant have secondary storage, you have to opt for the higher storage version, which is the 256GB or you can keep backing up your contents to your computer or cloud services.
Performance factor
The Galaxy S21 phones use Samsung's own Exynos 2100. The Exynos 2100 variant of the handset is a step above what we've seen from Samsung previously and this offers one of the best experiences when it comes to performance on an Android phone. The phone was built on the 5nm processor to maximise your productivity and at the same time, power-efficiency.
The S21 come standard with 8GB of RAM and an option of 128 and 256GB of storage space. For today's usage standard, 8GB RAM is already above some of the similar models from its competitor, so this RAM spec for S21 is good to go and could last you a good few years. Now you just need to decide on your storage space.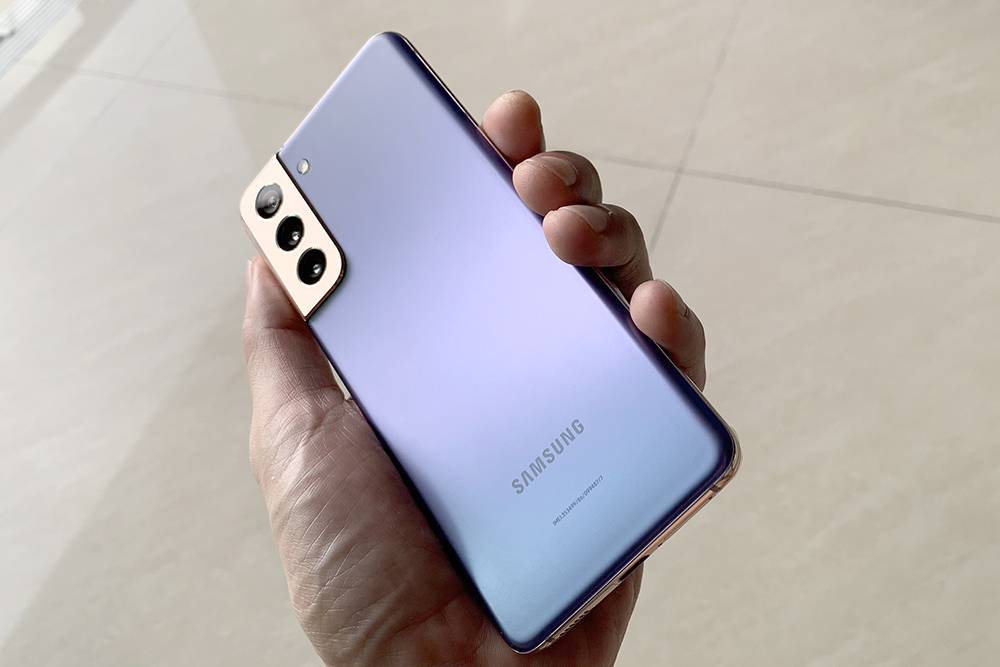 The S21 runs Android 11 with Samsung's One UI 3.0 skin for smooth interface operation. it was quite good and smooth, no lag at all to switch between heavy-duty apps. When we run a few memory-hungry apps, such as the video or photo mode, you can feel the phones tend to heat up pretty fast.
What about the battery? For the S21 model, it comes with 4000 mAh battery power. With this power level and pairing with the state of the art processing power, it maximises the usage time to the fullest. From zero to 100% took about 1.5 hours of charging time with standard USB charging. Once it is fully charged, we have clocked the standby time plus light use time for up to a week. On a regular day by day usage, once full charge could last you a day without the need to lug around a power bank.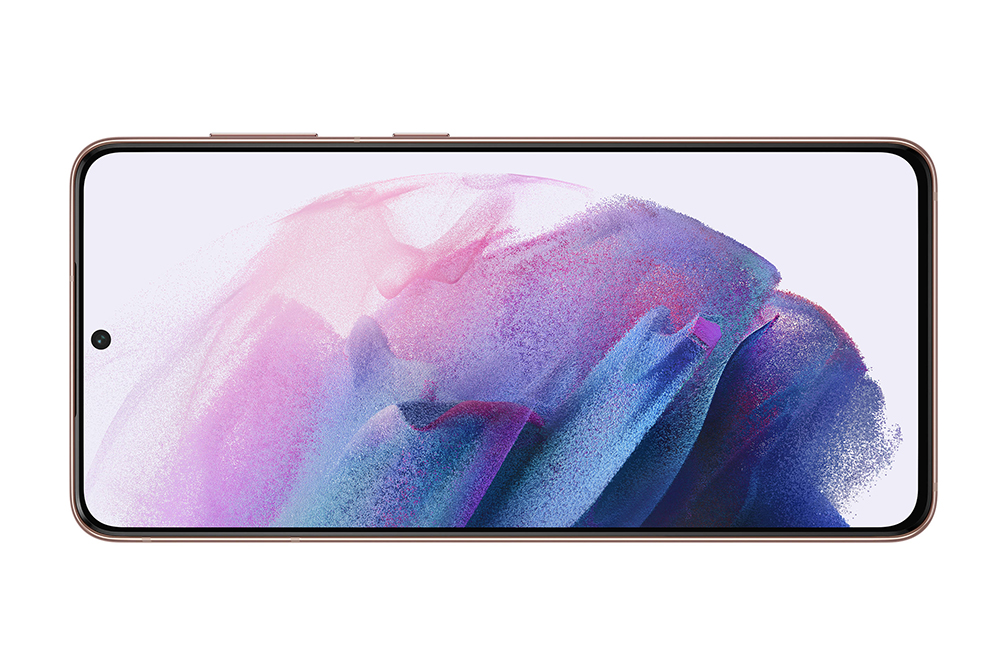 One cool feature of the S21 is wireless power-sharing. If you have a friend who uses a Samsung phone with this function, your friend could reverse share his/her phone power to you wirelessly, and it works on your wireless Samsung earphones and Samsung watches too, and this is what we mean by cool.
As mentioned earlier, the box doesn't come with a charger, we think this is not a big issue anymore as we have plenty of chargers from our past devices, and in a worst-case scenario, there are always USB ports in your laptop or even TV for you to charge your phone.
The IP68 standard on the S21 was pretty useful. Water and dust are part of our daily lives and our phones follow us through it. Taking calls and messages or even watching your favouring TV during a shower is not an issue anymore or taking your S21 through the Sahara desert, your phone will survive better than you…just saying, you get the point.
Imaging Factor
There is no upgrade on the cameras, it is the same from last year's S20 phone but this year it's all about the software, and Samsung finds a way to slim down the camera module.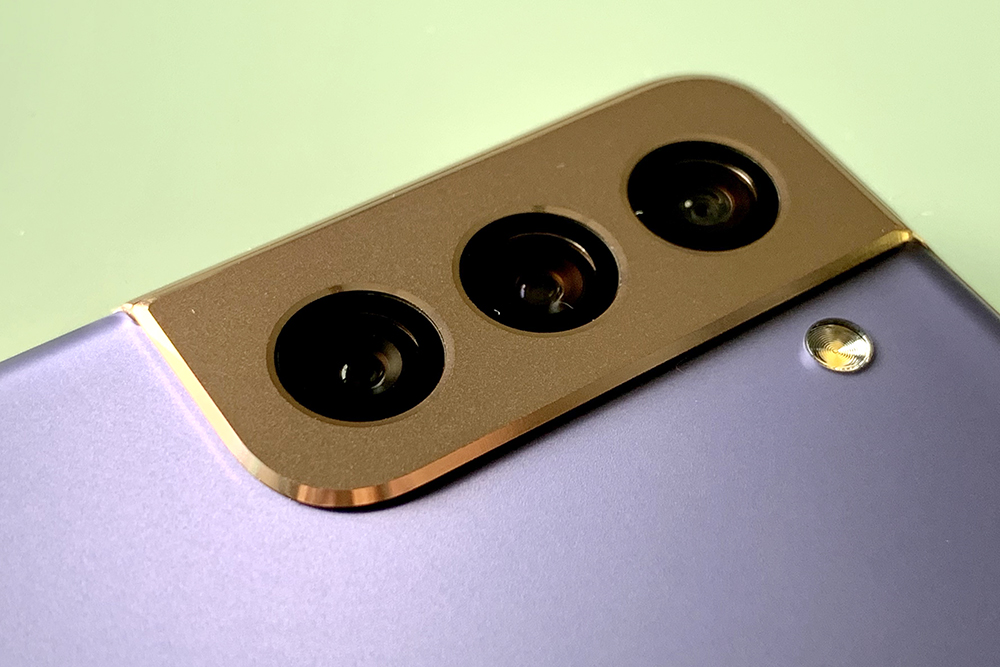 It is a quad-lens camera system and serves you from 10MP selfie to 64MP high-resolution images from the main camera. The main camera on the back is a triple-camera system with 12MP ultra-wide-angle with F2.2 aperture, 12MP standard lens with F1.8 aperture and a 64MP telephoto lens with F2.0 aperture.
All three lenses are capable of taking some excellent photos pairing with some of the latest shooting modes. Although the camera offers 30X digital zoom for shooting faraway objects, shooting in this mode requires a certain level of photography skill and moreover, the quality is not too great, if you don't have to, don't use it unless you have spotted a UFO.
With triple-camera in a pocket, it is virtually carrying decent camera system on-the-go for your daily photography use. The ultra-wide-angle lens let you shoot in tight space and dramatic landscape, the standard lens enables you you to do street and food shots, not forgetting great portraits shots because it comes with large F1.8 aperture for nice bokeh and blur background to make the subject stands out, and lastly, the telephoto lens to let you spy on your neighbour from far without being noticed. The 10MP front selfie camera is pretty straightforward, nothing groundbreaking for now.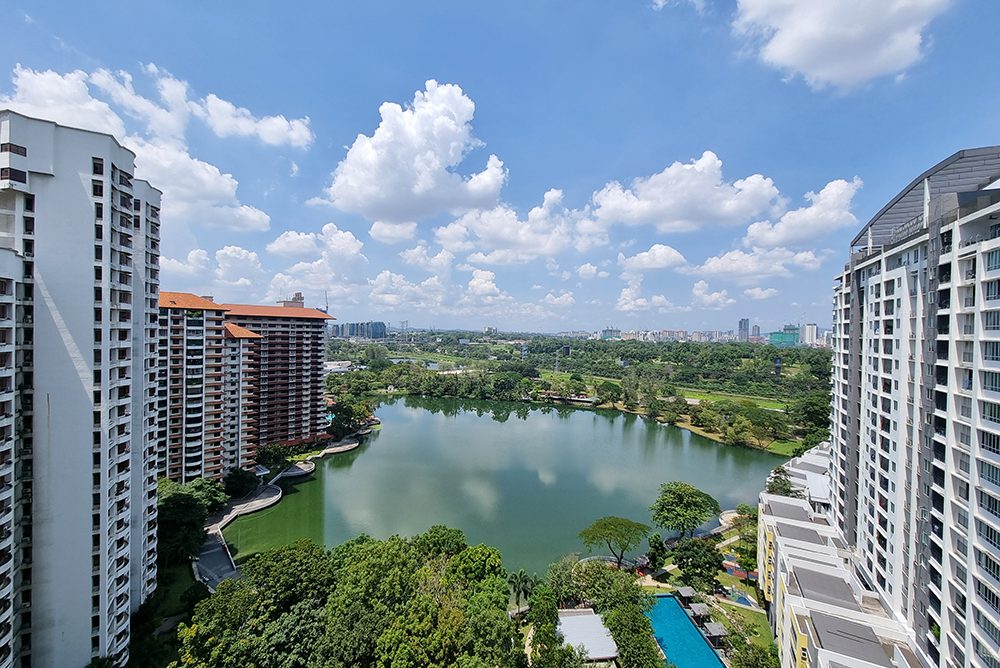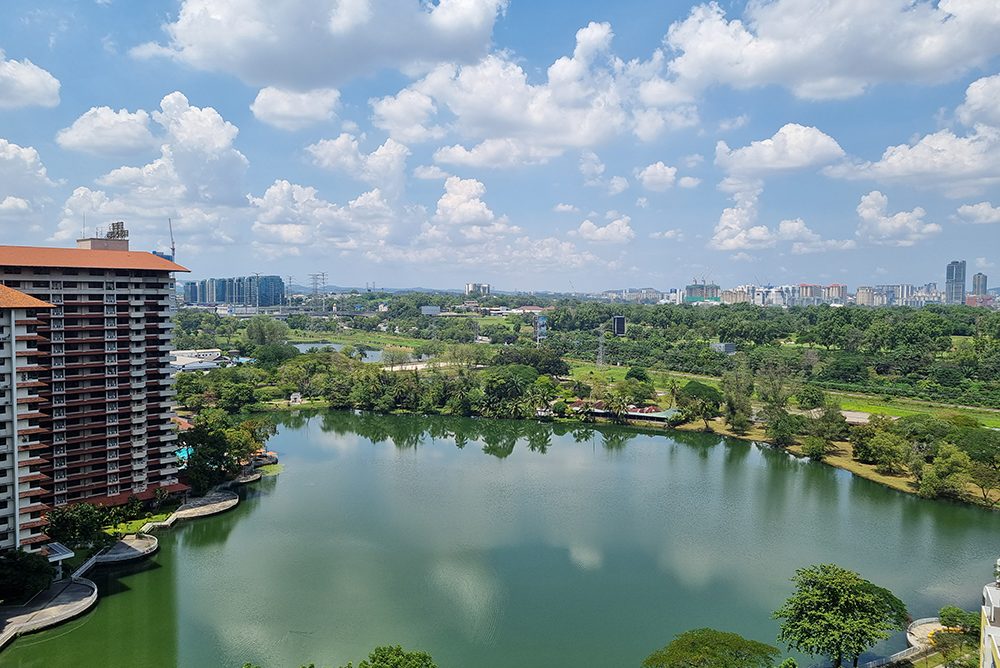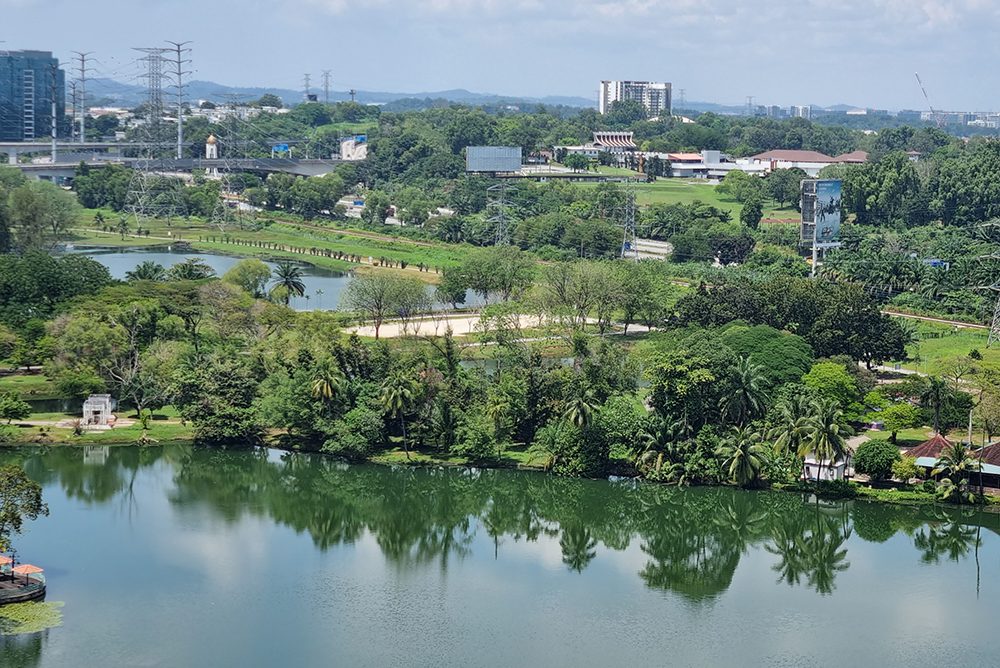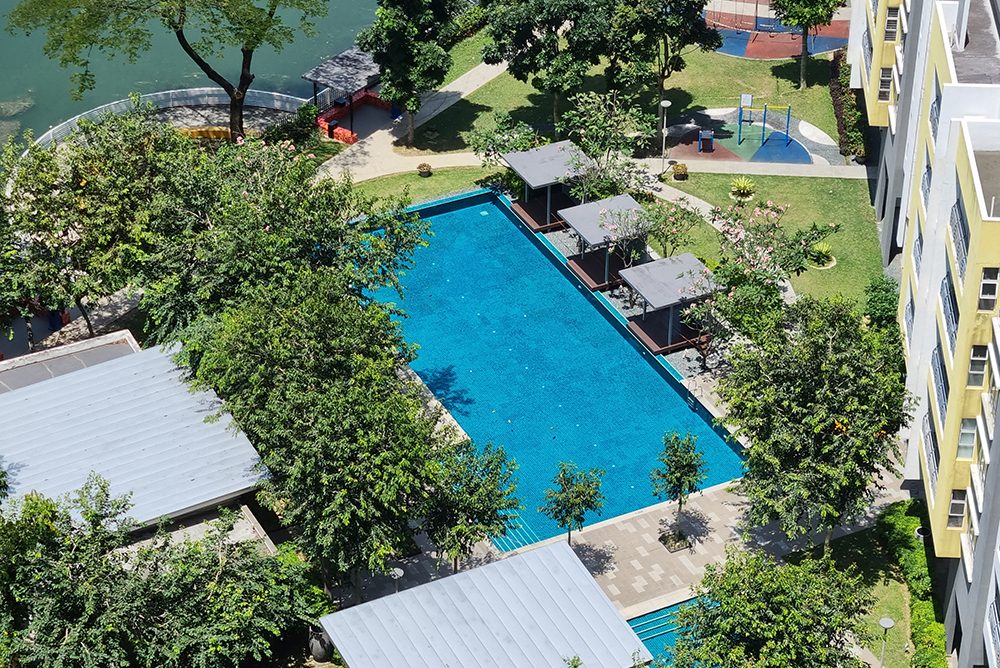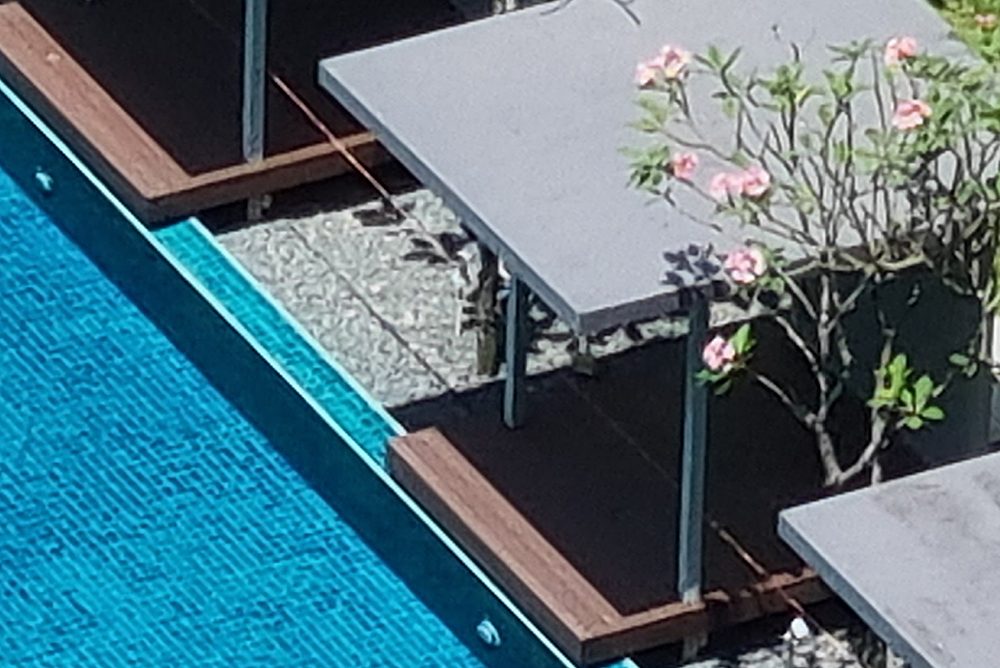 One of the cool modes is Single Take – It enables you to capture a variety of photos and videos, using all three cameras, with a single press of the shutter button. It basically shoots video and then you choose the best frame to save it as a still image. This feature is not something new as it was seen in conventional mirrorless cameras with another mode naming, for an example, 4K Photo Mode in Lumix Cameras a few years back.
Director's View mode is another new feature which enables you to shoot with the front and rear cameras at the same time. If you are a vlogger and want to dramatise your contents, this may be the thing you are looking for.
For video capabilities, Galaxy S21 comes built with 8K at 24 frames per second, which offers maximum quality and detail. Shooting in 8K will also drain your battery juice and storage space faster, shoot with this mode only for important footages which you think you want it to last another 20 years. By that time, we think 64K will the standard resolution as 15 years ago 720P was "THE" HD. More usefully there's also 4K at 30fps or 60fps, as well as Full HD at 30, 60 and 240fps, and the super slow motion at HD resolution.
The Super Steady ON mode is one of our favourite features, this enables us to shoot in low light or minor camera shake and the steady mode will compensate our instability to minimise blur shots. Thumbs up on this feature.
The Good
Great Handling
A good set of lenses
Decent Battery
Smooth performance.
Cheaper than S20
The Bad
No Micro SD
Without Charger
Heats up a little when in use.
The Verdict
This is the entry-level of the Galaxy S series and is one of the lowest in the price of its range. With this price reduction compared to the S20 but keeping the same performance and upgraded features, this is definitely a steal for people who are looking to for an upgrade, but to for the S20 users, we suggest you skip this generation.
Available at Samsung website from RM3,699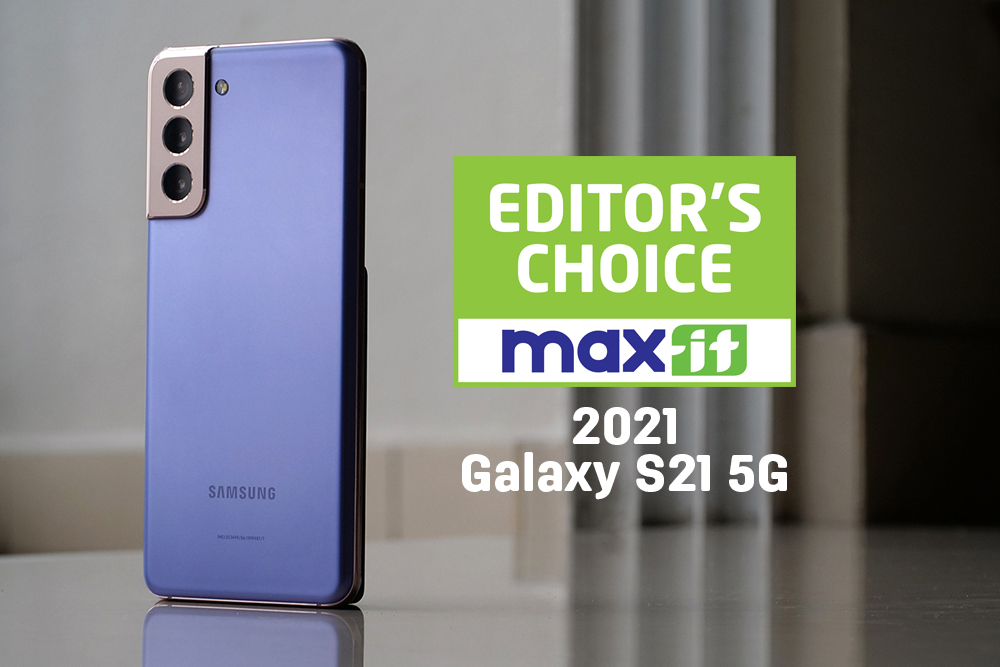 Specifications:
Screen 6.2-inch 2400×1080 FHD+
Chipset Snapdragon 888 / Exynos 2100
Storage 128BG/256GB
RAM 8GB
Cameras 12MP + 12MP + 64MP rear, 10MP front
Battery capacity 4,000mAh
Dimensions 151.7 x 71.2 x 7.9mm
Weight 169g