Content creators today are a busy lot, not just they are actively on the move, they also carry with them a large amount of precious data and content. For them, safety is key. Can the SanDisk Extreme 1TB SSD give you the peace of mind?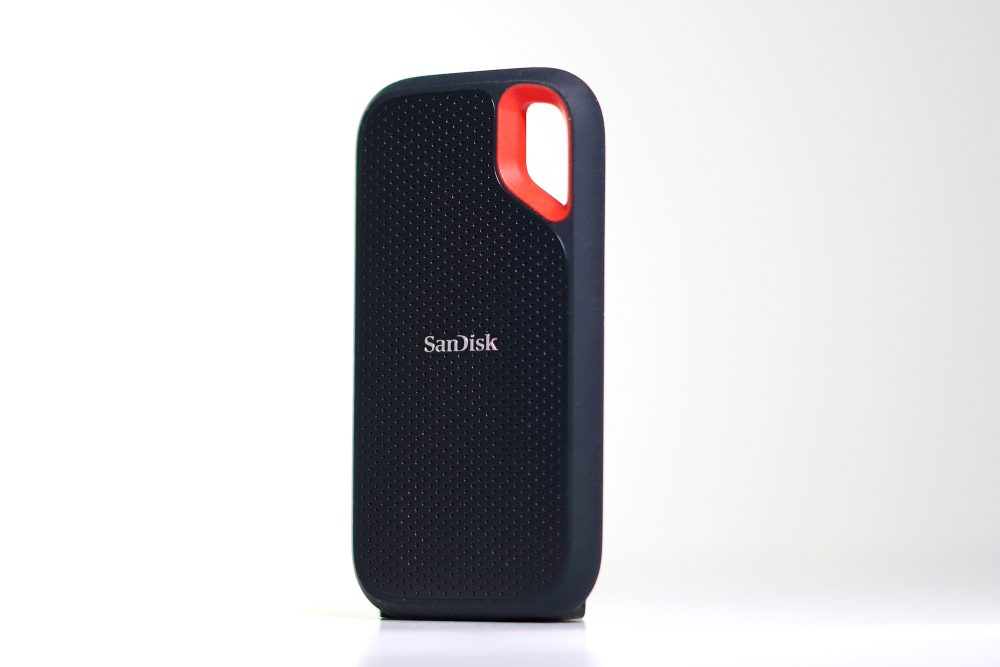 For content creators, new or old, we experienced losing files one way or another due to our carelessness of handling our storage devices, particularly the conventional hard disk drives which are very sensitive to impact and we may lose our hard day's work. In recent years, prices of the solid-state drive have come down drastically, giving great options for content makers to switch to a more stable and fast drive. Today, we have got our hands on the SanDisk Extreme 1TB SSD for review, let's look at the details.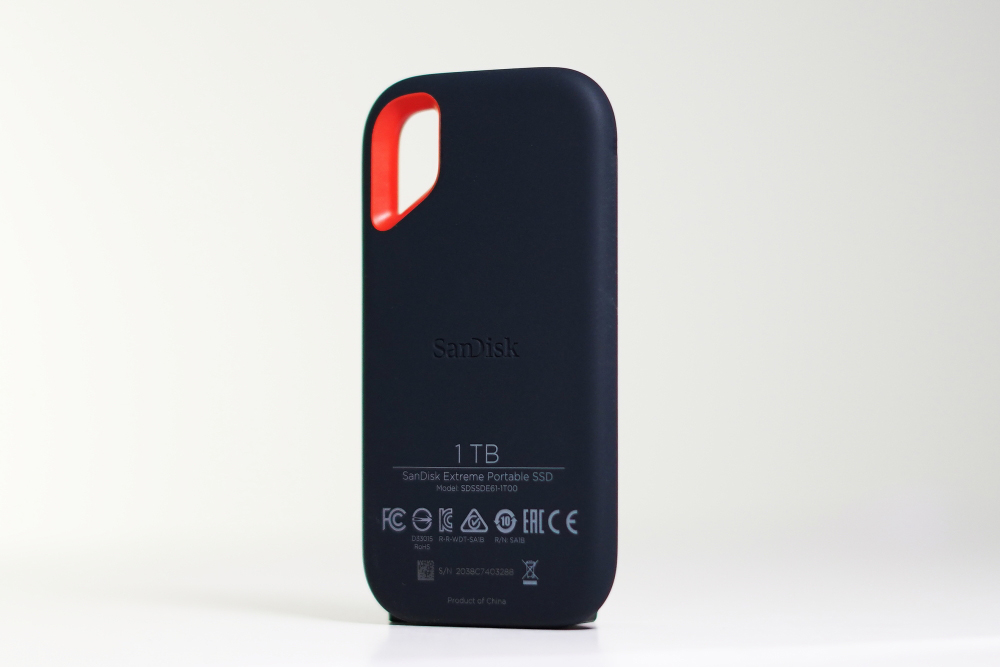 Built
Physically, this SanDisk Extreme 1TB SSD is not as compact and slim compared to some of its competitor, such as Transcend ESD250C, but SanDisk does give you the macho man feel if you put them side by side. If both of them are dropped on the floor, the SanDisk will give you the perception of its survival, thanks to its IP55 rating, so that you can have peace of mind if you have crew members who handle your gears and equipment in rough manners. It is thin, at 8.85mm, to slip comfortably into one's pocket. Its small footprint – 50 x 96.2mm – makes it roughly the size of ten credit cards stacked up together.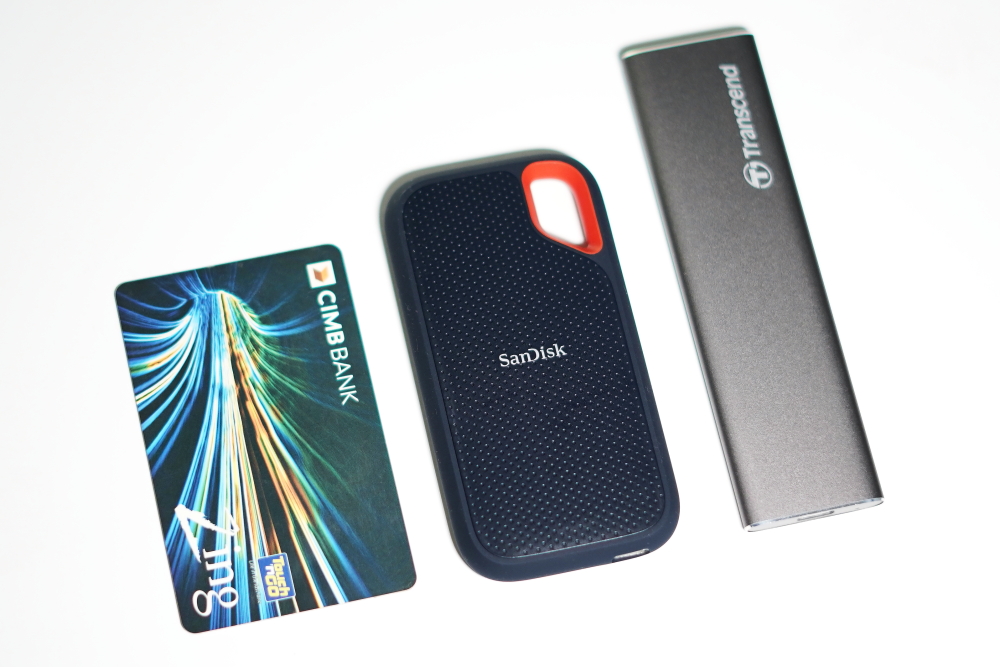 The smooth rubber texture wrapped over its body gives you the luxury yet rugged presentation, suitable for outdoor use. The design of the large loop at the top corner lets you latch them securely on any item. The drive carries an IP55 rating for water and dust resistance. It is a USB Type-C port with a C to C cable included in the box for your convenience, the Type A to Type C adapter is included as well so you can work with most of your gadget's ecosystems.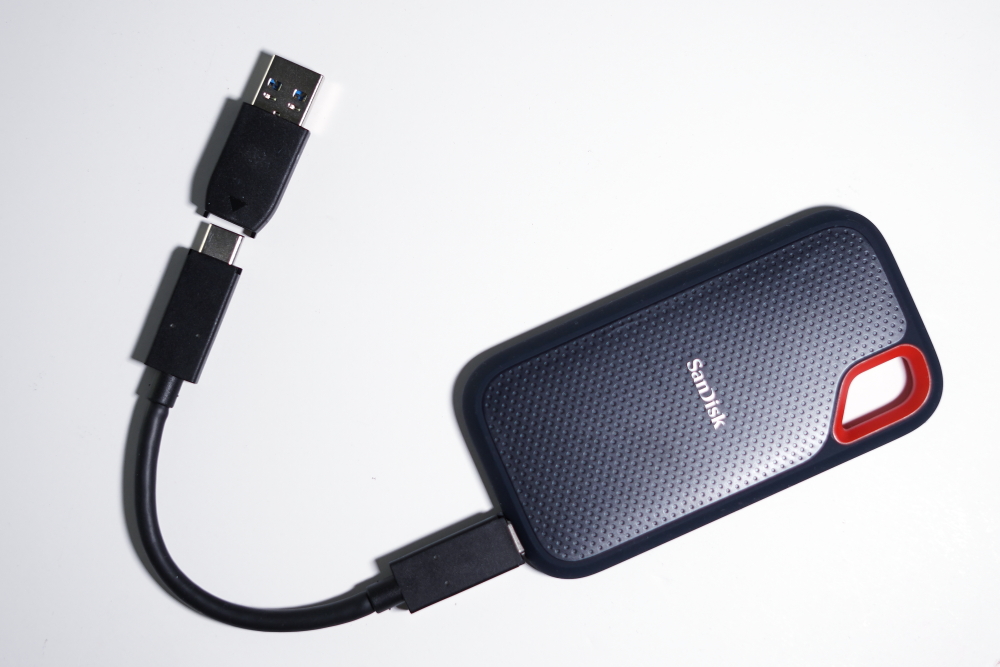 Performance
SanDisk Extreme SSD comes with 500GB, 1TB and 2TB storage options. The one we are testing today is the 1TB version. It is big enough for most assignments, even some computers we know has only 500GB of storage space. The 1TB storage space is generous, what about the read-write speed? SanDisk's packaging on the box claims it could read up to 1050 mb/s, so we put it to test and see it if lives up to its claim.
We are using the Black Magic Disk Speed App to run the test. We plugged the Extreme SSD into a MacMini USB 3 port to start running the stress test. The read speed we have got is on average of 421 mb/s which is pretty impressive and acceptable. It could be faster if we are using the USB 3.1 Type C devices. The write speed is equally impressive at an average of 420 mb/s. It is blazing fast if you are in a hurry to transfer your data.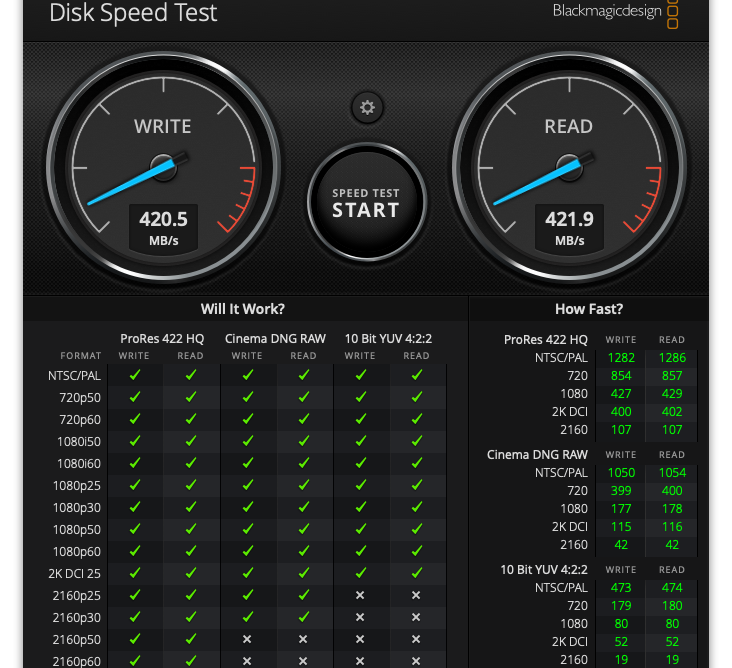 With read and write speed like this, the SanDisk Extreme SSD could be used to stream videos directly from it to the editing workstation smoothly. The Extreme Portable SSD comes pre-formatted as an exFAT device which means that it can work on Windows and Mac out of the box.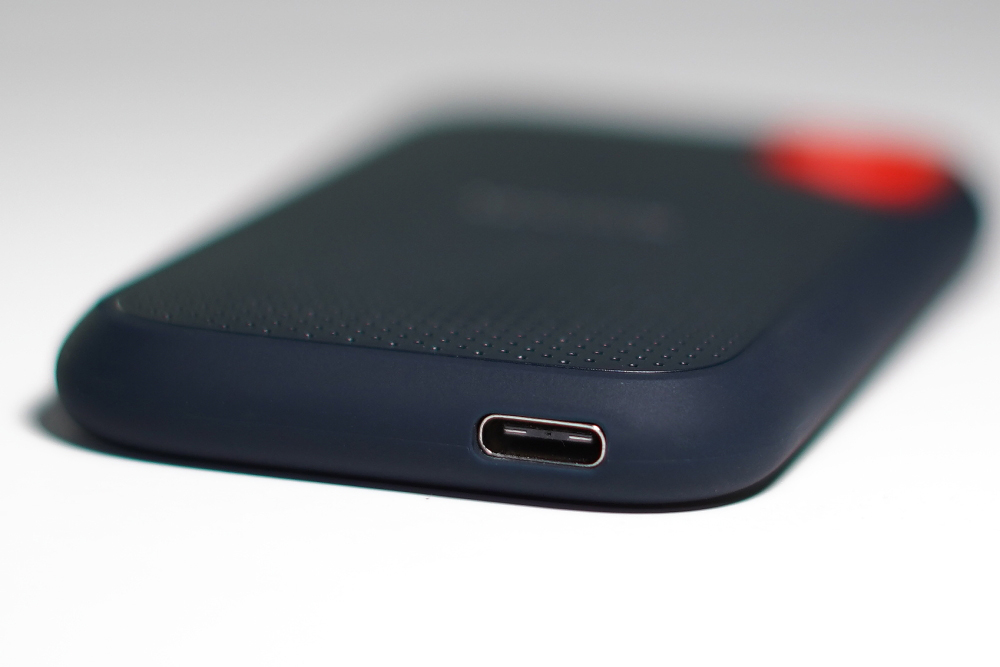 Preinstalled in the SSD is the SanDisk Security software for Mac and Windows. Once installed, this software will enable password protection to you SSD. It is pretty easy to use, just launch the installer from your computer and set your preferred password and you are done.
Another hidden feature we found out (which is not mentioned in the website) is the OTG (on-The-Go) compatibility with our Android devices. To access your files in the SanDisk Extreme SSD, you can simply connect it to your Android smartphone and start browsing, viewing and editing files, and share them over the internet to anywhere in the world. This is a cool and useful feature and we wonder why it is not mentioned in their official website.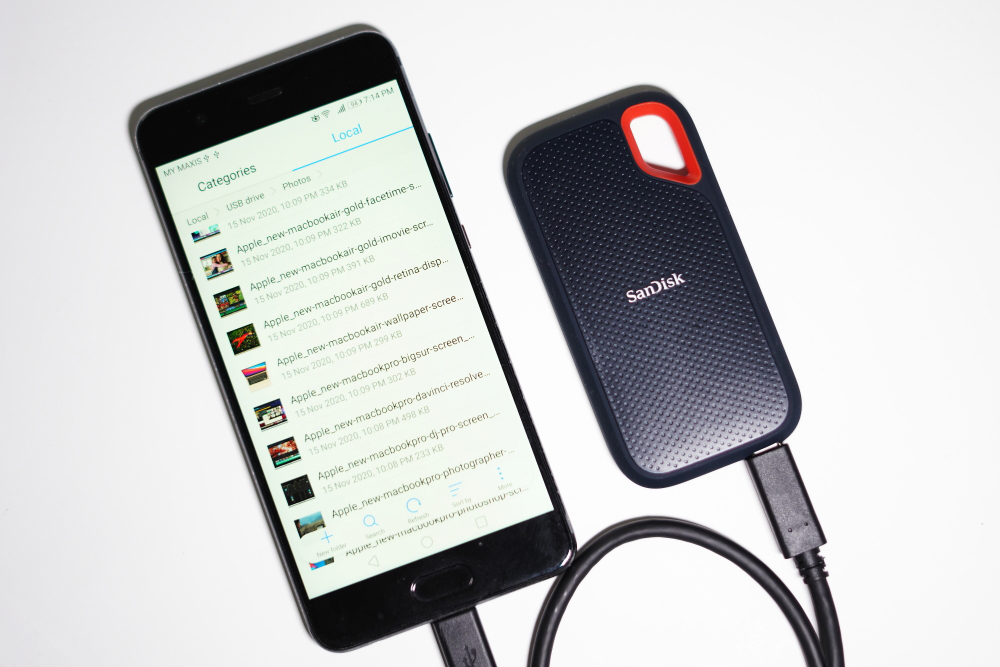 PRO & CONS
Turn Ons
Impressive read/write speed
Huge storage space
Durable
IP55 rating
Turn Offs
Heats up a little during heavy data exchange
Pricier than some of it's peer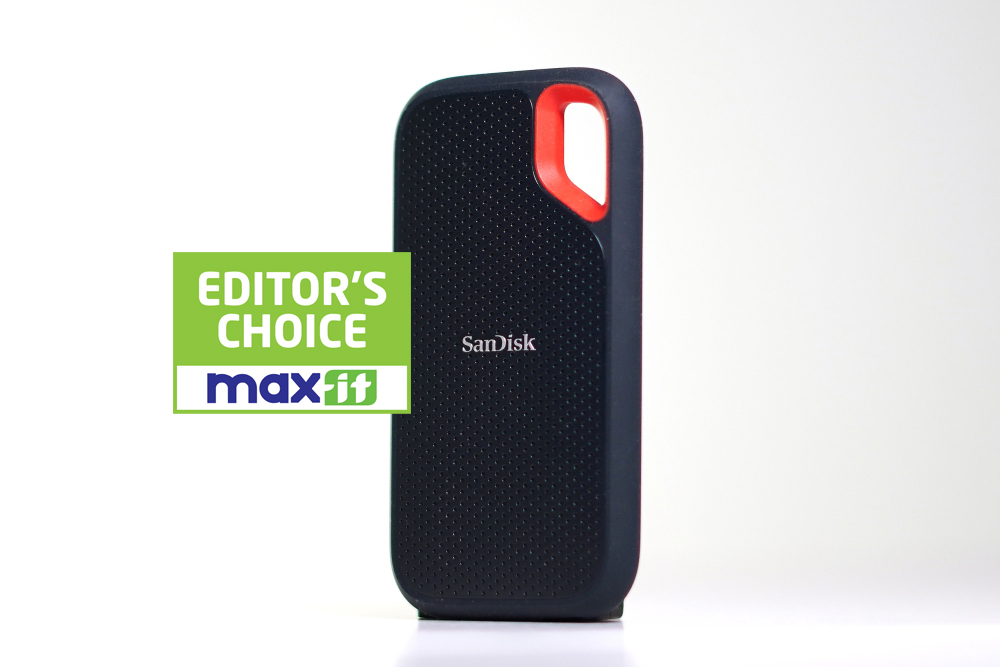 To conclude, we are impressed with its rugged build and IP55 is the way to go for the extra protection, although we may not be outdoor all the time, you know, spills and drop may happen, this is life. The capacity of 1TB holds a large amount of data and fast enough for external streaming for photos and videos. Available at RM933 for this 1TB version from SanDisk's official LAZADA store.

Specification
Dimensions: 100.54 mm x 52.42 mm x 8.95 mm
Storage: 1TB
Interface: USB 3.1 Gen 2
Flash Type: 3D NAND flash
Shock Resistant: Up to 1500G
Read / Write Speed (Max.): 1050 MB/s
OS: Most OSes