HP Malaysia has launched their Creators of Tomorrow Mentorship Project, designed to inspire and enable creativity among the youths of today. In HP's mission to equip the next generation of creators, this project was designed to give musicians the chance to take their skills to the next level with an industry professional. HP Malaysia is partnering with internationally acclaimed artist and homegrown talent, Yuna, who will host an exclusive, 2-day virtual music workshop to help aspiring musicians take the next step in their creative evolution.
"Supporting creators has always been important to HP, that's why we have constantly innovated and adapted our Create Ecosystem to meet the needs of creators everywhere," says Alex Tan, Enterprise Sales Director, HP Inc. Malaysia, "But being a creator is more than just having the right technology. The competition is tough, and not everyone has the same opportunities to hone their craft. That is why HP Malaysia designed this Mentorship Project with Yuna – to empower and equip a new generation of creators for the challenging creative landscape out there."
For aspiring musicians, the HP Mentorship Project will be open for submissions until 22 November 2020. Creatives will need to submit an instrumental or vocal cover of their favourite song and share the reason they want to attend the mentorship sessions with Yuna. The contest is open to creators from all backgrounds, at any level of expertise. 5 finalists will be given the chance to meet Yuna for an exclusive 2-day, virtual music and song production workshop. Yuna will personally select 1 winner take home a brand-new ENVY laptop and join her for a 1:1 mentorship to help hone their creator journey.
Find out more and submit your entries at www.HPMalaysia.com/MentorshipProject/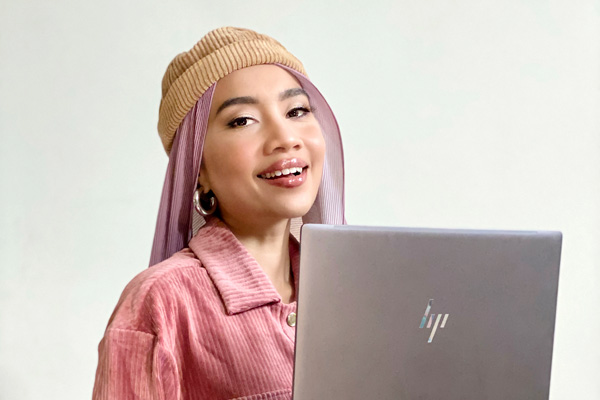 HP Creators of Tomorrow Mentorship Project Mechanics
Step 1: Visit www.hpmalaysia.com/mentorshipproject
Step 2: Submit your application on the microsite by uploading / sharing a link to a 30 second vocal or instrumental cover of your favourite song
Step 3: Yuna will personally select 5 of you to join her workshop! Good luck!
For the upcoming generation of fashion designers, HP has teamed up with Kuala Lumpur Fashion Week for a nationwide search for the next generation of talented designers. "The KL Fashion Week 2020 Designer Search has been heavily influenced by a renewed focus on sustainable fashion," said Andrew Tan, Founder of KL Fashion Week, "This year has highlighted how important it is to be conscious of the impacts all industries have on the environment. HP has been dedicated to creating positive, sustainable impact at all levels of their business. This year, KL Fashion Week is joining HP in their sustainability mission by having our contestants reimagine fashion's impact and create a sustainable, "conscious collection" of outfits." The Top 10 designers will receive guidance from KLFW's mentors as they finalise their collection to debut at KLFW Digital 2020 in November.
The HP ENVY portfolio of personal computers is designed for greater versatility and power for on-the-go creators. With improved displays, security and performance, the HP ENVY lineup is ideal for creators at every level, from amateurs to professionals. The HP ENVY laptops push the boundaries of engineering and creative productivity to help the next generation of creators power their expression. For more details, regarding the Creators of Tomorrow campaign or the HP ENVY Portfolio, please visit: www.HPMalaysia.com/MentorshipProject.
Shopee Promotion Need a new device for your creator journey? Use the code: ENVY100 on Shopee to get RM100 off HP ENVY 13, HP ENVY 15 and HP Spectre x360 from now until 30 November 2020. You'll also get to take home home freebies worth RM409, including a HP Pavilion Backpack, HP Wireless Mouse and Kaspersky Internet Security for your device. shopee.com.my/m/hp-mega-offers.

This 11:11, HP's Shopee online store has a 1 day deal to get up to RM150 off + RM409 worth of freebies when you purchase a minimum of RM3,000 worth of products. Visit shopee.com.my/hponlinestore for all the details.