realme Malaysia today introduced the long-awaited and performance-driven product line 'narzo by realme' first series dedicated to all thrill-seeking young users in Malaysia. The narzo 20 Pro and narzo 20 are the front liners to join the mission of "Entertainment for You" which aims to provide elevated experiences in music, movies and mobile gaming.
"As realme continues to expand, we realise that we need to cater a wide range of demands from smartphone users. The team here at narzo by realme has also learned that the younger generation is looking forward to more powerful and stylish smartphones. Consequently, 'narzo by realme' is born in Malaysia with a new logo leveraging the super cool blue colour. This product line comes with two trail-blazing devices, the narzo 20 Pro as the most powerful charging smartphone as well as narzo 20 as the best mid-range smartphone for entertainment enthusiasts," said Tiffany Teh, Brand Manager of realme Malaysia.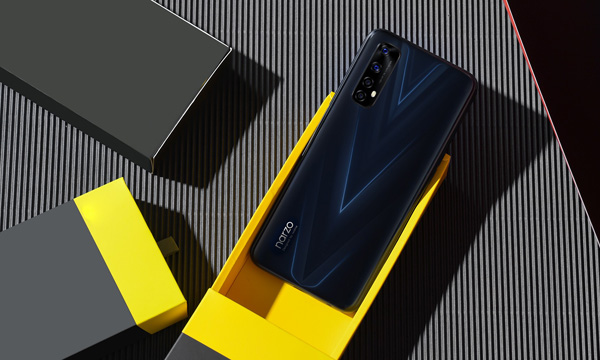 realme narzo 20 Pro – The Speed of Dart
65W SuperDart Charge + 4500mAh Battery
realme narzo 20 Pro is the first-ever smartphone in the narzo's history to adopt the industry leading fast charging technology, making it the most powerful and remarkable supercharging hero in the segment. The flash charge on narzo 20 Pro has further evolved with an impressive upgrade to the industry-leading 65W SuperDart Charge for an unparalleled charging experience.
The 4500mAh battery is also upgraded with two high rate 3C batteries that are able to withstand more charging power, the 65W SuperDart can directly charge the battery with 10V/6.5A under the control of an optimized fast charging algorithm. The efficiency of charging is 98% with very little energy wasted in the charging process thanks to the advanced algorithm solution.
Apart from that, the extremely high charging efficiency in narzo 20 Pro enables 65W SuperDart Charge to power up the 4500mAh massive battery from 0% to 100% within 38 mins, and 14% in only 3 minutes. Even while heavy gaming, the 65W SuperDart Charge is capable of charging the smartphone up to 47% in just 30 minutes.
Users' safety is always our priority, hence narzo has undertaken in-depth measures to ensure the device is safe in the charging process. The charging system in narzo 20 Pro contains smart five-chip protection and ten temperature sensors to provide comprehensive real-time monitoring of the power level.
Moreover, the device is also compatible with 18W PD and QC fast charging protocol. With a High-Current Low-Voltage solution which is safer and cooler than other solutions in the industry, you do not have to worry about overheating while enjoying the lightning speed of flash charge.
MediaTek Helio G95 Gaming Processor
As the first Pro model that brings unlimited entertainment for you, narzo 20 Pro features the latest MediaTek Helio G95 with a score of more than 300,000 AnTuTu benchmark. The powerful chipset is exclusively designed to meet the core needs of young players while enjoying incredible smartphone gaming performance and entertainment experience.
The narzo 20 Pro's processor is more powerful and efficient with its 12nm production process, two high-performance Cortex-A76 cores to achieve a clock speed up to 2.05GHz and six high-efficiency Cortex-A55 cores at up to 2GHz, along with 900MHz Mali-G76GPU. With the combination of the latest updated CPU, GPU, super-fast RAM and powerful AI, the realme narzo 20 Pro is guaranteed to deliver a smooth experience for all the multimedia contents.
realme narzo 20 Pro's powerful Helio G95 processor is ensured to be long-lasting while maintaining speed performance in a good condition. It is primarily due to the cutting-edge carbon fiber cooling systems that can cool up to 8.6%, keeping the phone's performance aligned.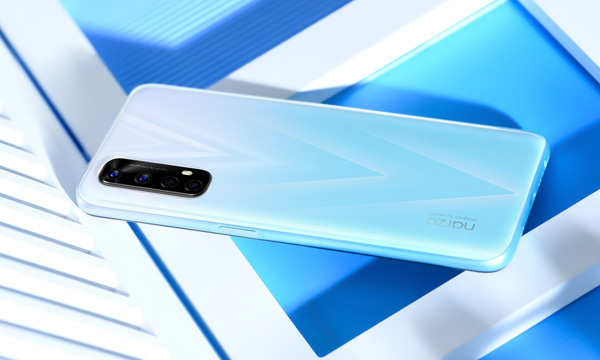 90Hz Ultra Smooth Display For A Superb Visual Experience
A seamless and supreme visual experience can be achieved with realme narzo 20 Pro as it adopts a big screen of 6.5-inch and the 90Hz Ultra Smooth Display that results in 90.5% screen-to-body ratio. The device is also loaded with a futuristic and the smoothest display as it adopts a 2400×1080 FHD+ screen with a refresh rate of 90Hz that is capable of producing 90 frames per second.
The touch sampling rate is up to 120Hz which is crucial for those who love gaming. It will scan your finger touch 120 times per second, ensuring the fast response with no lag in movies and gaming purposes or any apps and content that you are browsing. The narzo 20 Pro also supports sunlight screen display technology that allows you to have a clear and visible screen even under direct sunlight with its peak screen brightness of 480nits.
narzo 20 Pro is also equipped with the punch-hole light effect. Whenever you are using the facial unlock feature or front camera, the edge of the camera will light up. Next, the screen colour temperature function in the device will reduce the screen blue light radiation and protect your eyes. There are two colour display modes available in the device. The Vivid mode will be in colour gamut P3 that provides a more gorgeous look and feel; while Gentle mode comes in colour gamut sRGB which is more plain and real. The OISE super clear visual effect function has improved the video display clarity and colour intensity to ensure your overall vision and entertainment experience are more outstanding.
Victor Design
The design of narzo 20 Pro is inspired by the spirit of never accepting defeat and always aiming for victory, making it an ideal design for those who keep the spirit to fight and win. Therefore, the device has undergone 8 exciting steps, including screen printing logo, UV transfer texture, dip dyeing, electroplating, screen printing cover, high-pressure molding, lacquer hardening, and CNC, to produce such a profound and advanced design. The stunning design of narzo 20 Pro is available in the mystical colours of White Knight and Black Ninja.
48MP AI Quad Camera + 16MP In-Display Selfie Camera
In terms of imaging, the narzo 20 Pro's powerful quad-camera combination offers four different perspectives to capture wide-angle shots to close-up macros for every memorable moment in your life. Fans can capture the rich details as realme narzo 20 Pro is truly capable in producing up to 6000*8000 high-resolution photos. You can enlarge and crop photos as you wish as it has more than twice the resolution of a 4K TV.
The device houses the latest ultra-clear AI quad-camera set-up with a 48MP primary camera that greatly enhances the resolution and exposure of images in low-light conditions. It also comprises an 8MP 119° ultra-wide-angle when you don't have to lean backwards to capture perfect shots of sceneries, architecture and large groups of people. The ultra macro lens allows you to photograph tiny objects at an ultra-close focus distance of 4cm and there is a B&W portrait lens to assist the main lens in capturing light better.
narzo 20 Pro camera has also built-in three of the most popular night filters, namely Cyberpunk, Flamingo and Modern Gold, enabling users to capture city night scenes in stylish ways with just one tap. Your night shots with narzo 20 Pro are definitely amazing with the addition of HDR and multi-frame compositing algorithms.
If you're hunting to capture the unique and flawless selfies, the 16MP ultra-clear front camera with the F2.1 aperture in narzo 20 Pro has got you covered. It also supports various modes and effects such as smart beauty mode, Bokeh Effect to help you in perfect portrait shots. Additionally, the brand-new beauty algorithm is developed for users with different genders, various skin types, facial shapes and features to take natural and clear selfies.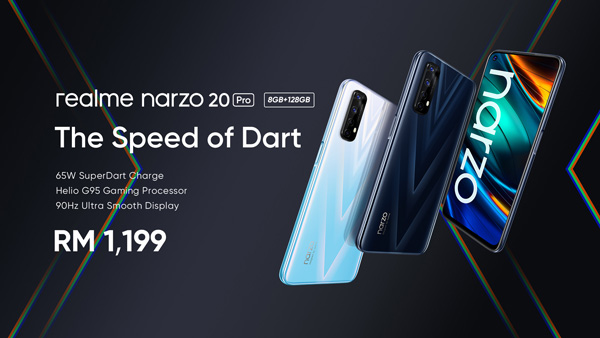 Security & Storage
The devices in narzo 20 series not only support ultra-fast fingerprint unlocking, but also facial recognition, enabling users to unlock their smartphone with a single click or glance. Meanwhile, the smartphone is also equipped with 3-card slots, two sim cards and one SD card to store your files, images and videos.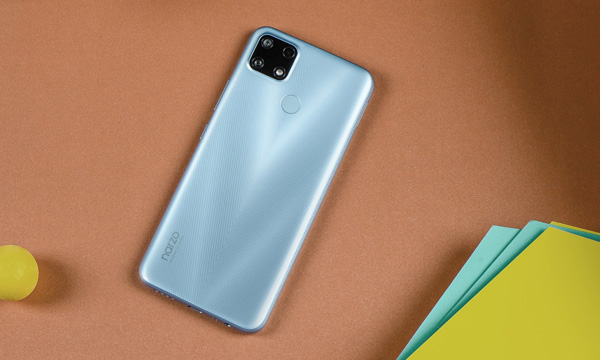 realme narzo 20 – The Surge of Power
6000mAh High-Capacity Battery
In terms of battery life, the mega 6000mAh battery featured in realme narzo 20 is absolutely sufficient to meet the heavy needs of entertainment enthusiasts. According to realme lab tests, the realme narzo 20 has an extremely long battery life as it is capable of lasting for 45 days in standby mode. The smartphone also features the special OTG reverse charge that can switch its role to a powerbank to charge AIoT products. Furthermore, narzo 20 is equipped with 18W Type-C fast charge, enabling the smartphone to power up to 29% in just 30 minutes.
Battery Life Optimization & Super Power Saving Mode
At the same time, the realme narzo 20 offers multiple battery life optimization features such as the App Quick Freeze feature, the Screen Battery Optimization option and Sleep Standby Optimization to increase the battery endurance while saving more energy. Under the Super Power Saving Mode, you can select six of their most-used apps to keep active and standby for 2 days while looking for a charger.
MediaTek Helio G85
The realme narzo 20 is definitely your next entertainment companion as it is powered by MediaTek Helio G85 that benefits from the Mali-G52 GPU to deliver an exceptional gaming experience. Meanwhile, the phone will not slow you down as the octa-core CPU features two powerful ARM Cortex-A75 cores clocked at 2GHz and six Cortex-A55 cores clocked to 1.8GHz, interlinked by a large L3 cache for improved performance. As a gaming processor, the Helio G85 reaches up to 200,000+ in Antutu Benchmark, ensuring sufficient power and lag-free experience for hardcore mobile gamers and entertainment lovers.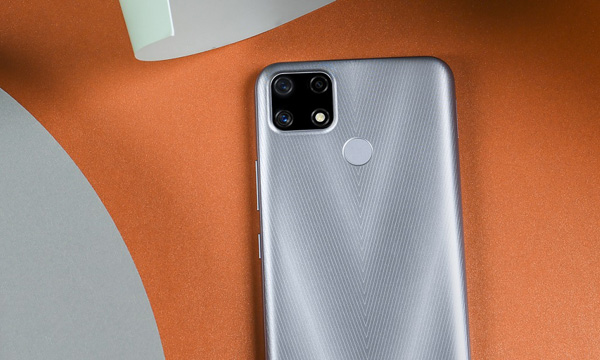 48MP AI Triple Camera
The camera features of realme narzo 20 are your best assistance in turning your daily life story into the everlasting shots or an attractive video. The device contains a 48MP AI triple camera with 48MP primary lens, 8MP ultra-wide-angle lens and Macro lens. It deploys Quad Bayer's 4-in-1 intelligent pixel binning mechanism that combines four adjacent pixels into a large pixel, ensuring that you are looking at the details through the smartphone screen while capturing mesmerizing images even in low-light settings.
In addition, the distortion calibration algorithm customized by realme is also making the wide-angle field photos appear in better contrast and resolution. The ultra macro lens enables users to get closer and discover the beauty of the micro world with the 4cm shooting distance. You can also be the best night shooter with narzo 20 to capture clear and bright night portraits by utilising the super nightscape mode.
The 8MP front camera in realme narzo 20 is able to sharpen your facial clarity naturally as it supports AI beautification function, HDR mode, portrait mode and a Panoselfie feature to enable users to capture wider selfies with a larger group of people.
6.5" Mini-drop Fullscreen
Users can indulge in the videos and games with narzo 20 as it is equipped with a 6.5-inch 20:9 screen that boasts screen-to-body ratio up to 88.7%. The device is designed to provide an immersive experience in entertainment with a larger field of view as well as outstanding visual effects for the youth. The internal structure of realme narzo 20's screen adopts the newly-upgraded stack process which creatively draws the parts and components closer to each other and the area of droplets is reduced by 30.9%.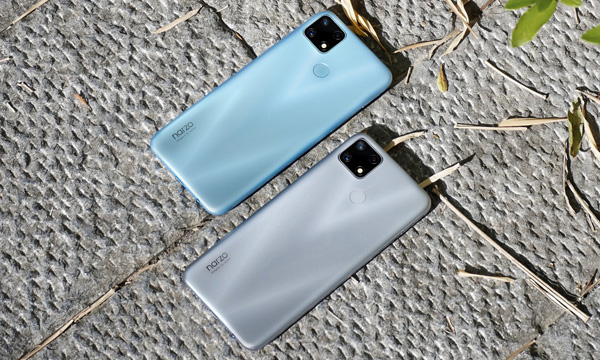 V for Victory Design
In the journey of pursuing great design, realme narzo 20 comes with the glorious Victory gesture that is enjoyed by the youth worldwide. The special texturing technique is used to showcase the different identity and style for the new product line up while providing a premium touch and feel for its back cover. It is also the first-ever device with elegant silver colourway in narzo series.
narzo 20 has adopted the advanced metal-like paint coating processing technology to engrave finer lines into the shape of 'V', the visual effect can be seen differently as the view angle of light changes. Besides, the narzo 20 will be available in two appealing colours – Glory Silver and Victory Blue.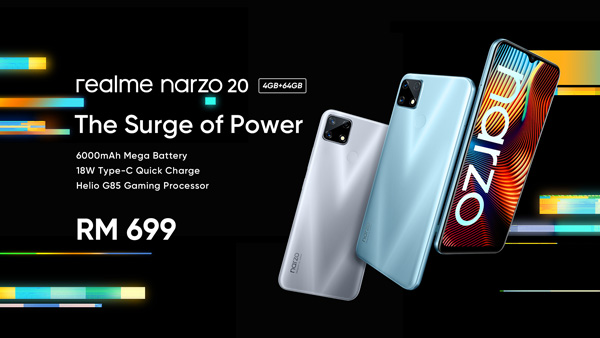 Product Availability
Version
Colours
Sales Information
narzo 20 Pro (8GB+128GB) RM 1,199
White Knight and
Black Ninja
First Online Sale on realme's official store at Lazada
-11th November 2020
–Special Price: RM899
-Link: http://bit.ly/N20proprlzd
narzo 20 (4GB+64GB) RM 699
Glory Silver
and Victory Blue
First Online Sale on realme's official store at Lazada
-11th November 2020
–Special Price: RM549
-Link: http://bit.ly/n20prlzd
Special Promotion on 11.11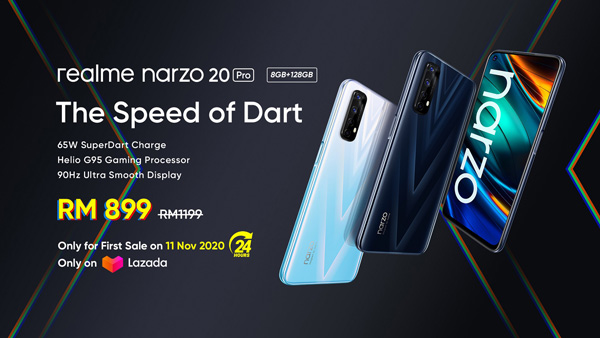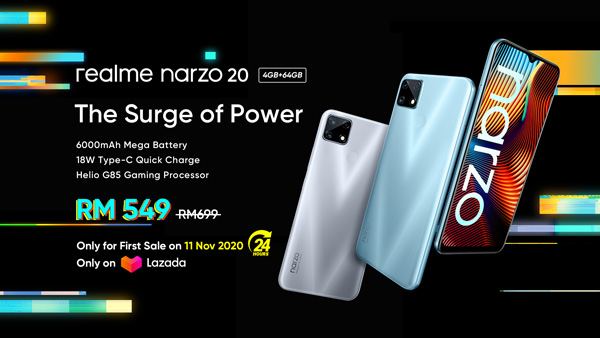 To find out more about realme's events and promotions, do follow our Facebook page as well as Instagram at @realmemalaysia.