realme Malaysia today officially leap into the personal care segment by launching its first realme Smart Scale and realme M1 Sonic Electric Toothbrush. The realme Smart Scale is able to keep track of users' health data whereas the realme M1 Sonic Electric Toothbrush comes with Dupont 99.99% Antibacterial Bristles, for better hygienic teeth care.
"Today, we strive with pride into a whole new journey of personal care with our expertise in technology and lifestyle by encouraging fans to practise a smarter as well as healthier lifestyle. Fans are now able to record their change with realme Smart Scale and stay fresh with realme M1 Sonic Electric Toothbrush all day long. Users are able to keep track of their BMI, heart rate, bone mass, and many more with realme Smart Scale. While for realme M1 Sonic Electric Toothbrush, there are four cleaning modes such as white mode, polish mode, clean mode and last memory mode in giving users a somewhat finer oral care experience. We hope Malaysians will fall in love with our personal care products and remember smart care is now," said Tiffany Teh, Brand Manager of realme Malaysia.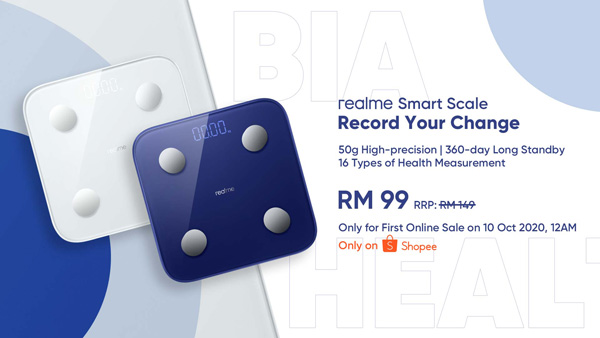 realme Smart Scale
realme Smart Scale is equipped with a Bio-impedance Analysis (BIA) sensor which is able to obtain current information in the user's body within a very short duration of time. It is capable of measuring body fat, muscle and real-time heart rate monitoring using the professional algorithm.
It comes with 16 types of health measurements including weight, fat rate, body shape, bone mass, body age, basal metabolism, moisture rate, lean body weight, muscle mass, BMI, Visceral Fat Level, Skeletal Muscle, Protein, Fat Mass, Water, Muscle Rate, Skeletal Muscle and Heart Rate. These functions can be used to monitor users health data as realme uses a higher standard chip to attain heart rate monitoring in providing health advice on heart rate.
The device's thickness is only 23.3mm as some adjustment was made at the battery box, screen and basement. It can be placed anywhere in the comfort of users' homes as it does not occupy too much space. The realme Smart Scale can measure up to 150kg even a small change of 50g in body weight.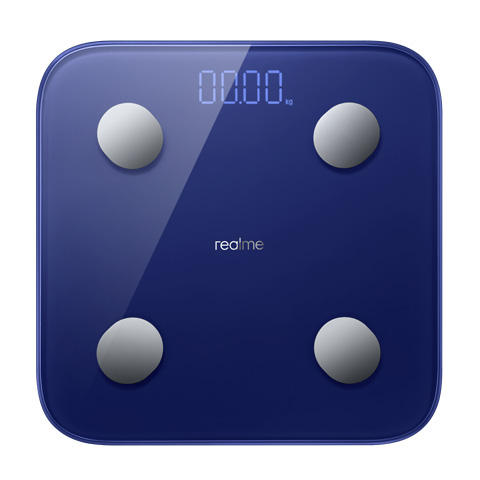 It has the function of LightWeight Mode in measuring items between 0.05kg and 9.99kg such as vegetables, fruits and even able to detect pets' weight for daily monitoring. This product can last for 360-day long in a standby mode. With only four AAA batteries, it can last for a year as it is equipped with Bluetooth 5.0 making the whole scale working current under 60mAh.
Apart from that, the realme Smart Scale can be connected with realme Link App and store unlimited profiles as it supports up to four realme Link accounts with unlimited ID. It also enables users to get a customized report based on the selected date. It is compatible with Android users only.
The realme Smart Scale is built with 6mm Tempered Glass which can withstand a weight up to 350kg. It is designed with a wrap-around design that uses ABS to encase the edge of tempered glass and prevent any breakage while users are on transportation as well as daily use. realme Smart Scale has a hidden LED giving it a more aesthetic feel to its integrated design of the panel.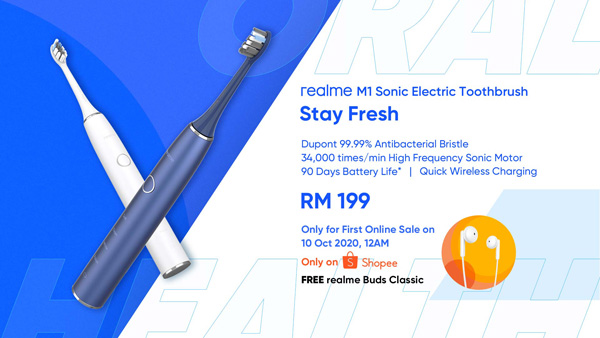 realme M1 Sonic Electric Toothbrush
The realme M1 Sonic Electric Toothbrush comes with the design of a bold and premium look with two pure colours, white and blue. It has a skin-friendly coating with a great body curve for users to hold it comfortably and stably while using it.
The device has a High Frequency Sonic Motor that can vibrate up to 34,000 times per minute and minimal noise level under 60 decibels that can effectively clean the user's mouth. It is also equipped with a 3.5mm thinmetal-free brush head making brushing your teeth safer and more comfortable as it is not made of copper sheet. It is different from the meta grafting process to avoid oral injury.
The anchorless tufting toothbrush head is ultra-thin and can effectively reduce the foreign body sensation in the mouth. realme M1 Sonic Electric Toothbrush also consists of Dupont 99.99%
Bacteriostatic bristles to protect against most bacteria, even in wet bathrooms. It is a 98% End-rounded Bristle to avoid damaging the inside of your mouth.

Apart from that, the W-shape of the toothbrush head fits the contour of the teeth better. It can penetrate the mouth interior and cleans the blind area. The brush head also has passed the UV disinfection test.
The device also comes with a reminder bristle where the color represents the life of the brush head as it informs users whenever it is time to change it. There will be two brush heads provided in the package, one regular and one sensitive.
A 10 degree stable swing of the brush head gives your teeth a full range of deeper cleaning. In terms of battery, it is equipped with a large 800mAh large battery and can last up to 90 days with only one charge of about 4.5 hours. For those who need to use the electric toothbrush urgently can charge it for five minutes and the device can last for two days.
realme M1 Sonic Electric Toothbrush is a wireless inductive charging device. Apart from the four cleaning modes, it also comes with Last Memory Mode as it will remember the last mode used. The device has IPX7 Water Resistant rating which enables users to wash it under running water for about 30minutes.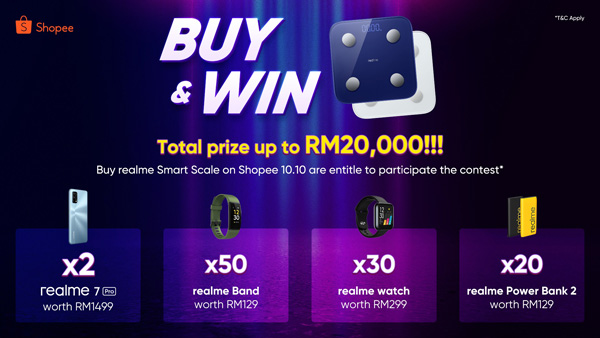 Product Availability
Version
Colours
Sales Information
realme Smart Scale  
RM 149    
White and Blue
First Online Sale on realme's official store at Shopee
-Purchase during 10.10 Shopee Flash Sales for only RM99
-Lucky draw prizes worth up to RM20,000 only on 10th October 2020
-Link: http://bit.ly/realmesscalepr  
realme M1 Sonic Electric Toothbrush RM 199  
White and Blue
First Online Sale on realme's official store at Shopee
-Purchase during 10.10 Shopee Flash Sales will be given a unit of realme Buds Classic
-Link: http://bit.ly/rtoothbrushpr  
To find out more about realme's events and promotions, do follow our Facebook page as well as Instagram at @realmemalaysia.