Sime Darby Auto Selection, Malaysia's fastest-growing corporate multi-brand used car dealer under Sime Darby Motors today launched its online used car store aimed at providing customers with a seamless used car buying experience.
Sime Darby Auto Selection's online store (simedarbyautoselection.com.my) enables customers to search from a wide range of high quality used cars – from used to nearly new vehicles. Sime Darby Auto Selection has up to 300 used cars of multiple brands available for viewing, and they are not limited to Sime Darby Motors' stable of franchise brands. Every used car undergoes a thorough inspection process to ensure it is in the best possible condition and quality. The website comes with user-friendly features that enable scheduling of car inspections and appraisal appointments, service appointment and test drive bookings, as well as the latest promotions and events.
The website will debut a "Spin Car" feature which offers customers 360° interior and exterior view of vehicles, allowing customers to explore every detail of the vehicle they are interested in, from all angles.
"Along with our vision to be the trusted used car dealer, the team behind Sime Darby Auto Selection strives to offer premium quality used cars and excellent after-sales services to our customers. Sime Darby Auto Selection's online used car store caters to all our customers' needs. Those looking to buying a used car can browse our wide selection and schedule test drives, while those selling their cars may schedule appraisal appointments. Existing customers are also able to log in to book service appointments with our team of highly qualified technicians. By leveraging on the power of the Internet and mobile technology, we are able to provide a seamless online used car trading experience for our customers, and we hope to leverage on this capability to grow our business even further," said the Managing Director of Sime Darby Auto Selection, Vi Thim Juan.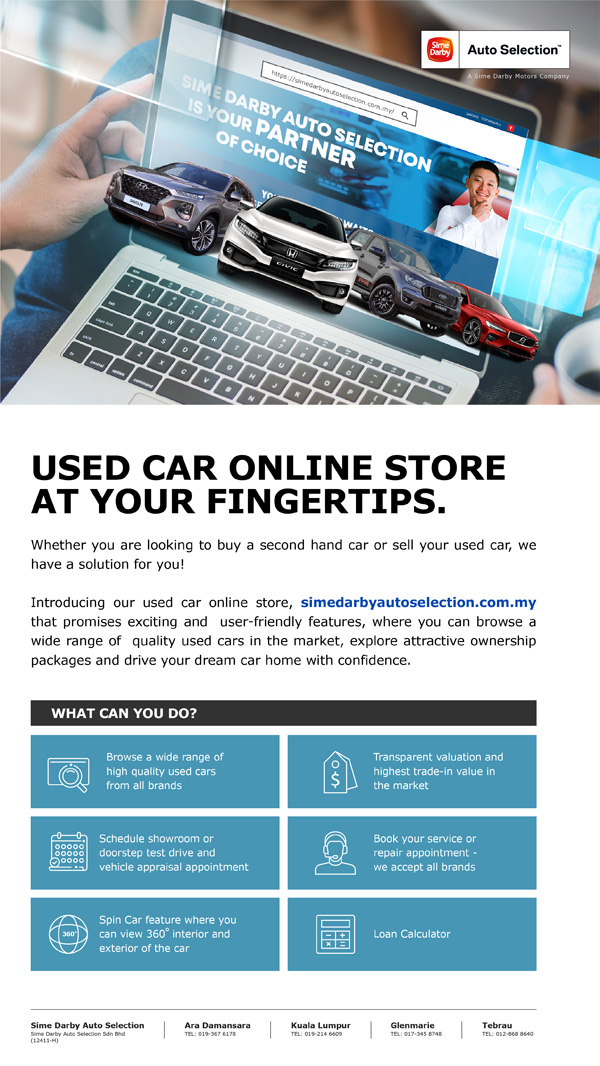 The online store which went live today, promises more features for customers convenience including loan calculators and booking transactions to enable placement of orders at any time, any day, without the hassle of visiting a dealership, in the near future.
For more information, visit simedarbyautoselection.com.my or call any Sime Darby Auto Selection showroom for more information.