Mercedes-Benz Malaysia Sdn Bhd and Hap Seng Star Sdn Bhd launched the first Autohaus with Luxury Lifestyle Boutique, featuring exclusive Mercedes-Benz design collection and accessories for customers and their Mercedes-Benz vehicles. The new Brand Presence reaffirms Mercedes-Benz's commitment to lead a new era of retail experience. It strengthens the company's customer-centric efforts in Malaysia by offering star branded exclusive products to complement the exclusivity and luxury that the brand carries.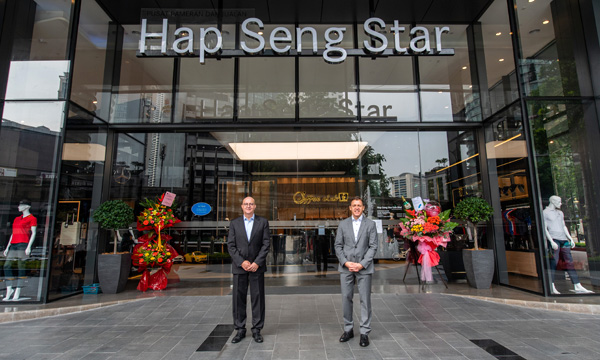 Dr Claus Weidner, President and Chief Executive Officer of Mercedes-Benz Malaysia said, "The new Autohaus by Hap Seng Star reaffirms Mercedes-Benz Malaysia's commitment to create a fascinating brand experience at every point in the customer journey. The new brand presence promises an authentic luxury experience with a modern touch. Our aim is to connect our customers not just with a car, but also a lifestyle experience that encourages a sense of joy, luxury and exclusivity."
Harald Behrend, Group Chief Operating Officer of Hap Seng Consolidated Berhad and Chief Executive of Hap Seng Group Automotive Division, said, "With this investment in The First New Mercedes-Benz Retail Brand Presence in the heart of KL City Centre and The First Mercedes-Benz Accessories and Collection Boutique in Malaysia, we aim to create the best experience for our customers throughout their ownership journey. Hap Seng Star embraces the Mercedes-Benz spirit of innovation, luxury, and world-class service, delivered by experienced personnel with in-depth product knowledge and exceptional service skills".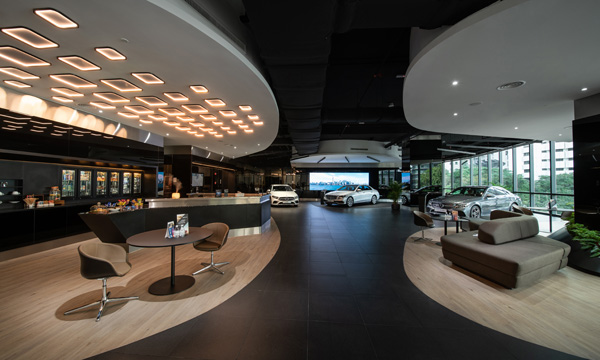 Providing a lifestyle experience of tomorrow, the Hap Seng Star Kuala Lumpur Autohaus is managed by 20 personnel, seated on a 29,300 sq. ft land and handles everything related to vehicle sales. The lifestyle experience includes Malaysia's first Mercedes-Benz Luxury accessories and collection boutique, catering to a wide range of customers with a variety of collectables and products. The boutique offers a range of accessories, including business and casual wear, trendy sunglasses, elegant watches and many such products. Customers can now choose the right outfit to suit every occasion as well as the matching Mercedes-Benz accessories like belts, wallets, and cufflinks.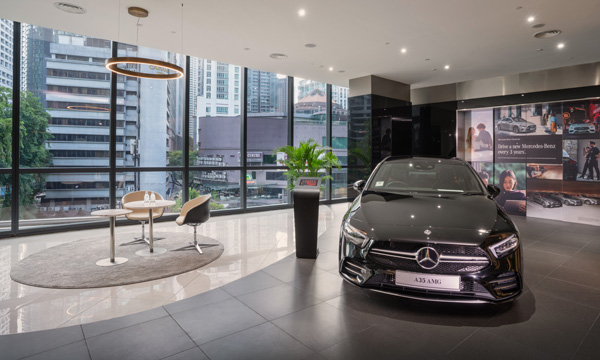 The new HSS Autohaus also has a private lounge on Level 2, overlooking the busy crosswalk of Jalan Sultan Ismail. Furthermore, a café on Level 3 is available with refreshments for customers to enjoy.  The spacious delivery bays, span over 2,000 sq.ft. are fitted with special illuminations delivering a unique vehicle handover experience. The new Mercedes-Benz brand presence makes it possible for the material dimension of its corporate culture and brand promise to be experienced beyond the online world, offering individually tailored experiences for each Mercedes-Benz customer.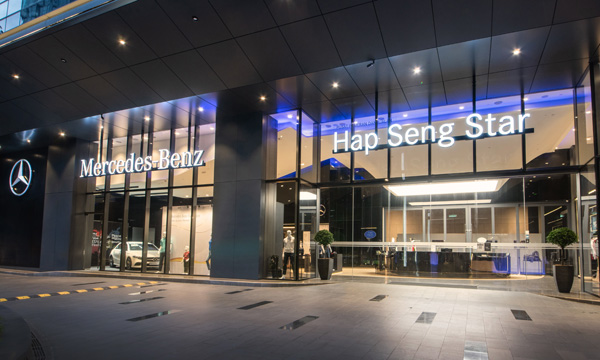 Hap Seng has invested a total of over RM300 million to date in enriching customer touchpoints nationwide, with an investment of RM3.5 million in the Hap Seng Kuala Lumpur Autohaus alone. It currently operates Autohaus in 11 locations, including Kuala Lumpur, Kinrara, Balakong, Jalan Ipoh, Bukit Tinggi, Setia Alam, Melaka, and Iskandar in Peninsular Malaysia. In Sabah and Sarawak, Hap Seng is present in Kuching, Miri and Kota Kinabalu.