HUAWEI has taken another big step forward in technology innovation and design experience by officially launching its first flagship over-ear headphones, HUAWEI FreeBuds Studio today. The HUAWEI FreeBuds Studio boasts HiFi-grade wireless sound performance, ground-breaking noise cancellation experience, as well as smart and convenient interactive features. It is not simply a pair of over-ear headphones, but also an audio companion that allow Malaysians to discover the amazing digital audio world. Priced at RM1,199 and available in Graphite Black, the device will arrive in all HUAWEI Experience Store (HES) and online on HUAWEI Store on 30th October.
There are five key features that you must know about the HUAWEI FreeBuds Studio.
#1: World's First Headphones with Intelligent Dynamic Noise Cancellation
Built in with the revolutionary active and passive noise cancellation, innovative dynamic noise cancellation and dual transparent mode, and the whole new six microphones array call noise cancellation, HUAWEI FreeBuds Studio enables users to listen to what they want in a complex and dynamic environment, satisfying their need for entertainment and communication. The HUAWEI FreeBuds Studio features powerful noise cancellation system to offer the industry leading noise cancellation capability, achieving up to 40dB of noise cancellation.
#2: Ultra Hi-Res Audio Redefines Music Experience
Adopting the Hi-Fi level acoustic system, HUAWEI FreeBuds Studio offers an ultra-wide frequency response range from 4Hz to 48 kHz, bringing out more detail in audio when you listen to high resolution music. HUAWEI also uses 4-layer 40mm polymer diaphragm on the HUAWEI FreeBuds Studio. The diaphragm can provide wider frequency response and higher sensitivity so as to accurately present the original sound quality of high-frequency sounds for consumer to tune in.
#3: Industry's First Dual Antenna Headphones with 360-Degree Full Signal Coverage
Each of the FreeBuds Studio's earcup is equipped with two Bluetooth antennas to provide a 360-degree all-round signal coverage. The antennas can intelligently detect if a signal range is blocked and automatically switch to another antenna to ensure stable connection even in complicated conditions. Even though your smartphone is inside your handbag or pocket, or with strong signal interference such as airport, the HUAWEI FreeBuds Studio offers a 360-degree full signal coverage that ensures an uninterrupted phone calling and music playback experience.
#4: Pioneering TAT (Tee Audio Tube) Acoustic Architecture
The TAT structure links inner ear space with the front and rear sound cavity to filter out the medium and high frequency noise. Additionally, it brings a comfortable wearing experience by balancing the air pressure in your ears.
Enjoy touch control at your fingertips too. Click or swipe on the right earcup to control music playback or to adjust volume.
#5: Dual Device Connectivity for Seamless Call Transfer Experience
Featuring four-channel, dual-mode and dual connection, the HUAWEI FreeBuds Studio allows users to connect the headset with two devices simultaneously, saving user effort to disconnect and re-connect repeatedly. This function supports all smart devices and truly enables a seamless connection between user and a device as well as one device and another device for home activities, work, study, commuting or workouts. The headphone also comes with powerful battery life enables by HUAWEI SuperCharge. It can be fully charged in only 60 minutes, offer music playback with noise cancellation on for up to 20 hours and 24 hours when noise cancellation is turned off.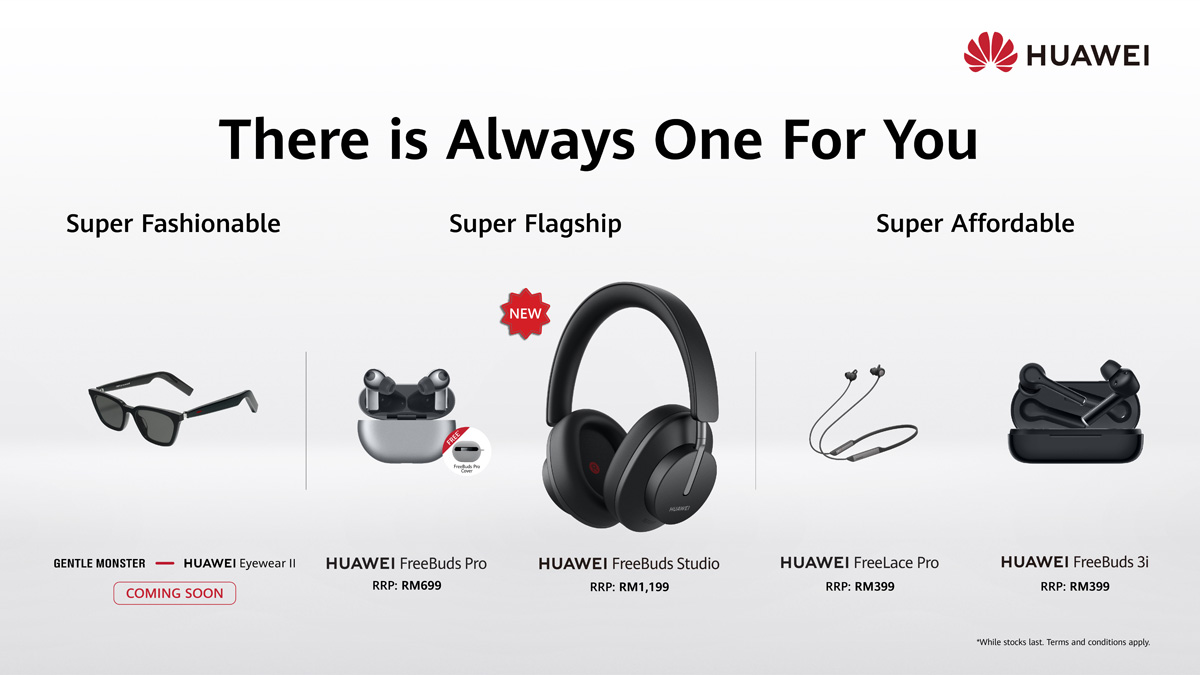 There's Always One for You at HUAWEI
HUAWEI has also launched a range of wearables to suit your daily lifestyle such as the HUAWEI FreeLace Pro, FreeBuds 3i, FreeBuds Pro, WATCH FIT and WATCH GT 2 Pro. From leisure to sports to music enthusiasts, HUAWEI has got you all covered to deliver a seamless AI smart life.
For more information on HUAWEI's latest products, stay tuned to HUAWEI's Facebook page at www.facebook.com/HUAWEIMobileMY.