With the official launch of the HUAWEI MateBook 14 today, HUAWEI has introduced a broad range of laptops from super flagship, super valuable to super affordable to cater the various needs of consumers. The HUAWEI MateBook 14 is soon available for purchase in Malaysia bringing you excellent performance in a sleek ultra-thin laptop at a super valuable price from RM3,799.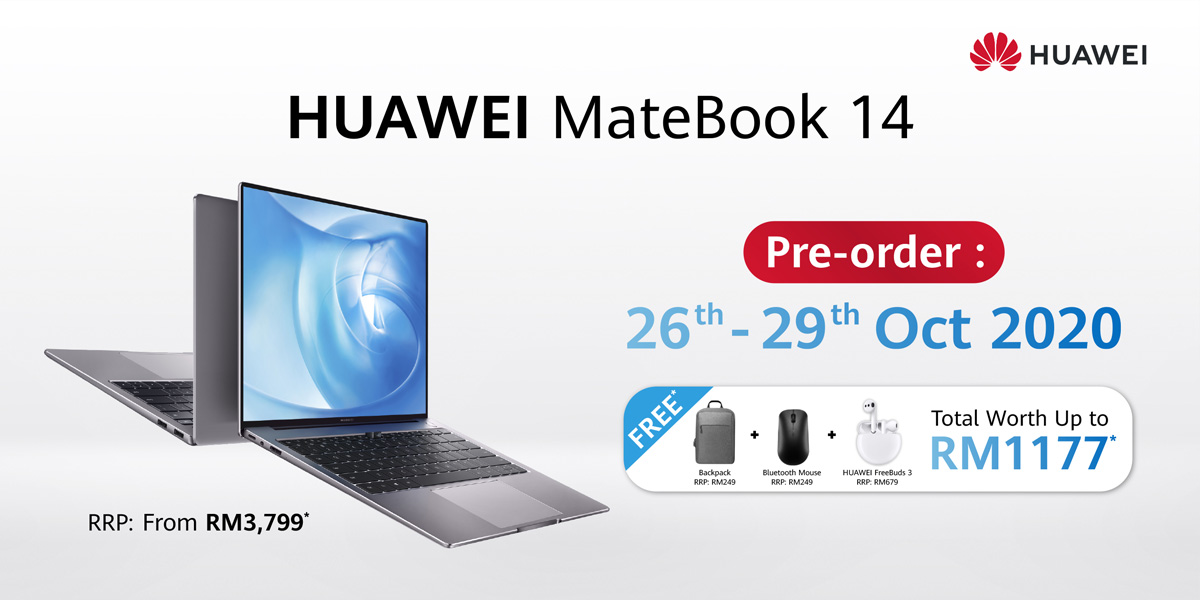 Want to know more about the brand-new HUAWEI MateBook 14? Here are five reasons why you should not miss the opportunity to pre-order the laptop!
Grab attractive freebies worth RM1,177
The HUAWEI MateBook 14 will be available for pre-order for four days only starting from 26th to 29th October 2020 from HUAWEI Store and Huawei Official Store on Shopee. It comes with freebies worth RM1,177, consisting of HUAWEI FreeBuds 3, HUAWEI Backpack and bluetooth mouse. Don't miss the opportunity to get these accessories to match with your brand-new laptop and be a trend setter regardless if you are working from home or in the office.
Bringing you excellent performance at an attractive price tag
There are two variants of chipsets for the HUAWEI MateBook 14 namely the AMD Ryzen™ 5 4600H and AMD Ryzen™ 7 4800H. For the first variant, it is priced at RM3,799 while the latter is available for sale at RM4,399. These chipsets allow the HUAWEI MateBook 14 to operate smoothly and quietly with ultra-fast responses even when using complex software.
If your laptop was always laggy, you should consider the HUAWEI MateBook 14 to level up your work efficiency and gaming experience! And if you feel that the normal performance is not sufficient, you can turn it up a notch and switch over to Performance Mode to make heavy tasks run smoother with the HUAWEI MateBook 14!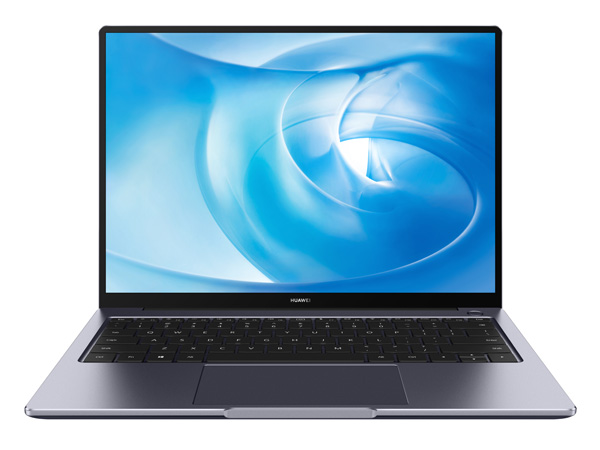 Ultimate design and lasting beauty
The HUAWEI MateBook 14 features a minimalist design with precise and well thought out details, from the lightweight body that weighs just 1.49kg to the thickest point of 15.9mm for a 14-inch laptop. Available in Space Grey, this high-performance laptop shows you don't have to sacrifice performance for aesthetics. Moreover, the high-strength aluminium body created through anodising processes with 40 steps, can withstand the rough and tumble of everyday life with ease.
Satisfy your work and entertainment requirements with FullView Display
When you can choose your screen for work and entertainment, you're likely to go with a bigger screen. With the FullView Display of HUAWEI MateBook 14, it delivers a fascinating experience through its details, brightness, and vivid colours. Available on AMD Ryzen™ 7 4800H, the touch screen experience with three-finger swipe gesture will make it as convenient as a smartphone. Not only that, but you will be impressed with 15 lines at a glance instead of 10 lines with its 3:2 screen aspect ratio, perfect for those endless reports.
Beyond that, its screen can reduce harmful blue light effectively to protect your visual health. The screen is certified by TÜV Rheinland, so that's good news for those who often spend long working hours in front of the HUAWEI MateBook 14!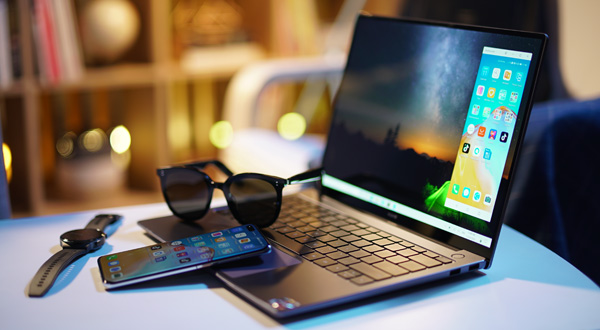 Be an early adopter and experience 3 innovative 2-in-1 functions
If ever you thought about what could make laptops better, it might be one of these three innovations. First off, while it might not seem obvious, many of us may be reluctant to carry the laptop charger everywhere we go because of its additional weight. The good news is that the HUAWEI MateBook 14 comes with a 2-in-1 charger. You can now use it to charge your Huawei laptop and your Huawei smartphone!
Besides that, the next 2-in-1 innovation might be a dream come true for those who are bad at remembering passwords. With the amount of login details we have for each platform we interact with; it comes as no surprise that some of us end up forgetting passwords all the time. Well, the power on button on the MateBook 14 is also a fingerprint scanner. Not only can you now switch on and login at the same time, but this feature also adds an enhanced level of security for your important data.
The last 2-in-1 experience is no stranger for those who have been immersed in the HUAWEI ecosystem. HUAWEI Share allows you to mirror your HUAWEI smartphone's screen onto your HUAWEI laptop through Multi-screen collaboration. Users get to control their smartphone on their laptops and perform actions like replying to texts, answering calls and even playing games. It also is a medium for easy transfer of large files – you simply need to drag and drop the file and voila, it's done.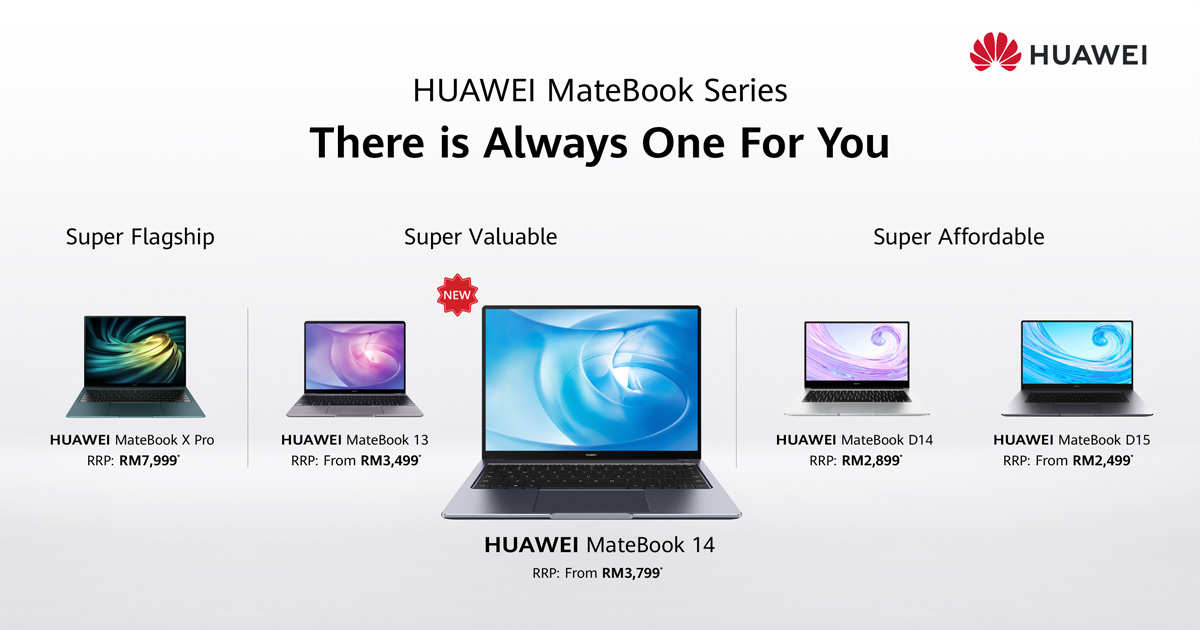 There is always one for you!
Feel like this might not be it for you? You can always check out the HUAWEI MateBook series for other options as there is always one for you at HUAWEI.
If you are a business elite, feel free to check out the HUAWEI MateBook X Pro that provides you a higher quality performance with a more secure and efficient working experience. If the flagship laptop is not what you are looking for, then perhaps you can opt for the MateBook 13, perfect for those who know what they want but don't intend to spend the extra buck. If that still doesn't fit the bill then perhaps the HUAWEI MateBook D 14 and D 15 will fulfil your basic needs and is your key to the HUAWEI ecosystem.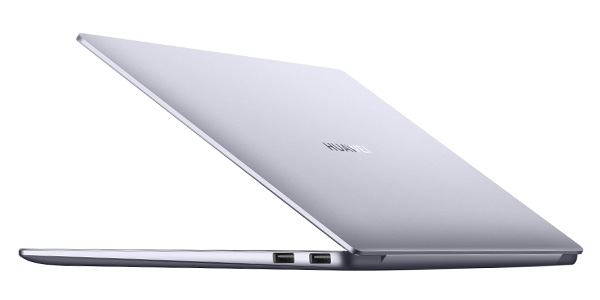 Among the HUAWEI MateBook series, there is always one for you!
With all these amazing features in place, what are you waiting for? Pre-order the new HUAWEI MateBook 14 now. Below is a list of options for you to choose from.
Benefits of HUAWEI Store Pick Up Service
HUAWEI is offering a store pick up service and is commonly known as O2O, which stands for Online-to-Offline service. Through this, consumers can enjoy online rewards while experiencing offline services too. So, what are the benefits of this O2O Store Pick Up service? In brief, the store pick up service can save you money, time and hassle.