Canon Marketing (Malaysia) Sdn. Bhd. ("Canon") launches its Be Original: Genuine Toner Loyalty Program today – an initiative to encourage and educate customers on the importance of genuine toner cartridges.
Through this campaign, customers are rewarded with 1000 points with every purchase of Canon toner between 1 October till 31 December 2020, and immediately rewarded with a RM10 Touch 'n Go eWallet credit upon redemption. More rewards can be found on the Your Life With Canon (YLWC) Points Store, such as Canon mini projector, printers, camera and et cetera.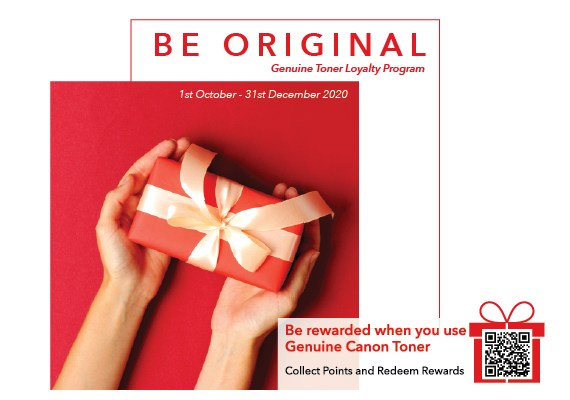 "As more consumers are working from home nowadays, the launch of this campaign is definitely timely, as we have seen a huge surge in demand for home-used printers during the last 6 months," said Sandy Lee, Assistant Director of the Consumer System Products (CSP) Division at Canon Marketing Malaysia. "Not only are third-party and non-genuine toners damaging to printers, which result in hefty repair costs and void of the printer's warranty, it also contains unsafe substances that can pose a risk to safety and our health." added Lee.
Canon genuine toners are carefully designed and refined to the specific printers, delivering the highest quality
printouts, while preventing toner leaks, clogging and printer damage. On top of that, it also delivers a higher page yield compared to the third-party toners, more durable and ultimately more cost-effective over time.
"We want to take this opportunity to encourage and educate our consumers on the importance of acquiring genuine toners, as many are not aware of the negative impacts caused by the usage of third-party and non-genuine toners," said Lee.
All Canon's genuine toners are encrusted with a holographic security label on its packaging. Customers will need to scratch the label, scan the disclosed QR code with a smartphone and customers will be led to the YLWC website for verification of the toner. Alternatively, customers can also manually enter the serial number and pin number if they are using their desktop or laptop, to confirm its authenticity via the YLWC toner registration webpage.

In order to enjoy the reward, customers will first need to sign up as a member, key in the toner serial number on or before 7 January 2021 and points will be credited automatically to their account upon verification. Once the redemption request has been confirmed, the merchandise rewards will be delivered to the registered delivery address within 30 days. As for the Touch 'n Go eWallet credit redemption, a pin number will be delivered to the respective YLWC account and notification via customer's registered email within 20 days. With the pin number, customers will then reload their eWallet accordingly.
As long as customers have sufficient points to fulfil the redemption requirements, multiple rewards claims are allowable. Accumulated points are subject to expiration one year after being posted to the member's account. For further terms & conditions, please visit ylwc.canon.com.my.