Yoodo – Malaysia's first truly customisable and 100% digital mobile service has just made getting started with Yoodo even more accessible with Yoodo SIM cards now available at 99 Speedmart stores.
Now Telco users looking to switch to Yoodo can head to any of 99 Speedmarts' 1,690 stores nationwide. SIM cards will be available for purchase at just RM2 and will come with 5GB of data for free upon SIM activation.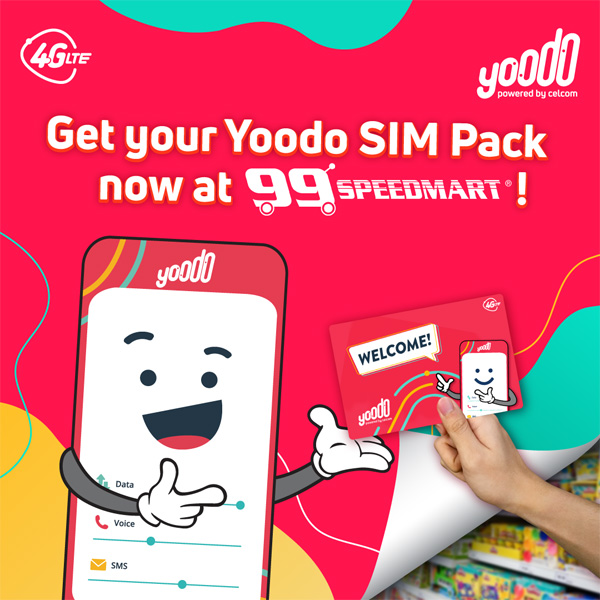 Commenting on the announcement, Chow Tuck Mun, Head of Yoodo said, "We are excited to offer users more ways to get a Yoodo SIM card. We understand that to users convenience is paramount and that is why we have taken this step to add more touch-points and options for our users when it comes to getting a Yoodo SIM card."
"No other Telco offers as many options for getting started as Yoodo. This includes our fully digital sign-up process, regular and express deliveries as well as the nation's first truly digital eSIM process. Now we have yet another option, anyone looking to switch to Yoodo, can simply head to the nearest 99 Speedmart store and get a Yoodo SIM card immediately.
Established in 2018, Yoodo offers a wholly digital experience for modern consumers with in-app registrations, SIM orders and activations. The ecosystem also allows users to purchase add-ons, customise their plans – in terms of voice, SMS and data and make payments as well as manage accounts easily via the App.
Previously through the App, new Yoodo subscribers were able to register and order a SIM card which would either be delivered to their doorstep for free within three working days or in just two hours with the paid express delivery option. Alternatively, they could also opt for the eSIM that only takes minutes to activate. Now, new users will also have the choice of instantly obtaining a SIM card at any 99 Speedmart store.
"Yoodo is all about customisation. Through our innovative approach, users have access to more than 350,000 possible mobile plan options to allow for maximum personalisation. With our presence in every 99 Speedmart outlet nationwide, users now have another option when it comes to how they can get our SIM cards," Tuck Mun added.
On top of the free 5GB new users will get upon activating their Yoodo SIM card, they can also enjoy even more lighting fast 4G LTE data with Yoodo's 20GB for RM20 promotion.  For a list of 99 Speedmart outlets please visit: www.99speedmart.com.my/Store.