Xperia 5 II has been added to the already compelling Xperia line-up, offering a compact design with no compromise on performance.
Xperia 5 II takes many of the leading features from Xperia 1 II, including a triple lens camera paired with ZEISS optics calibrated specifically for Xperia 5 II. Also included are Photography Pro with technology from Alpha™ series cameras for fast and accurate AF/AE, Cinematography Pro "powered by CineAlta" for similar parameters and colour settings as professional filmmakers and a 21:9 CinemaWide display for viewing pleasure. In addition, superb audio features include High-Resolution Audio, a 3.5mm audio jack, and front-facing stereo speakers, all rounded up in a compact and beautiful, slim design to fit perfectly in your pocket. It also adds 120Hz Refresh display rate and 240Hz Touch scanning rate to give the smoothest and most accurate gaming experience.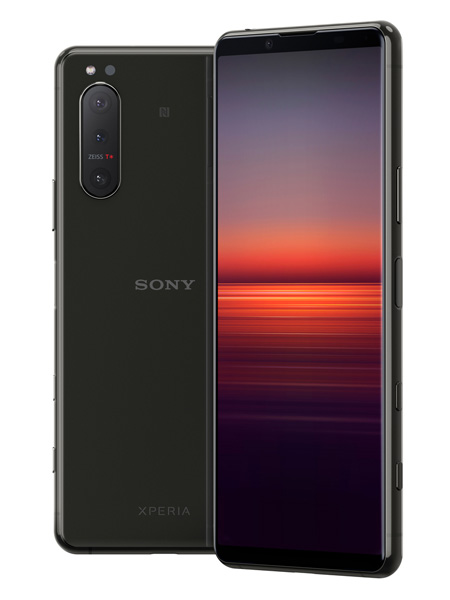 "Sony's heritage has been rooted in technology and engineering, and our portfolio has expanded to include the field of entertainment from music, movies, games and much more," said Atsushi Endo, President, Sony Singapore Marketing Company. "With this unique background, Xperia smartphones are feature-packed with Sony's advanced technologies in a compact body, with a profound passion to push the boundaries of what is possible."
Capture perfect portraits and unmissable moments, always in focus
Taking a leaf out of its big brother's (Xperia 1 II) book, Xperia 5 II is designed with technology from Alpha™ series cameras for razor sharp results. Perfect portraits aren't always posed and creating clear, spontaneous shots is where Real-time Eye AF comes into its own. Whether you're photographing fast-moving people or animals, Real-time Eye AF makes sure the most expressive part of the face takes centre stage, even when one eye is covered, or the person is moving quickly.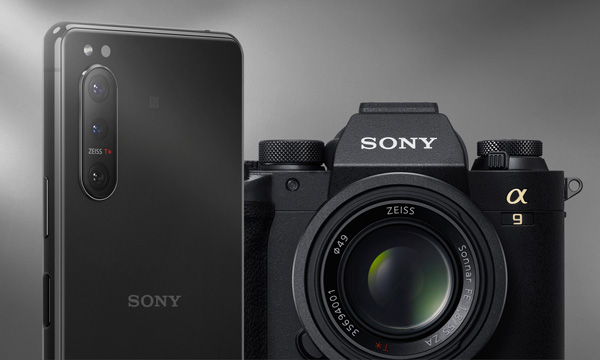 Xperia 5 II captures unmissable moments by offering continuous Autofocus that performs AF / AE calculations at 60 times per second, which enables you to shoot and store 20 shots (20fps) with high precision, accurate focus and optimised exposure.
The versatile triple lens camera, with three focal lengths: 16mm/24mm/70mm, captures beautiful landscapes and portraits, and lets you zoom in on distant subjects. The ZEISS optics are specifically calibrated for the Xperia 5 II and feature the renowned ZEISS T* coating for reduced reflection, resulting in exquisite contrast and image rendering. Quality images are captured when shooting at low light with its 1/1.7-inch large sensor and noise reduction with Bionz X™ for Mobile engine.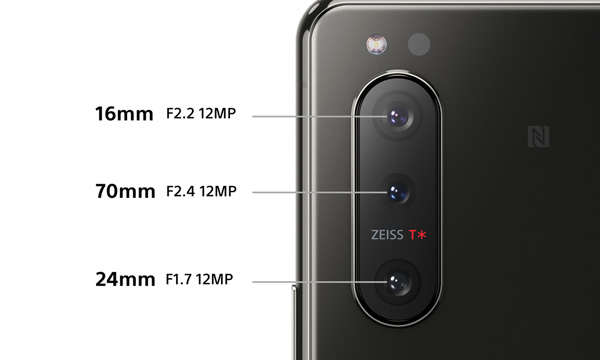 Like Xperia 1 II, it offers Photography Pro, a user interface that was developed in collaboration with professional photographers and mirrors many of the manual controls available in Alpha™ series cameras including ISO, Shutter Speed and EV Indicator, whilst also providing RAW support.
In addition, Cinematography Pro "powered by CineAlta" now enables more choice for engaging, story-telling with dramatic slow-motion cinematography creation, making it the world's first 4K HDR 120fps slow-motion movie recording in a smartphone which can capture and playback up to 5x slow-motion when set at 24fps. It also records in 21:9 ratio at 24/25/30/60fps, enhancing cinematic expression. Eight different Look colour management pre-sets allow you to change the mood of your scenes to different cinema styles. Whilst Sony's unique Intelligent wind filter technology uses award-winning audio separation technology to reduce wind interference for clearer audio recording.
Gaming on the Go
The combination of Xperia 5 II's premium entertainment features enable it to become a mobile gaming powerhouse. It takes you deeper into the action with an immersive 21:9 display – and with Game enhancer, ultra-fast performance, 120Hz Refresh rate display, and precise 240Hz Touch scanning rate, Xperia 5 II sets you up with a strong advantage to win the game. All features have been developed in response to working with professional e-sports gamers to ensure the best experience.
The 21:9 display is wider than conventional displays, revealing more of the action – so you can see your opponents before they see you and give you the advantage, especially in first-person shooter games. Not only do you get an unrestricted view of your gaming action on the native 120Hz Refresh rate display, fast-moving objects are rendered clearly for seriously smooth gameplay. But the Xperia 5 II doesn't stop there – with 240Hz Motion blur reduction, the display updates the image an incredible 240 times per second for blur-free action.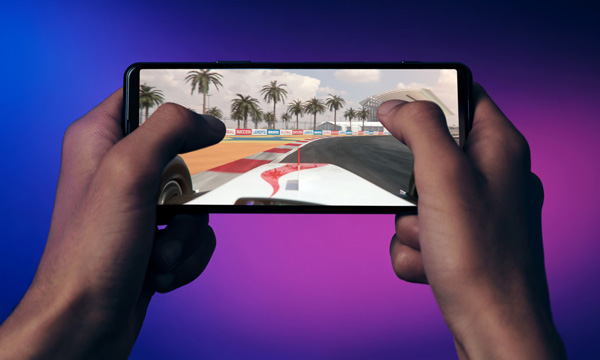 For games that require fast fingers, the Xperia 5 II gives you the edge. It supports 240Hz Touch scanning rate, which is up to 4x higher than the previous model – meaning the action happens exactly as you intended for precision control. Touch response has been improved by 35% compared with the previous model with the system recognising your touch at the precise moment you intended.
Game enhancer offers a range of features and settings to help you improve your gameplay and assist in achieving more wins with Competition set. You can share your best moments too, using screenshots, audio or video clips. HS Power Control also enables you to play longer and avoid overheating.
Taking your gaming one step further, connect a PlayStation®4 DUALSHOCK®4 Wireless Controller and play Android games for an authentic gaming experience. Whether you're playing for fun or serious about winning the title, Xperia 5 II can provide an optimised quality experience with its unique tuning in collaboration with Qualcomm® Snapdragon Elite Gaming™.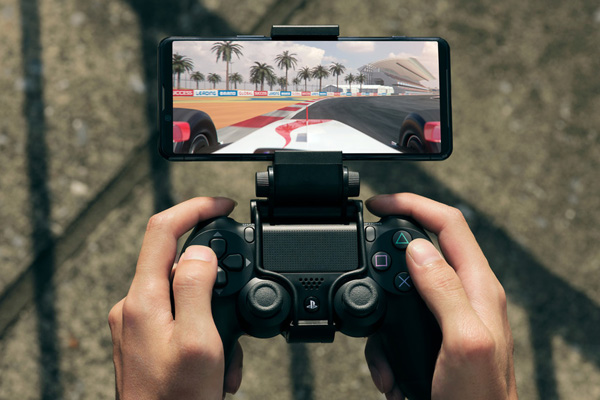 Pocket Perfect for Entertainment
Xperia 5 II is perfect for movie lovers, with its 21:9 CinemaWide 6.1" FHD+ HDR OLED notch-less display, it puts the widescreen experience in the palm of your hand. Plus, you can download and stream content faster than ever. Colour reproduction when watching your movies is exquisite, inspired by Sony's professional technologies used in leading Hollywood studio productions, Creator mode "powered by CineAlta" brings content to life exactly as it was envisioned. The X1™ for mobile engine brings BRAVIA HDR remaster technology to everything you watch to enhance the contrast, colour and clarity of any content, even streaming services. Whilst the 120Hz Refresh rate ensures smooth scrolling and internet browsing.
Xperia is now synonymous with great audio and it hasn't stopped with Xperia 5 II, enhancing the immersive entertainment experience. Watch a movie with Dolby Atmos® sound, tuned in collaboration with Sony Pictures Entertainment, for a multi-dimensional surround sound experience. Music sounds better too with audio tuned in collaboration with Sony Music Entertainment to deliver a truly authentic listening experience. 360 Reality Audio hardware decoding optimises sound quality when listening to music on global music and entertainment platform, TIDAL.
High-quality music can be enjoyed through the front stereo speakers or when listening with headphones either wirelessly or with the 3.5mm audio jack. The jack provides clearer left and right audio separation, reducing signal noise to an imperceptible 20dB – over 90% lower than USB-C headphone connections.
Whatever format you're listening to, Xperia 5 II ensures you get the most out of your music. As well as High-Resolution and High-Resolution Wireless Audio, Xperia 5 II offers DSEE Ultimate which enhances the quality of your digital music using AI, including audio and video streaming services. It automatically improves audio frequency and dynamic range in real-time, taking each track close to high-resolution audio.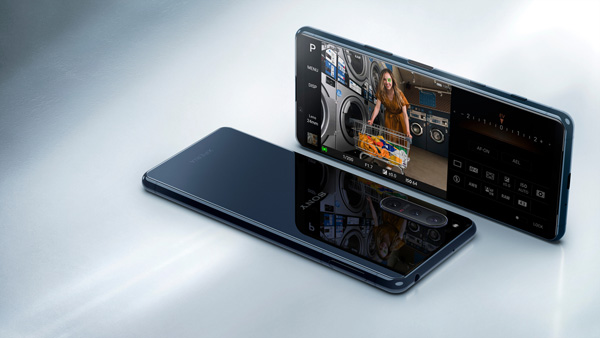 Compact but Powerful
At just 68mm wide and 8mm in depth, the Xperia 5 II is tailor-made for one-handed use – it has even been designed with a softer shape on the corners than its predecessor for a more comfortable feel for a perfect fit in your hand or pocket.
Its compact size doesn't make it any less powerful, Xperia 5 II is powered by a high-capacity 4,000mAh battery with fast charge that charges up to 50% in just 30 minutes. With a strong heritage in developing battery technologies to improve the battery lifespan, Sony can confidently say that Xperia 5 II will have a healthy battery even after 2 years of usage.
Not only is it compact, it also provides peace of mind with IP65/68 water resistance and Corning® Gorilla® Glass 6 on both sides, making it sturdy as well as beautifully designed.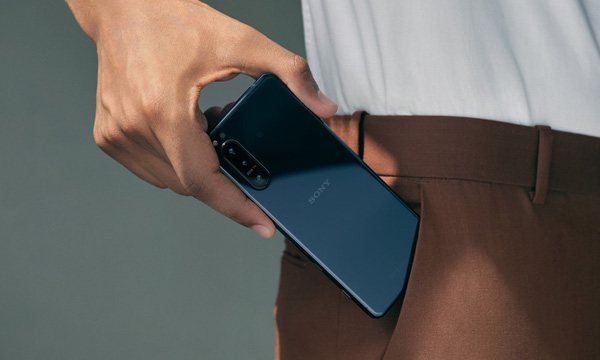 Accessories
The perfect accompaniment to Xperia 5 II is the Style Cover with Stand which provides a comfortable viewing angle when watching video content or gaming when paired with a controller. The stand is discretely built into the rear of the case, whilst still providing a slim hand fit design. Style Cover with Stand is available to purchase separately in Black, Blue and Pink to match Xperia 5 II.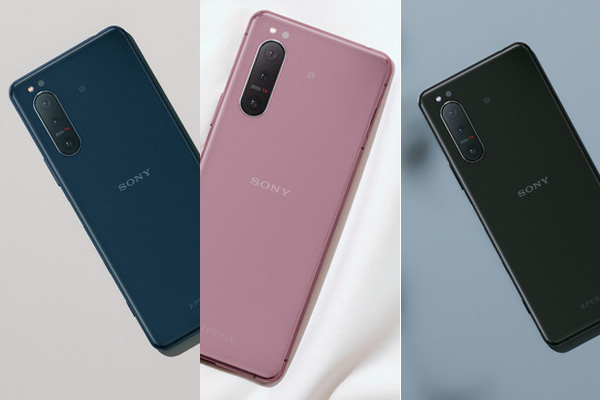 Pricing and Availability
The Xperia 5 II in Black, Blue and Pink will be available in Malaysia from December 2020 at Sony Stores KLCC & The Curve, Sony Store Online, and the Sony flagship store on Lazada. Price information to be advised.
For full product details, please visit here.