HP Inc. Malaysia has launched HP for Business, a platform dedicated to small-and-medium businesses (SMBs) in support of the future of the nation. To support local SMBs digitization needs as they move from survival to revival, HP for Business is offering monthly technology installment plans from just RM85.50 over 36-months this September. The bundle from HP will help Malaysian SMBs elevate their security, productivity, and mobility with HP's range of business PCs. It also includes a 12-month free integrated cloud-based software service from Deskera to help SMBs manage business operations including invoicing, accounting,  financial reporting, sales and lead generation and tracking, as well as employee payroll, leave and expenses.
SMBs are a key driver of economic growth and employment in Malaysia, making up 98.5% of business establishments in Malaysia, providing jobs to 70% of the Malaysian workforce. According to the HP Asia Pacific (APAC) SMB Outlook Report, 46% of SMBs surveyed are expecting less growth post-COVID. Despite this, over 50% of SMBs expecting not just to survive but thrive, post pandemic, and are looking for critical support and guidance to move past survival to revive their businesses longevity through digital adoption and a transformation of existing business models.
HP Malaysia continues to support SMBs' digital transformation through HP for Business, a platform providing resources, capabilities and knowledge, as well as technology innovation with flexible financing. In addition, HP for Business also offers free business webinars where local SMBs and industry experts offer advice on topics including business resilience, cost efficiency, digital economy, and security.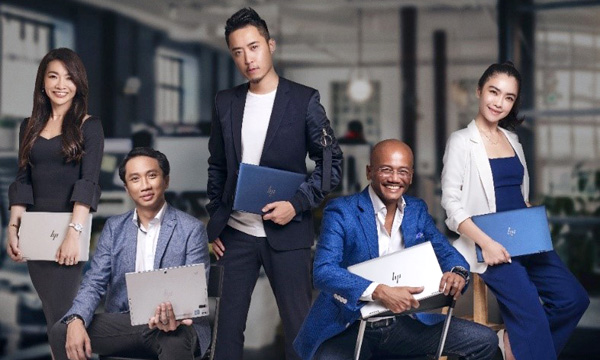 "HP for Business will empower local SMBs with the knowledge, innovation and services powered by HP's range of business technology that prioritizes flexibility, security, reliability and performance. The new offering aims to ensure that SMBs can be unstoppable as they ensure the future sustainability of their business and adapt to thrive with limited resources," saidAlex Tan, Malaysia Channel and Enterprise Director, HP Inc.
"Going digital is not a luxury anymore, but a core necessity. Our all-in-one platform will enable SMBs to seamlessly run their business, track their finances, manage their accounts, engage with their customers and employees as well. We are happy to partner with HP on this program to empower SMBs in Malaysia to successfully navigate this uncertain period", said Somesh Mishra, Vice President, Deskera.
HP's commitment to digital transformation for Malaysian SMBs
In this age of digital transformation, nearly 60% of SMBs across APAC view digital adoption as an essential skill to not just survive but thrive in post-pandemic. In Malaysia, over 65% of SMBs echo this statement to enhance business productivity, efficiency, security, and mobility to support long run finance flexibility and business growth.
Today's SMB workforce demands powerful, secure, and collaborative technology that can enhance their business productivity and upskill their business capabilities. They also want an ecosystem of products and services coupled with the knowledge and expertise that can address their wider business needs beyond technology. At HP, we remain committed to support Malaysia's digital transformation through initiatives such as HP for Business that offers guidance, resources and capabilities including the HP for Business Installment Plan to offer SMBs financial flexibility as they go digital.
HP Technology Installment Plans is powered by HP's range of business laptops and desktops including the HP ProBook 440 G7, HP ProBook 445R G6 and HP ProDesk 400 G6.
HP ProBook 440 G7 – Reliable, thin and light, it offers essential features at an affordable price for every business. The HP ProBook 440 is equipped with an Intel® Core™ i5 -10210U processor, ready to power through your deadline-driven workday with a long battery life. Featuring a durable and stylist aluminum cover that holds the near borderless display and a CNC keyboard deck, the HP ProBook 440 offers ultra slim capabilities with business performance in mind. Engineered with hardened security features below, within and above the operating system to protect, detect and recover from cyberattacks, stay on top on your business game with HP Security.  
HP ProBook 445R G6 – Full-featured, thin, and light, the HP ProBook 445R G6 lets professionals stay productive on the go. Not compromising on a stylish design, the HP ProBook 445R G6 is an essential tool for today's workforce, with enhanced security features by using multiple factors of authentication including fingerprints and facial recognition to power through your deadline-driven, multi-tasking day.
HP ProDesk 400 G6 – Providing world class support for an efficient, smart setup, the HP ProDesk 400 G6 paired with the HP V194 18.5-inch Monitor enriches work from home and office experiences. Built with business performance and security in mind, stay protected online with HP Sure Click, receive automatic updates through HP BIOSphere Gen5 and protect your PC with ease using the single interface of HP Client Security Manager Gen5.
Pricing and Availability
HP ProDesk 400 G6 is available now, starting at RM2,669.00, with monthly installments for 36-months at RM85.50 monthly
HP ProBook 440 G7 is available now, starting at RM3250.00, with monthly installments for 36-months at RM104.12 monthly
HP ProBook 445R G6 is available now, starting at RM2999.00, with monthly installments for 36-months at RM96.08 monthly
Both installment packages offer 12-months of Deskera (Essential Plan worth RM5,000) for 5 users, an all-in-one business software handles bookkeeping (invoicing, accounting, financial reports), sales (CRM, Leads, Pipeline) and even employee management (payroll, leaves, expenses).
All the above comes with HP On-Site Service Support.
For further information on HP for Business installment plans and to locate an authorized HP reseller, visit: reinvent.hp.com/HP-for-Business-Installment-Plan. For more information on other HP for Business products, kindly visit the HP Online Store at here or selected online store partners including Lazada and Shopee.