TikTok, the leading destination for short-form mobile video, partners with Media Prima, the largest integrated media group in Malaysia, to launch #KitaBersama in celebration of Malaysia's Independence Day. From 17 August to 17 September, Malaysians are able to express their love for Malaysia through the campaign with an interactive Merdeka-themed feature, as well as earn points for redeemable vouchers through TikTok Rewards in support of local businesses, especially during this period.
Cheah Sheau Mei, User and Content Operations Manager, TikTok Malaysia elaborates, "Merdeka Day is a special day for Malaysians of all ages, where we see communities, friends, and families coming together in a show of unity and solidarity. This Merdeka may be unique as we aim to flatten the curve by avoiding crowded places, but the spirit of patriotism remains alive. #KitaBersama is our way of supporting our nation by bringing a little happiness to our users and giving back to our community, right from the comfort of their own homes. What better way to engage and stay connected with family, friends and the TikTok community."
Michael Chan, Executive Director/CEO of Media Prima Omnia elaborates, "Media Prima is excited to collaborate with TikTok Malaysia to bring the celebration of our beloved nation's Independence Day "alive" online through a fun and enjoyable activity for all Malaysians. Celebrating Hari Merdeka in these unprecedented times, we hope to light up our audiences' days with the joy and patriotism that comes together with the #KitaBersama challenge."
TikTok creators can use Faizal Tahir's song "Malaysia", the official music for the #KitaBersama challenge, alongside the fun festive filter to create unique Merdeka themed videos.
In Unity with Small Businesses Nationwide
As part of TikTok's positive efforts in assisting the economic recovery of local businesses, TikTok is launching the second phase of their TikTok Rewards program throughout the Hari Merdeka to Malaysia Day period, from 24 August to 20 September. TikTok Rewards is a referral program that allows users to collect points and redeem vouchers from brand partners, such as foodpanda and Ikano Centres, to name a few. Over RM 300,000 worth of vouchers from Ikano Centres are available throughout their shopping centres IPC, MyTOWN, and Toppen.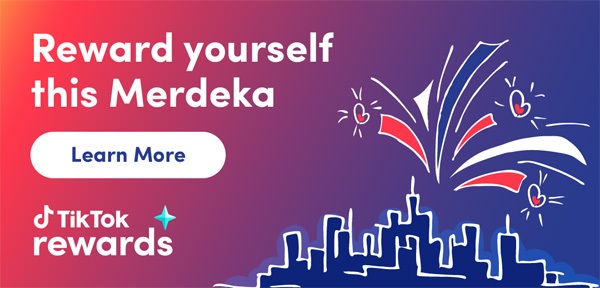 TikTok Rewards aims to boost consumer confidence for businesses affected by the Covid-19 pandemic by helping brands connect with users nationwide. Being an effective channel for companies to drive brand awareness, TikTok Rewards encourages Malaysians to #SupportLocal products and services.
So what are you waiting for? Download or open the TikTok app now to check out the interactive challenges from the #KitaBersama campaign and learn how you can win exclusive vouchers and promotions from TikTok Rewards!