YTL Foundation and FrogAsia have launched a weekly challenge GIAT: Belajar & Menang! featuring engaging lessons from FrogSchool to support the lessons of students returning to school, following the recent school shutdown in Malaysia beginning in March with the announcement of the MCO to stem the spread of Covid-19. GIAT: Belajar & Menang! is a continuation of efforts introduced by YTL Foundation together with FrogAsia and YES through the Learn From Home Initiative to help students continue with their lesson plans without disruption during the school closures.
This support for home learning has seen YTL Foundation collaborating with FrogAsia, Teach For Malaysia, Pelangi Publishing Group, Kindity Montessori Preschool, Universiti Kebangsaan Malaysia and MyReaders to create FrogSchool lessons to help parents and students with learning from home. FrogSchool contains over 500 lessons available for pre-school up till Form 5, covering Mathematics, the Sciences and English. Since its creation, FrogSchool has been accessed over 200,000 times. They are enjoyable, engaging and easy to navigate, thus enabling students to learn on their own. The lessons also contain video resources, activities and assessments available on FrogPlay (FrogAsia's gamified-learning application).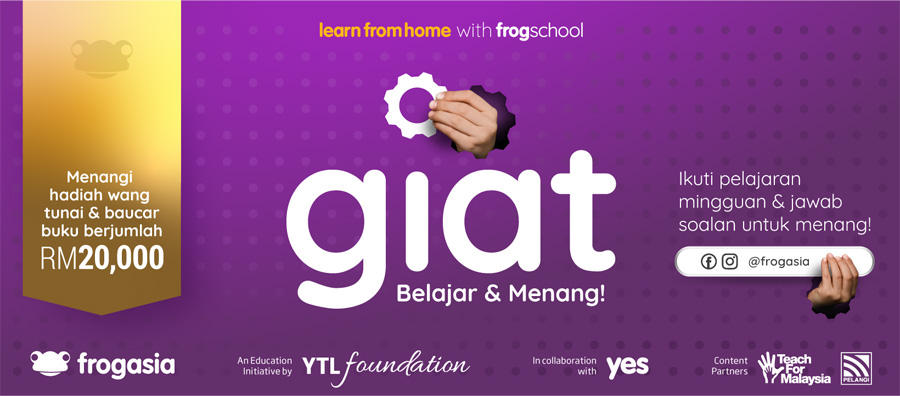 "When the pandemic resulted in schools having to close in March, we launched the Learn From Home Initiative to help parents and students faced with transitioning to home-based learning. We were aware that many schools were unprepared for the sudden closure and with the FrogSchool lessons, we strived to fill the gap in order to enable children to learn from home easily and effectively. We have had very positive feedback on the effectiveness of the lessons and believe that this is a valuable resource even when schools reopen. We have launched GIAT: Belajar & Menang! to encourage students to keep up with their studies through our exciting weekly challenges," said Datin Kathleen Chew, Programme Director of YTL Foundation.
On a weekly basis, YTL Foundation and FrogAsia will host a challenge based on featured FrogSchool lessons. There will be a featured lesson for lower primary, upper primary, lower secondary and upper secondary students each week. The GIAT: Belajar & Menang! challenge will be open to all students in Government schools, with participants standing a chance to win cash prizes and book vouchers totalling RM20,000 (40 winners per week for a duration of 8 weeks). Winners will be announced every Friday.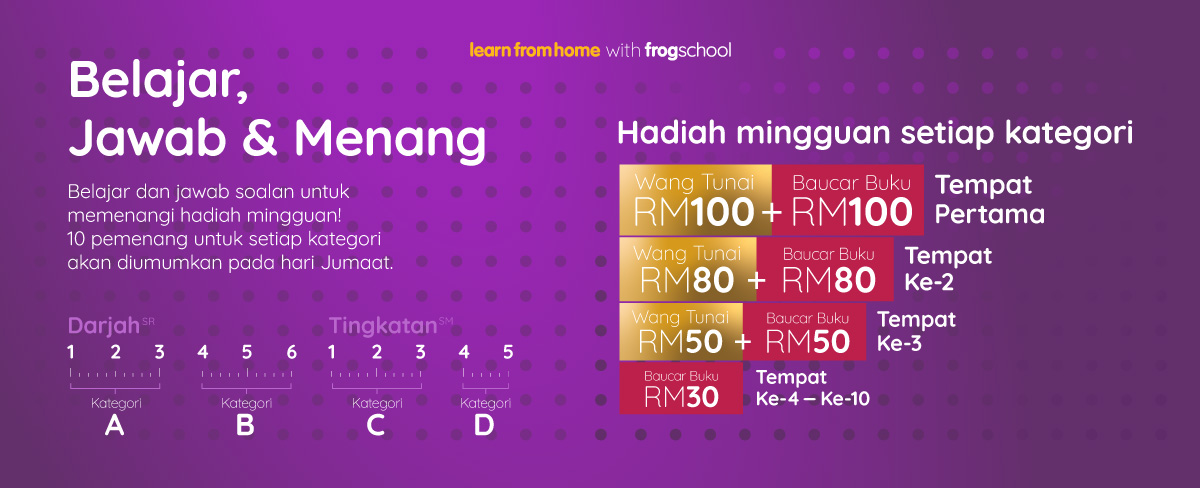 Encik Hamdan – the father of a Year 3 student from SK Balik Pulau, initially found that home-based learning was not easy for working parents because their children were not trained for independent learning. Both Encik Hamdan and his wife struggled to guide their child with his studies because of the lack of tools and understanding when it comes to finding content that is easy to understand and appropriate for their son. However, with the lesson materials made available from the Learn From Home initiative, they were able to overcome the obstacles.
"Both my wife and my son were excited to use the Learn From Home lesson materials because of the interactive videos that made learning much more interesting. The lessons are easy to understand and my son does not feel bored. He is able to understand the topics simply by watching and listening to the videos. Seeing this, I decided to download the FrogPlay application on my mobile device so that my son is able to answer quizzes during his free time. I would definitely recommend this to other parents who have encountered the same issues as me or are looking for academic support," said Encik Hamdan.
For more information on GIAT: Belajar & Menang!, please visit ytlfoundation.org/learnfromhomecontest.