HUAWEI launched its latest HUAWEI WiFi AX3, bolstered with support for the Wi-Fi 6 standards. HUAWEI has leveraged its accumulated expertise in 5G, recognised through its prominent role in formulating the Wi-Fi 6 standards, in developing a pioneering technology that facilitates seamless chip-level collaboration between the router and multiple other devices. This standout capability enables the HUAWEI WiFi AX3 to deliver a blistering, powerful Wi-Fi 6 Plus connection, when used with HUAWEI devices. For one day only in conjunction with the HUAWEI Mid-Year Sale, consumers can pre-order the HUAWEI AX3 on 7 July priced at RM299.
As the connecting hub for HUAWEI's revolutionary 1+8+N all-scenario smart life strategy, the HUAWEI WiFi AX3 features financial-level HUAWEI HomeSecTM security safeguards, providing users with an intuitive, lightning-fast, stable, and secure Wi-Fi 6 connection always.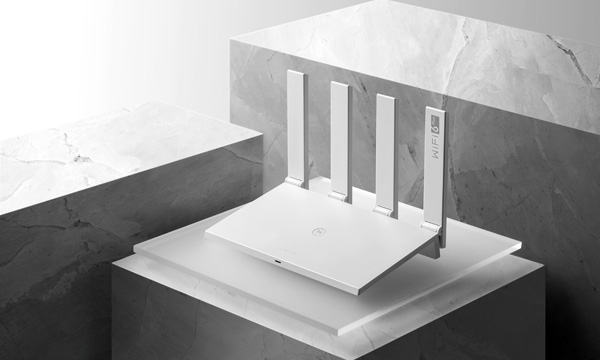 HUAWEI Wi-Fi 6 Plus: Breaking down barriers with dynamic narrow bandwidth
HUAWEI WiFi AX3 series routers come equipped with HUAWEI's exclusive Gigahome processor and Gigahome Wi-Fi 6 chipset. With the Wi-Fi 6 standards as the basis, HUAWEI has incorporated multi-chip collaborative technology, so as to ensure that the HUAWEI WiFi AX3 offers "Wi-Fi 6 Plus" at a doubled network speed, alongside enhanced wall penetration capabilities, when used with other HUAWEI Wi-Fi 6 devices.
The Gigahome Wi-Fi 6 chipset made this solution possible, by improving the frequency bandwidth to up to 160 MHz, as well as in realising on-demand automatic packet fragmentation in narrow-band mode via dynamic narrow-band technology. This has the effect of stabilising the working brand frequency bandwidth at 2 MHz, for a wall-penetrating network signal that doesn't stall. Or simply put, users can enjoy faster network near the device, and more stable connections from further distances away.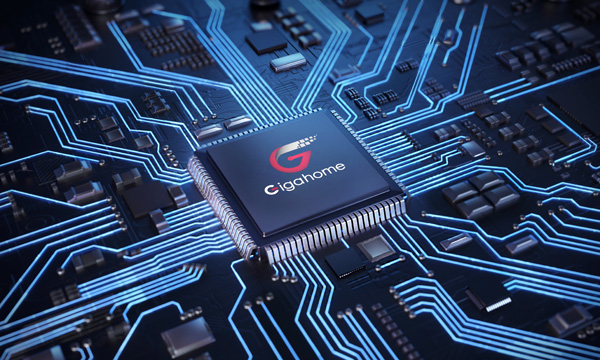 Experience the Effortless Connection with HUAWEI Share
The quad-core version of the HUAWEI WiFi AX3 series also provides support for HUAWEI Share. Simply by tapping an unlocked Android phone with NFC enabled against the router's NFC detection area, users can connect directly to the Wi-Fi network without needing to enter a password. This feature is particularly handy for catering to house guests, or hotel and restaurant patrons, saving them the time, hassle, and awkwardness associated with asking for and entering a complicated password.
In addition to the exclusive dynamic narrow-band technology, the quad-core version packs four independent signal amplifiers (two for the dual-core version), enabling Mesh networking for multiple HUAWEI routers, and supporting wireless, wired, and hybrid wireless + wired networking modes that expand network access to every nook and cranny in a household or business.
The HUAWEI WiFi AX3 quad-core version also incorporates HUAWEI HomeSecTM security protections. An independent security zone (TEE-trusted execution environment) has been built into the Gigahome quad-core chip, and the TrustZone security solution has been constructed from the microkernel. This solution has obtained the Evaluation Assurance Level-5 (EAL5) certification from Common Criteria, a globally-recognised IT product certification organisation, further attesting to the product's financial-level security safeguards.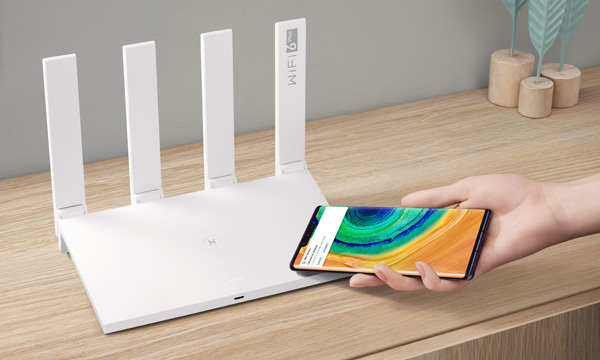 HUAWEI's commitment to eliminating network lag in the Wi-Fi 6 era
Because of its deep understanding of 5G technologies, HUAWEI has become a major contributor to the Wi-Fi 6 standard. HUAWEI experts have chaired five Wi-Fi standard working groups, for example, Dr. Osama Aboul-Magd, is the chairman of the Wi-Fi 6 (802.11ax) standard working group. Additionally, HUAWEI has submitted 240 new Wi-Fi 6 (802.11ax) proposals, accounting for 15% of all proposals, which is more than any other device manufacturer. HUAWEI has also introduced many advanced 5G technologies into Wi-Fi 6.
Thanks to its long-term investment in Wi-Fi 6, HUAWEI not only offers products that support the Wi-Fi 6 standards, but also integrates unique chip collaboration technologies using its self-developed Gigahome Wi-Fi chips. This enables a range of HUAWEI Wi-Fi 6 devices to deliver an optimal user experience.
As well as being a leader in Wi-Fi 6 technology, HUAWEI is proposing a mid- to long-term strategy for building a seamless smart life for consumers in the next 5 to 10 years, based on the "1+8+N" strategy which focuses on five major scenarios. In this strategy, Wi-Fi routers play a crucial role as connection centers, providing a simple, high-speed, stable, and secure Wi-Fi connection vital for enjoying a high-quality smart life, which is HUAWEI 's long-term objective.
HUAWEI has invested tens of millions of dollars in developing dedicated chips for routers. Through the combination of software and hardware at the bottom layer of chips, HUAWEI has eliminated more than 80% of problems relating to frame freezing, delays, and disconnections. In addition to the AX3 series, HUAWEI will continue to use the Gigahome chipsets on later products. HUAWEI has also built a Wi-Fi capability center in Wuhan which houses the most rigorous test environment in the global router industry, meaning that HUAWEI products can be tested rigorously before becoming available to consumers.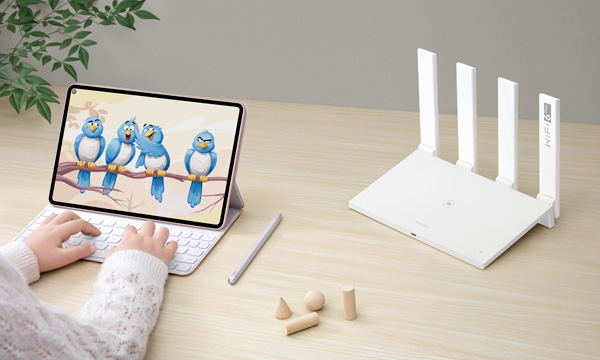 Pricing and Availability
HUAWEI WiFi AX3 will be available from 10 July in Malaysia, but you can pre-order on HUAWEI Store from 7 July in conjunction with HUAWEI Mid-Year Sale or you can also purchase it on Lazada and Shopee! HUAWEI WiFi AX3 will come in White colour and priced at only RM299!
For more information please visit: consumer.huawei.com or visit our Facebook page www.facebook.com/HuaweiMobileMY.