Making a grand come back in 2020, The Corporate League brought by The Gaming Company ( TGC ) launches anew, with a refined tournament format and an expected total prize pool of RM20,000, sponsored by HP Inc. Malaysia. It concluded its first season last December in The Gaming City, held in Comic Fiesta annually. The Corporate League is an esports platform promoting culture that drives employees closer together and encourages alternative team building through gaming.
"The launch of The Corporate League is to widen the esports ecosystem and create a new environment that enables healthy competition out of work for the Malaysian workforce. We are proud to be expanding the current esports ecosystem beyond the developed communities and with The Corporate at the forefront, we bring along industry experts that together will harness the growth potential of the industry for people of all levels. We also welcome any brands who are interested to be our partners and contribute to this endeavour," says Muhamad Arif, Lead Project Manager of The Corporate League.
"This year with the full support of TGC as the Main Presenter of The Corporate League, we are glad to be on board and hope to achieve greater heights in developing a culture that drives employees closer together and encourage more team building, via esports," says Adrian Gaafor, Managing Director of TGC.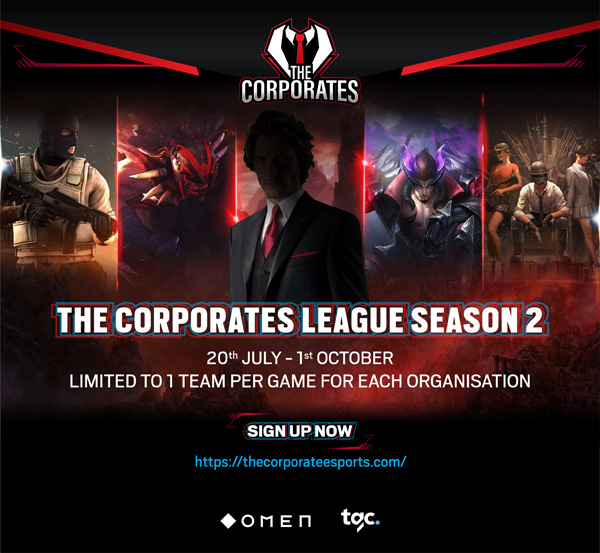 The Corporate League Season Two is an open invitation to teams who have participated in the first season and selective new joiners. It will run on an eleven-week league format across four major game titles across both PC and mobile including Dota 2, Counter Strike:Global Offensive (CS:GO), Mobile Legends:Bang Bang (MLBB) and PlayerUnknown's Battlegrounds Mobile (PUBG Mobile). Top 10 teams from each game will directly secure a slot in the next season under the Premier Division, which runs on a more sophisticated league format. The tournament will officially kick-off on 20 July 2020 until 1 October 2020.
The sponsorship in The Corporate League aims to showcase HP Inc. Malaysia's brand support and commitment in esports. As one of the leading technology brands in the industry, HP wants to be involved strategically which is not limited to contribution towards professional players and grassroots communities but also the working athletes who are equally important to the growth of the esports ecosystem.
The Corporate League Season Two will be expanding to more industries which includes oil & gas, airline, media, telecommunication service provider, finance, entertainment, automotive, property, fast-moving consumer goods (FMCG) and the e-commerce sector. It is estimated to have 60 corporate teams with a total of over 450 players. Registration is now open on the website at thecorporateesports.com/registration.
The Corporate League will be live streamed on every Monday, Wednesday, Thursday, Saturday and Sunday on multiple platforms including Facebook and website, concurrent with the tournaments. For more information and live updates about The Corporate League, visit the official website at thecorporateesports.com or Facebook page at www.facebook.com/corporates.esports.