Asean's leading stamp manufacturer and distributor, AE Stamp Group, today introduces the COLOP e-mark® in Malaysia – a revolutionary, multifaceted and wireless electronic marking device capable of full colour reproduction. With the COLOP e-mark®, users can create or upload unlimited different images by using a mobile device, tablet or computer, and digitally label up to 5,000 imprints on one ink-cartridge.
First introduced in Germany and Austria last year, the COLOP e-mark® serves as an alternative for those who are seeking convenience and innovation in creating unlimited different marking and labelling images by using a portable and mobile device. Users can create and change his or her own imprints by using an app on a mobile device or computer and print them by an easy sideways movement in full colour.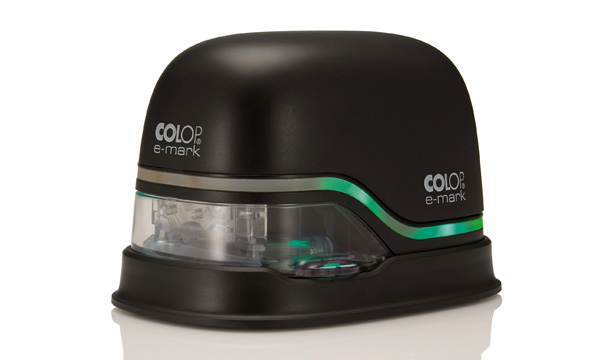 Personalize Your Data or Image Imprints
The proprietary app software developed by COLOP works in combination with the COLOP e-mark® device, allowing users to create any kind of imprint, including logos, texts, pictures, date, time, numbers and much more. Up to four customized designs can be stored in the device and replaced, edited and changed anytime with the app. With only a few clicks in the app, the imprint will be sent via Wi-Fi to the COLOP e-mark® device, which is ready to be used immediately.
Simplify Daily Administrative Tasks
Users can add a sequential date, time and serial numbering to the designs that will help simplify and streamline administrative tasks and processes. The app also includes ready-to-use templates and a wide range of texts and images, allowing customization to it where necessary. Users can also generate barcodes or QR codes with it.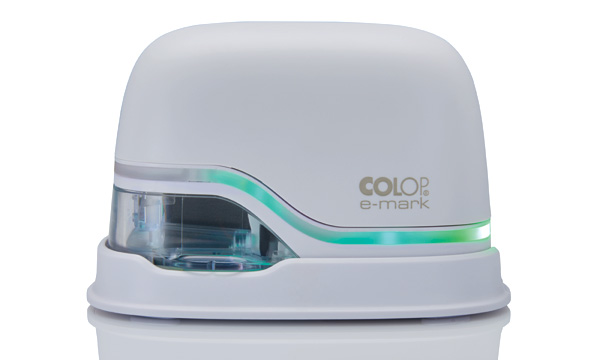 Label on Any Absorbent Surfaces
Leveraging on HP inkjet technology, users can expect imprint qualities to be excellent, consistent, and vivid. The images or texts can be digitally labelled on any absorbent surfaces such as paper, cardboard, cartons, books, files, tissue serviettes, paper bags and even selected wood materials.
Each label can print up to three lines, and depending on the intended label size, the imprint size for each line will be different:
1-line imprint at 1.4cm (H) x 15cm (L) per line
2-line imprint at 2.8cm (H) x 7.5cm (L) per line
3-line imprint with 4.2cm (H) x 5cm (L) per line
This provides flexibility for various range of business needs, from administrative tasks, to speedy labelling, to on-the-spot gifts customization needs.
Compact and Lightweight
Weighing approximately 224.5g, the COLOP e-mark® fits easily into most briefcases and bags. With a built-in rechargeable battery, the wireless device can be used for up to five hours in continuous operation. Charging is simplified by connecting the device to its docking station and connected to a power source.
Having serve the Asean market since 1991, AE Stamp Group has continually introduced new stamping products to meet customer demand. Esmond Lee, Director of AE Stamp, said that the company is proud to be the exclusive distributor of the COLOP e-mark® in Malaysia.
"The COLOP e-mark® is an addition to our already wide range of stamping products for businesses and consumers. The device complements existing stamping and labelling process and build upon our existing position as it offers a wide range of capabilities not offered by static stamps," said Lee.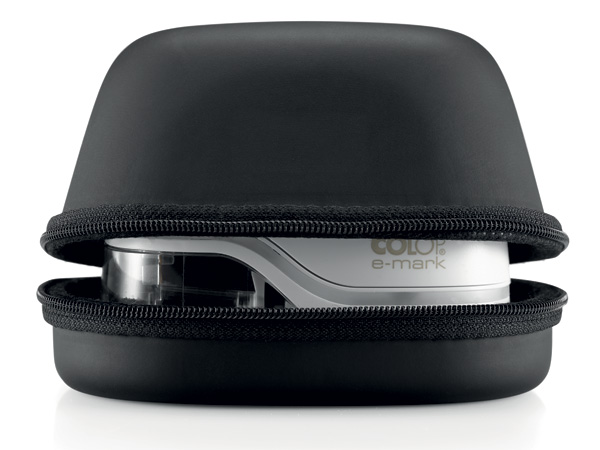 Pricing and Availability
RRP: RM1,399 – comes bundled with one ink cartridge, docking station and its charger plug, and USB cable for data transfer when using the Desktop version of the app.
Each ink cartridge refill is priced at RM169 and can last for up to 5,000 imprints.
The app software is free for download for iOS, Android, and Windows users.
The device comes in two colour variants, white and black.
From now till 30 September 2020, customers who purchase the device from AE Stamp Group will receive a complimentary and genuine COLOP e-mark® protective hard case worth RM83.
To purchase the COLOP e-mark® or its ink cartridge refill, visit here, or AE Stamp's official e-shops on Lazada and Shopee. For more product information, visit e-mark.com.my.