Tune Protect officially launches the enhanced AirAsia Travel Protection by Tune Protect ("Travel Protection") for AirAsia guests, which now comes with COVID-19 protection benefits. The Travel Protection comes in both Single and Annual plans to suit customers' traveling frequency, for both domestic and international travel.
The launch of the enhanced Travel Protection is timely especially with the reopening of domestic travel and the discussion that has been initiated to reopen Malaysia's borders to "green zones" countries as Malaysia phases into the Recovery Movement Control Order ("RMCO"). The resumption of the travel and tourism sector is in line with the efforts in accelerating the country's economic recovery and reviving the Malaysian travel and tourism industry which was at a standstill due to COVID-19.
"As AirAsia initiates domestic flights with new safety and health procedures, we have also put in place new and enhanced benefits to our existing Travel Protection, which include COVID-19 coverage to ensure ease and peace of mind of our customers during traveling," said Khoo Ai Lin ("Ai Lin"), Group Chief Executive Officer of Tune Protect.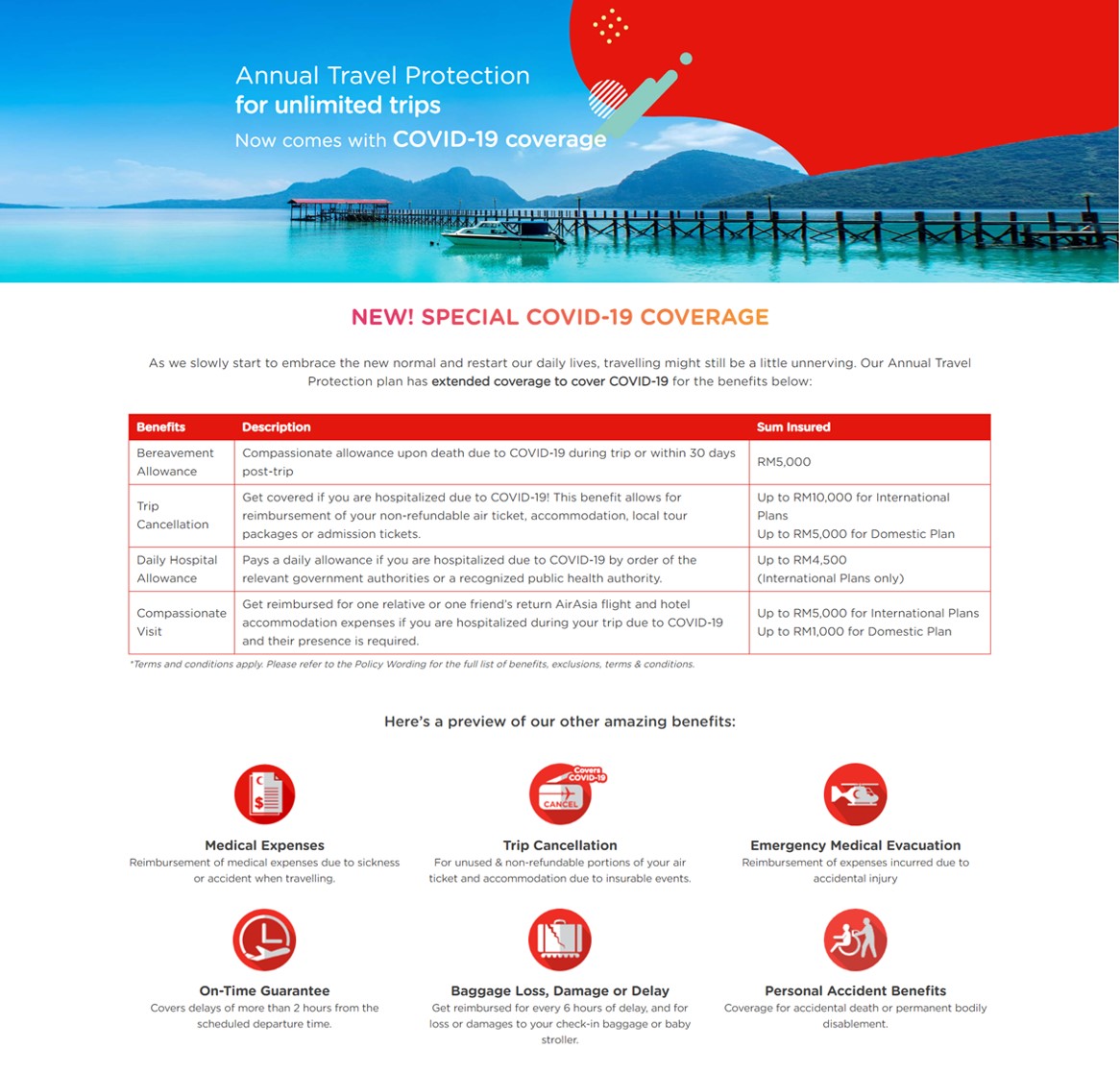 For as low as RM56, the Annual Travel Protection Plan offers the best value for money protection as customers will be covered for an entire year (from the date of activation), regardless of the frequency of travel. For AirAsia guests who have redeemed multiple flights for travel between 25 June 2020 to 31 March 2021 using the recently launched AirAsia Unlimited Pass, this is an opportunity for them to purchase the Annual Travel Protection Plan to ensure worry- and hassle-free protection all year round.  Alternatively, customers can also purchase the Single Plan coverage when they are purchasing AirAsia plane tickets or any time before they fly.
Datuk Kamarudin Meranun, AirAsia Group Berhad Executive Chairman said, "while Air travel remains one of the safest modes of travel, we have seen an increase in awareness of the importance of Travel Insurance products in the last few months from our sales channel, this enhancement is a great complement to the various end-to-end safety measures that have been put in place by AirAsia for our passengers to fly again with a peace of mind, protecting our guests beyond flying. As travel begins to regain traction, we look forward to welcoming our passengers to fly with us again."
New and Enhanced Benefits
One of the unique features of this enhanced Travel Protection plan is the newly introduced COVID-19 Bereavement Allowance which pays out a sum of RM5,000/- in the event of the untimely demise of the policyholder due to COVID-19 contracted during the trip.
The enhanced Travel Protection also extends coverage of three existing benefits namely the Trip Cancellation, Daily Hospital Allowance and Compassionate Visit.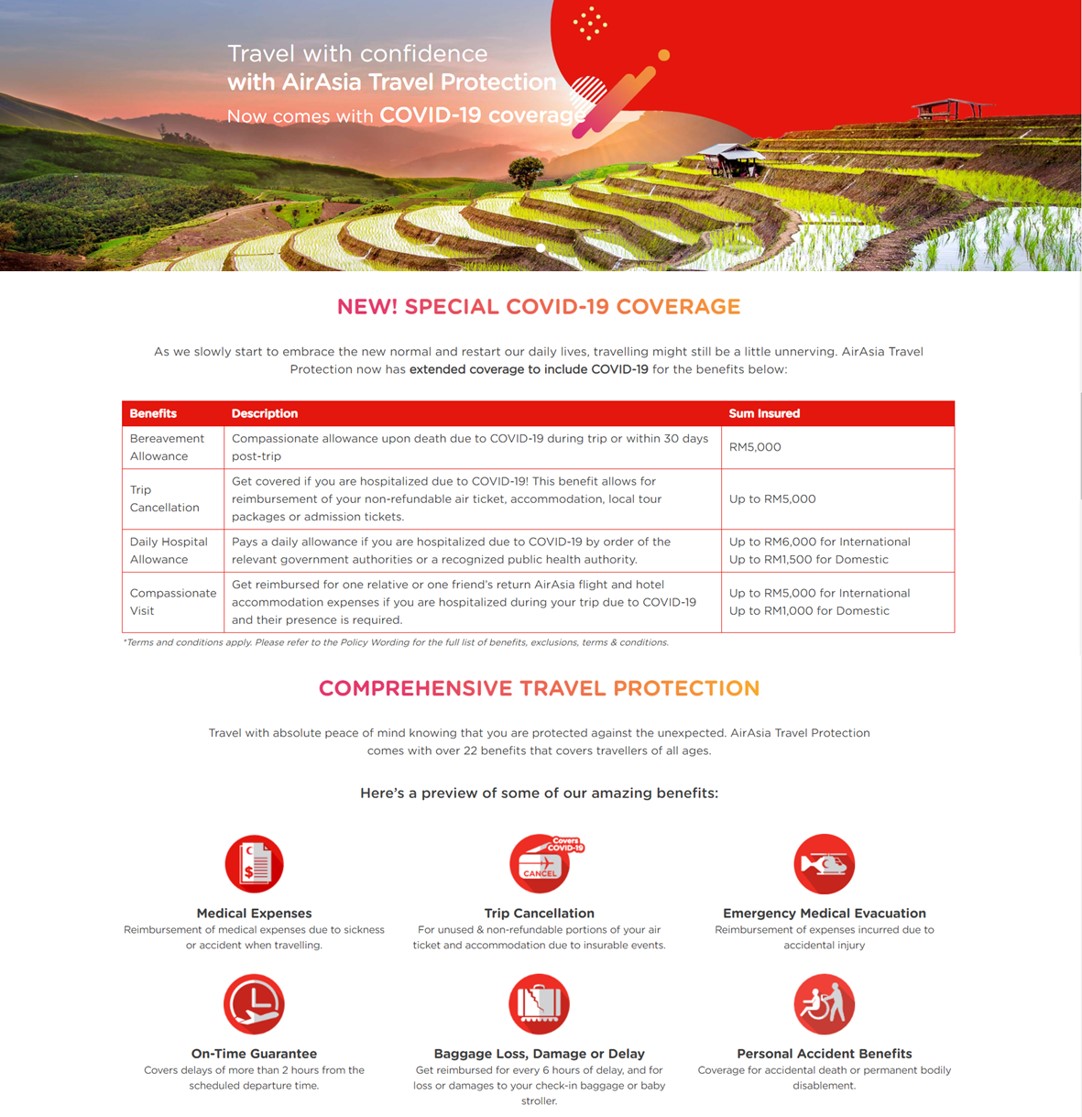 The Trip Cancellation benefit offers the reimbursement of the unused air ticket and travel package up to RM5,000 for domestic travel and RM10,000 for international travel if the policyholder is prevented from boarding the scheduled flight due to contracting COVID-19. For the Single Plan, the Daily Hospital Allowance benefit pays up to RM1,500 for domestic travel and RM6,000 for international travel,  whilst the Annual Plan pays up to RM6,000 for international travel if the policyholder has been confirmed positive and hospitalised for more than 24 hours due to COVID-19 while traveling.
Another unique value proposition of the product is the Compassionate Visit coverage extension where it reimburses up to RM1,000 for domestic travel and RM5,000 for international travel for a return AirAsia flight to allow one family member or friend to accompany the policyholder who is hospitalised due to COVID-19.
"Tune Protect understands the needs and worries of travelers since the fight against COVID-19 is still ongoing. With the enhanced coverage that comes with our Travel Protection, travelers can put their worries to rest when making their travel plans with us or through AirAsia," Ai Lin concluded.
For more information and to purchase the AirAsia Travel Protection by Tune Protect, customers can visit airasia.tuneprotect.com.