Samsung Malaysia Electronics today unveiled the new line-up of its refrigerator, Side by Side with Family Hub ("SBS Family Hub"), with intelligent new features that automate meal planning and other daily tasks and deliver a more personalized experience. Family Hub for 2020 will enable families to easily share life's important moments with one another and control more of the connected devices within their smart home.
"Since the launch of our refrigerators in the market, we have introduced innovations that reflect the new ways that busy, modern families are managing their daily lives," said Jimmy Tan, Head of Consumer Electronics of Samsung Malaysia Electronics. "The new SBS Family Hub is the most innovative yet, with more personalized, intelligent features that enable busy families to stay better connected to one another."
The SBS Family Hub is simple, sophisticated, and modern, making it the perfect addition to today's connected kitchen. In response to years of consumer insights with refrigerator, SBS Family Hub delivers innovative features that people want the most: the ViewInside camera, thoughtful meal planning and recipe suggestions tailored to personal preferences. It also enables families to share more types of media and entertainment together, and brings a new level of control to the connected home.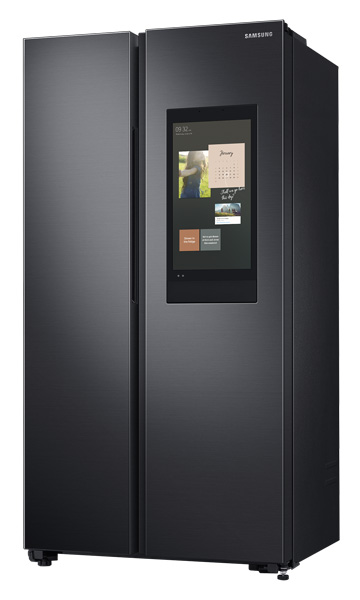 Intelligent Meal Planning
SBS Family Hub is designed to streamlined and personalized your food preferences more than ever, meaning you'll spend less time preparing your meals and more time enjoying them. It customizes the entire food experience for you, from Smart Recipes recommendation to refrigerator inventory management. With Family Hub's ViewInside camera, you will be able to see what's inside the refrigerator easily. You can remotely check what is inside even right at the shopping place as this feature synchronizes with mobile Family Hub app.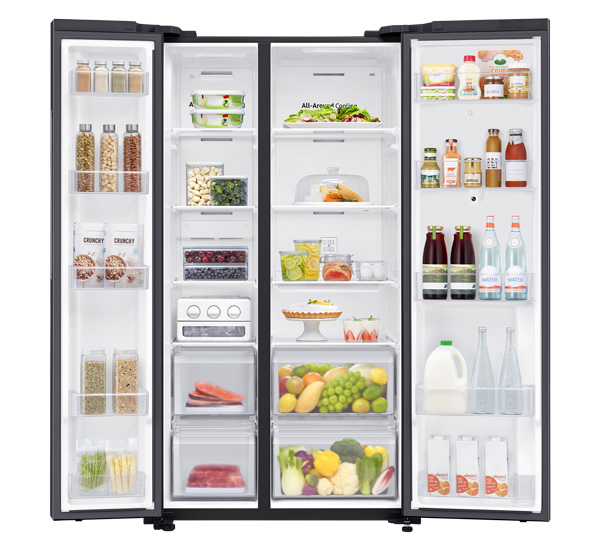 Bring Your Family Closer
With Family Board, families can use this virtual bulletin board to enhance life's special moments, sharing favorite songs and images for the whole family to interact with. Family Hub's SmartView feature that mirrors content from connected Samsung TVs and Samsung mobile devices will make sharing easier among your family members. With almost half a dozen options available, your family members can continue to enjoy music from their favorite music streaming apps.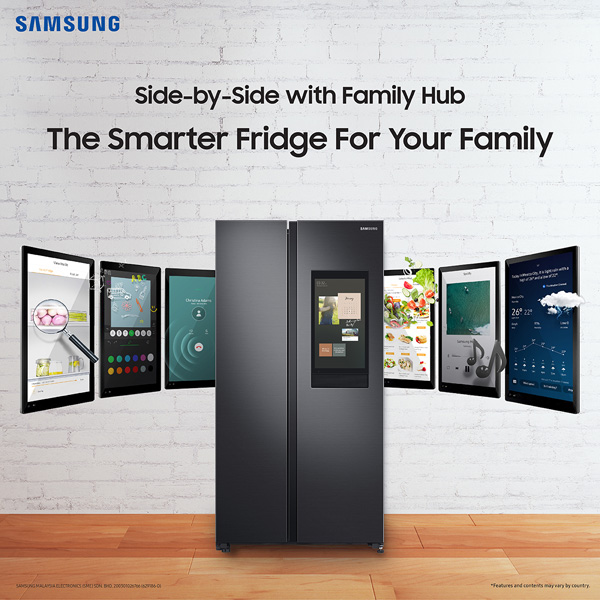 Connect and Control Your Smart Home
SBS Family Hub takes managing your smart home to the next level. With SmartThings, you can control Samsung's smart home appliances and third devices without going out from the kitchen. Now you can turn Samsung's smart appliances on (or off), adjust settings, and co-ordinate activities all from your refrigerator. In other words, you get to stay connected and remotely monitor your Samsung's smart appliances even when you are outside.