If there's a gap in your heart from spending May and June without powering through the crowds at your local bazaar and spending prolonged hours shopping to Raya tunes, don't worry, we feel it too. With interstate travel not allowed during the conditional Movement Control Order, families all over Malaysia would have to find creative ways to "be together" this Hari Raya. The everyday people behind TikTok are just as affected by the new normal and have been doing what they can to bring a little more joy to all. The result is a joyous package of virtual activities that are set to run from now until the 30th of June!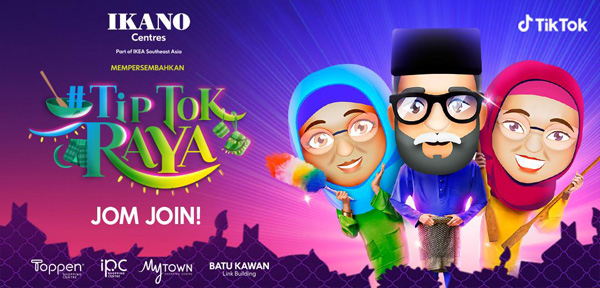 TikTok Powering This Raya With Ikano Centres
In the spirit of strengthening family ties and giving a fun twist to Hari Raya traditions, TikTok and Ikano Centres are partnering to fill the void of families not being able to balik kampung this Raya. With a modern twist to Raya tips from three different 'Toks' through the exclusive #TipTokRaya campaign, TikTok users can enjoy one sticker with three options of their favourite set options to choose, corresponding to a challenge that  each 'Tok' will present to you. The campaign is supported by four of its shopping centres in Malaysia: IPC, MyTOWN, Toppen, and its retail arm in IKEA Batu Kawan.
Crafted with Raya traditions in mind but with an extra spin of TikTok fun, the three challenges are:
'Dodol' is a sugary Nusantara delight that's been a Raya tradition ever since humans discovered fire (just kidding!), but it's accurate to say that Dodol has a long history of being associated with Raya, so it's definitely on Tok's list of to-do challenges. Help Tok rescue your Raya by learning the ropes and getting in on the Goyang Dodol challenge with your family!
Part and parcel of what makes Raya great is the OOTD flood on Tok's feed. "Just because we're spending Raya indoors, doesn't mean that you can skip your Raya OOTD!" said Tok before presenting the Zapin Sampin challenge. With these steps from the Grandmaster himself, Tok will make sure that we never see another bad-Sampin day again!
The simplest tradition, and one that should be a constant, is to have a presentable house during Raya. Therefore, Tok encourages all TikTok users to Joget Deko-Deko and show the world their process in cleaning and decorating the house for Raya.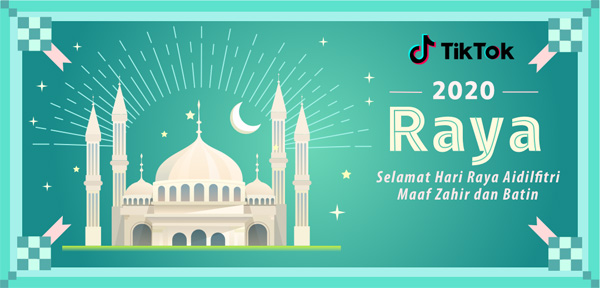 Chase away those pesky blues this Raya
While we're listening to Tok's advice, why not show your newfound knowledge and skills on TikTok with #raya2020? — A one-stop hashtag for all things Hari Raya, including your video hangout sessions with friends and family members! Though we can't spend Raya with them physically, no one said anything about spending it digitally, so let's join hands as creators and celebrate together with the rest of the world on TikTok! Did we also mention that there'll be two new stickers coming soon?
To spread the Raya cheer, TikTok is encouraging its users to document what goes on at home and show the creative process of our fellow Malaysians in how they're making their #stayathome Raya the best! Keep in mind that Raya is never complete without laughter, so let's all do good by sharing the joy of our in-door Raya antics via the hashtag!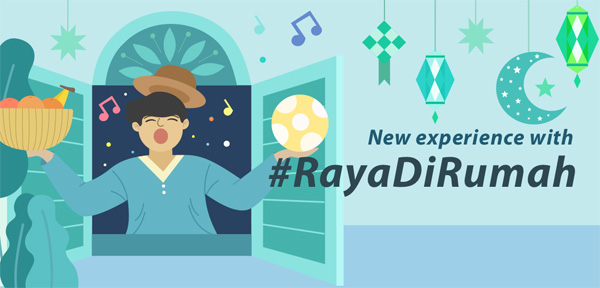 That's not all! Here's one last surprise before you go!
If you think that's all you'll get, think again. As a champion of the good times and social bonding, TikTok is bringing your favourite K-Pop idols LIVE on the platform via TikTok Stage: LIVE FROM SEOUL and TikTok Stage with HIPHOPPLAYA, on 25 and 27 May respectively, in the world's first vertical-format concert!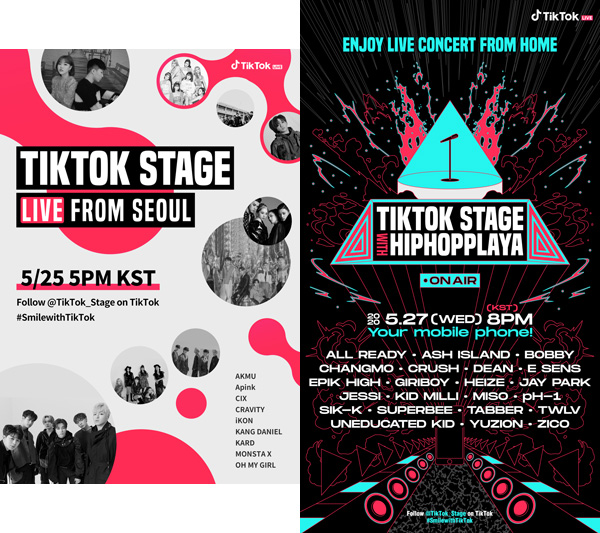 K-idols like Monsta X, iKon, Kang Daniel, and KARD will be performing for a good cause on 25 May, 4pm (Malaysia time), while, KPOP superstars including ZICO and Jay Park will be lighting up Raya with TikTok's chart-topping hits like Any Song and All the Way Up on 27 May, 7pm (Malaysia time). TikTok will add US$0.50 as donation for every new viewer on show day, with proceeds going to a COVID-19 relief charity, as part of TikTok's social responsibility in giving back to the community. So come on now, show your support, and follow @TikTok_Stage to party your KPOP socks off!.
Well there you have it, folks! TikTok's exclusive and all-inclusive Raya campaign to make this stay-at-home Raya a bundle of pure joy and excitement. Get your family and friends to join the activities online, while we keep up social distancing by having fun at home. After all, what is Raya without its ability to bring people of all generations together?
TikTok is available in over 150 countries and regions in 75 languages. Download the TikTok app via iOS or Google Play.