Pos Malaysia launched a limited edition stamp collection to commemorate this year's Hari Raya Aidilfitri celebration, featuring a fusion of Islamic arabesque art elements and kufic (ancient arabic) calligraphy.
The Hari Raya Aidilfitri 2020 limited edition stamp collection is now available for purchase on Pos Malaysia's online store at www.eziemall.com. The stamp collection will also be available at 13 General Post Offices nationwide beginning 18 May 2020.
The Hari Raya Aidilfitri 2020 stamp designs symbolises the essence and values of the festivity such as the celebration "Victory" in overcoming challenges of Ramadan and unprecendented situations, "Gratitude" for all the blessings received during the holy month and "Sincerity" which promotes the honesty of mind and actions, especially during this testing times.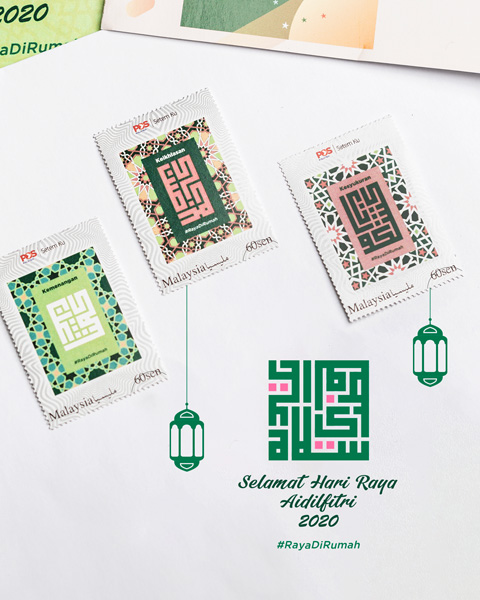 Through this unique stamp series, Pos Malaysia aims to bring the people of Malaysia together toward embracing different beliefs, culture and most importantly, staying united while taking care of each other throughout this challenging period.
Pos Malaysia's Group Chief Executive Officer, Syed Md Najib Syed Md Nor said "We are facing a new normal in 2020 due to the global pandemic and it is important for us to remain steadfast and united in fighting the unseen enemy. It will be a different Hari Raya Aidilfitri celebration for everyone this year, but that does not mean that the spirit of the celebration will be lesser than previous years. The new Hari Raya Aidilfitri stamp collection will be one of the significant reminders of our Victory against this calamity, Gratitude for our safety and good health and Sincerity in ensuring the well being of everyone around us."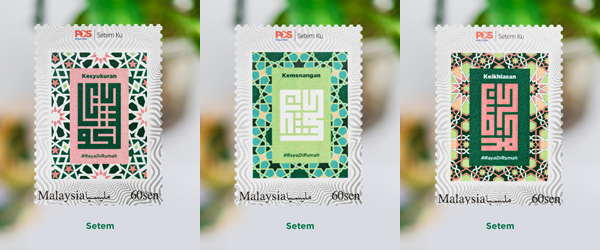 The Hari Raya Aidilfitri 2020 is priced at RM25.00 per sheet with a denomination of RM0.60 per stamp. Avid stamp collectors, enthusiasts and the public should grab their chance to obtain a copy of this unique collection, as only 1,000 limited pieces are produced for this series.
Stamp collectors and the public may sign-up for the Standing Order Deposit Account (SODA) to experience a hassle-free process in purchasing the latest stamp issues as well as enjoying exclusive benefits offered by SODA. Those interested to be part of the SODA community can do so by signing up at any post offices nationwide or online at www.posonline.com.my.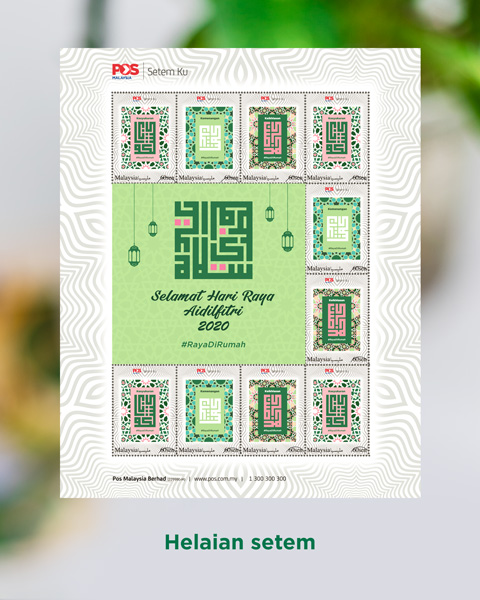 For further enquiry regarding stamps and other philatelic products, the Stamp and Philately Unit of Pos Malaysia can be reached via telephone at 03-2267 2267 ext. 2000 or e-mail your queries to [email protected]
In conjunction with Hari Raya Aidilfitri, Pos Malaysia is also promoting its #RayaDiRumah online campaign to support local SMEs and home-based entrepreneurs by promoting their businesses and products. Through its #RezekiDiKongsi social content series on Instagram and Twitter, Pos Malaysia enables online sellers to get in touch with new customers through social ads and social engagements, as well as sharing shopping tips and reminders on shipping deadlines for Hari Raya.
Pos Malaysia reminds all customers to post their Pos Laju items and Mail by 18 May 2020 and Hari Raya Greeting cards by 20 May 2020 to ensure delivery before Hari Raya Aidilfitri.
Stay up to date with Pos Malaysia's services, activities and other updates at pos.com.my, Facebook (facebook.com/PosMalaysiaBerhad), Twitter (twitter.com/pos4you) and Instagram (instagram.com/pos4you).