The big screen, big battery, and big in style Huawei Y6p is getting even 'bigger' with an unbeatable offer. The Huawei Y6p is priced at only RM559, but for users who want a more complete ecosystem with this brand new phone, there is now the opportunity to own it together with the Matepad T and Band 4 Pro, at just RM3.69 a day through the Huawei Together 2020 package.
The Huawei Together 2020 makes it truly easy for users who are looking to get an upgrade on their devices, to keep in touch with their friends and families without breaking the bank. After the video calls on the Huawei Y6p, or binge watching drama series on Matepad T, users can view a recipe on the Matepad T to finally bake that delicious melted chocolate cake and take great videos of the process and final successful product with the Huawei Y6p to share on social media. Stay fit with the Band 4 Pro after consuming all the yummy homemade cake!
Meanwhile with Hari Raya just a week away, looking trendy definitely has to be on the books. And also, another favourite activity during Raya besides dressing up, is taking photos! Take crystal clear photos this Raya with the Huawei Smart Life Package that offers P40 Pro and Huawei Watch GT2e from RM12.32 a day. There is also a Huawei Music All Day Ecosystem combo that is perfect for music lovers especially with the newly launched Huawei Sound X speaker. The combo comes with a Huawei P40, Huawei Sound X and a Huawei Freebud 3 from as low as RM13.09 a day. These are definitely a must-have when it comes to playing the much-loved Raya songs to add to the festive mood.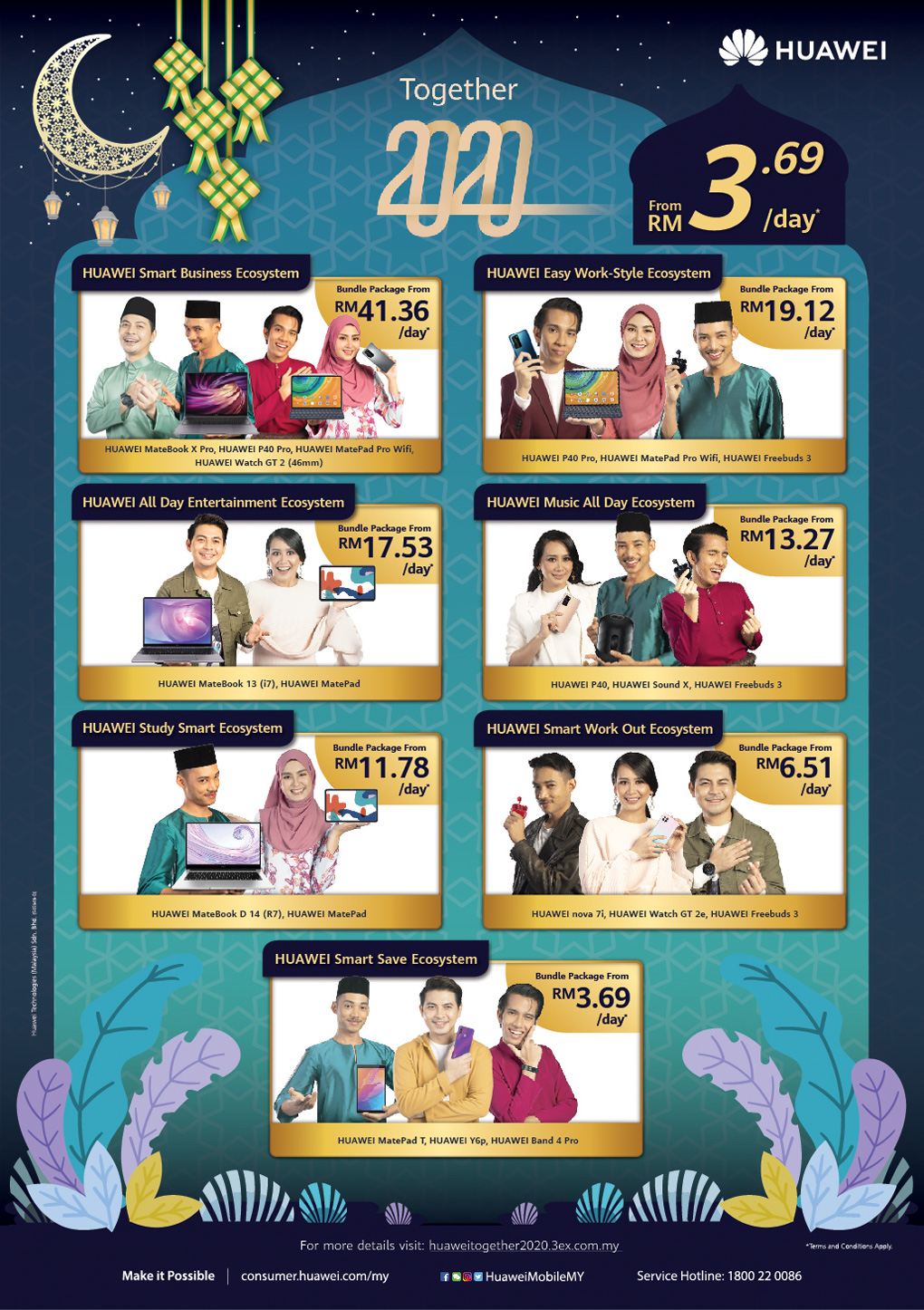 To further cater to the uniqueness of Malaysian needs and wants, users can also customize the package according to their desired devices. For example, users can customise a combo comprising the Huawei Sound X and the Huawei Matebook X Pro while opting for a 6 months or 12 months instalment plan to help with their financial planning.
These Huawei devices feature Huawei Mobile Services and provide users with more benefits such as security, unique rewards and free cloud storage. Available now in the AppGallery are some of the most used apps by Malaysians, such as Maybank2U, RHB Bank, PB Engage, HereWeGO GPS, and Food Panda. Huawei has also introduced FindApps, which helps users to look for their desired Apps with a much more easy and convenient way.
For more information on the Huawei Together 2020 and the latest Huawei devices arrival, please visit: