HUAWEI Video, the video-on-demand (VOD) streaming platform by HUAWEI, is offering Malaysia viewers free Premium Experience Pack starting today. The Premium Experience Pack comprises video content from TVB, Mango TV, Qello Concerts by Stingray and The Explorers channels. All HUAWEI device users can now redeem one month free premium subscriptions of Qello Concerts by Stingray and The Explorers; and HUAWEI P40 Series and MatePad Pro users can enjoy three months for free. The promotion can be redeemed simply by entering the HUAWEI Video app.
HUAWEI Video starts providing streaming service in Malaysia this March. The video app features local and international video categories such as dramas, movies, TV series, news, sports, documentaries, kid's content and more. With the Premium Experience Pack, viewers can enjoy ad-free, full-length HD video content across the four video channels below.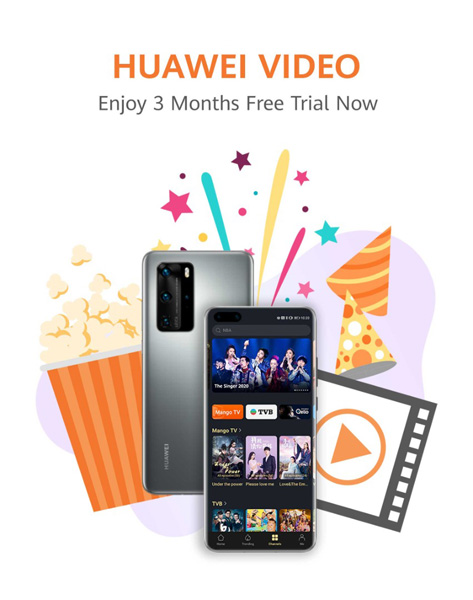 Mango TV is a leading Chinese online video platform that features highly popular Chinese original series, as well as licensed content. Notable reality shows broadcast in the channel include 'Singer', 'Before Wedding', and 'Who's the Murderer?'. Also, trending dramas such as 'Love of Thousand Years', 'Under the Power', and 'Beautiful Time with You' are currently available on Mango TV.
For music lovers, Qello Concerts by Stingray is the world-leading streaming service that provides full-length concerts and music documentaries. Qello Concerts' library covers musical genres from Classic Rock, Progressive Rock, Blues, Pop and more.
The channel features concert performances from classic bands such as Queen and Eagles to pop stars like Lady Gaga, Taylor Swift and Beyonce. Viewers can also watch the vast collections of music documentaries to learn the stories behind the legends.
The Explorers' documentaries take viewers on a journey to explore the beauty and biodiversity of the mother earth. The content on the channel is originally produced by a team of explorers, media professionals, scientists and artists.
Besides the list of nature documentaries focus on animals, landscape and vegetal, The Explorers also presents the diverse cultures and traditions across the world, to show how people act to preserve the earth's heritage.
The redemption period for free premium subscriptions of Qello Concerts by Stingray and The Explorers is starting from now until 30th June 2020, and the free trial periods will be calculated from the subscription start date. Meanwhile, for Mango TV, all HUAWEI Video users in Malaysia will enjoy free access to Mango TV from now until 20th July 2020.
After this promotion period, the premium subscription of Mango TV, The Explorers and Qello Concerts by Stingray will be chargeable on a monthly basis at RM9.90, RM12.9, and RM15 respectively.
Other than paid content, the viewers in Malaysia can also enjoy free access to TVB channel. The classic Cantonese dramas available include 'A Fist within Four Walls', 'Fist Fight, 'Deep in The Realm of Conscience' and 'The Learning Curve of a Warlord'.