Started with The Magic Lantern in 1895, one of the earliest recorded functional projectors in history, the technology behind projectors today challenges the concept of flexibility, mobility and visual quality. The projector has evolved in so many aspects but one that is particularly significant: the projector resolution.
Projector resolution significantly affects the image quality and our viewing pleasure; it is a measure of clarity & size of the output image. 'Resolution' refers to the number of pixels on screen. A pixel is the smallest element on a screen display which produces a complete image when put together. Hence, greater resolution produces greater image quality.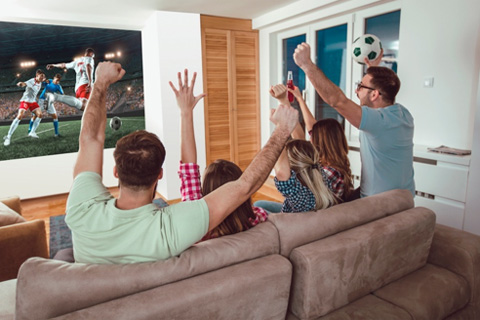 What are the resolution formats available?
Resolution formats vary depending on the intended input/output device and purpose:
Resolution Format
SVGA (800 x 600 pixels)
An affordable option for business, large venues and classrooms to project simple data, charts and short clips.
XGA (1024 x 768 pixels)
Following the advancement of technology and computers, the XGA format became the native resolution for most desktops and laptops.
WXGA format (1280 x 800 pixels)
The widescreen version of the XGA, a common resolution suited to movie-viewing and video gaming.
WUXGA (1920 x 1200 pixels)
A standard format for modern desktops and laptops, commonly equipped in large venues due to its bright and high-definition content projection.
Why should we choose a higher resolution at work and schools?
The greater the number of pixels = The higher the resolution = The greater the image quality. When it boils down to image quality, high-resolution formats enrich the quality and detail of charts, graphs, texts and high-definition videos resulting in a sharper, cleaner image. These details are vital for effective classroom learning.
A projector for your home cinema experience
Additionally, high-resolution projectors for home entertainment is an investment for avid moviegoers and film enthusiasts as it allows for an at-home cinematic experience. This allows you to control the quality of your experience to completely immerse yourself in cinematic adventures with more privacy and intimacy.
| | |
| --- | --- |
| Resolutions | Recommended Usage |
| 720p (1280 x 720 pixels) | An economical choice for movie projection and is compatible with the standard HDTV format |
| 1080p (1920 x 1080 pixels) | The standard format for home theatre, commonly used for 1080i/1080p HDTV broadcast and Blu-ray formats |
| 4K UHD (4096 x 2160 pixels) | The highest resolution for moving pictures, this means crisp visuals with quality cinematic experience within the comfort of your home |
How do we choose the right projector resolution?
It all depends on your content. To guarantee viewing quality and pleasure, the projector's resolution must be compatible with the content output. For example, the WXGA resolution is best suited with 720p videos and a HD resolution with Blu-ray discs and 1080i HDTV. The projected image quality depends on both the resolution of the content and the projector itself. You may compromise on the content's quality if the resolution of your input device doesn't match the resolution of your projector. This happens when your input device (laptop/smartphone), a WUXGA format is projected through XGA formatted projector. The number of pixels will be reduced to fit within the ratio of your projector, reducing the display quality. Hence, making a careful choice in a projector that matches or is higher than the resolution of the input device is necessary to guarantee fine image quality, minimum compression and maximum compatibility.
You should opt for solutions that include exceptional image quality with a low total cost of ownership accompanied with excellent reliability and service. Unsurprisingly enough, Epson can provide these and more! Investing in a quality projector, no matter the physical setting and content can improve performance, productivity and ultimately – viewing pleasure.