Projectors, or more specifically, video projectors – as we know are those bulky, hot bulb beaming light to the wall. The quality and price of the projector are pretty much determined by the brightness, lenses and the resolution (to name a few important techs) by its maker.
Apart from the DLP and LCD projectors, the recent LED projectors are making an inroad to the ball game. So, what is LED projectors and how it works? We have summed up some facts of the LED projectors you should know.

What is DLP vs LCD vs LED?
Most projectors are created with these three main technologies – DLP, LCD and LED. In a nutshell, they are summarised as follows:-
DLP (Digital Light Processing)
This type of projector uses a chip made of tiny microscopic mirrors and a spinning colour wheel to create an image to enable it to deliver sharp images. This method eliminates the use of filters and the advantage of having a faster response time. The average lamp life is usually below 5000 hours, depending on the models by the manufacturer.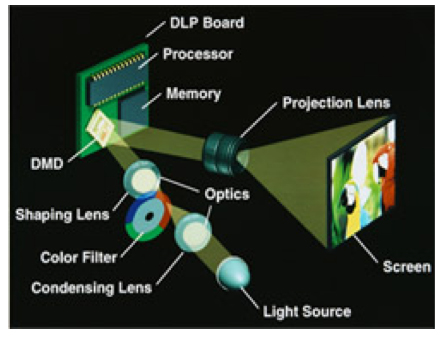 LCD projectors
LCD projectors use liquid crystal displays with no moving parts, imagine comparing a petrol car (LCD) versus electric car (DLP). With fewer parts means less expensive. It comes with a single chip for value for money entry or 3-chip specs for better colour saturation. The downside is, LCDs require filter maintenance and output less contrast.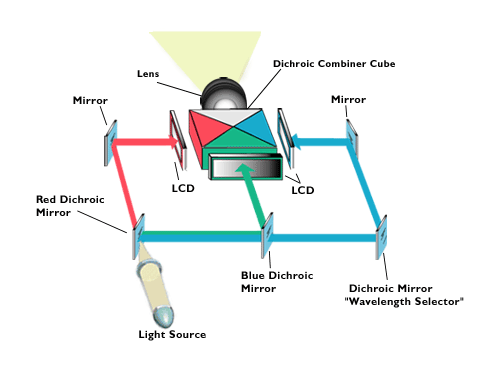 LED Projectors
The characteristic of LED technologies are known for its lower power consumption,  better colours and if it is used in the projector, it gives an average lifespan of over 20,000 hours. Best of all, it's virtually zero maintenance costs. LED projectors are also smaller and generate less heat.
How do LED projectors work?
Just like all other projectors, it projects images to the screen or wall. The only difference is the bulb. LED projectors use a combination of red, green, and blue diodes (Light Emitting Diodes) hence its call LED. It emits very low heat compared to other projection technology and with low heat, it uses lower energy consumption.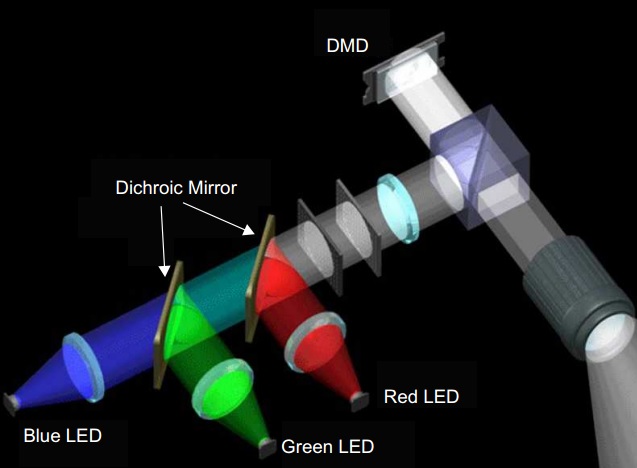 When an electrical signal passes through the material in an LED, it kicks out the electrons that are too big to pass through and keeps only the photon (which is a particle of light), by then the energy is much smaller without the electrons and allows them to move through to the other end.  With the combination of these process, the light then gets reflected on a DLP chip or passed through an LCD chip. When these red, green, and blue LED's are all combined, they become the match of white light.
The benefits of the LED projectors
1. Longer lamp life
The biggest advantage of LED projectors is their lamp life. Going by the nature of how LED works it generates far less heat compared to the traditional projectors. With less heat, it translates to longer lamp life. Many LED projectors can run for an average of 20,000 hours or more. Hence, most buyers don't have to worry about buying new lamps.
2. Smaller Form factor
Because LED's are so small and only need to semi-conduct, they operate at much lower power consumption with less airflow needed to act as a cooling agent. They are much quieter and more compact.
3. Faster Boot Up
Picture yourself booting up a PC with a traditional hard disk and a Solid State Drive (SSD), the SSD boots up almost instantly, thus, just like the LED projector, it lights up and ready to use almost instantly. It shuts down fast too as there is no cool downtime is needed.
Drawbacks
The biggest disadvantage of LED projectors is their brightness. Most LED projectors max out at around 3,000 – 3,500 lumens. But it depends on your usage if you need to invest in one.
What are the LED projectors available today?
There are a good number of brands making various kind of projectors. Today, let's look at Viewsonic, as they are one of the more serious projectors manufactures, and have been audited as Top 3 Best Selling Projector here, also to mention some projectors are also won IF Design Award 2020. These are their current LED projector line-ups…
Viewsonic X10-4K (RM5,999)
This is a 4K resolution with smart streaming and a portable design projector. This projector delivers a cinematic experience from anywhere in your home. It is lightweight and comes with an easy carry handle. It's short-throw lens let you play your contents anywhere you like and it ensures the images remain vivid and clear – thanks to the 2,400 LED Lumens of brightness, Rec. 709 compatibility, and crisp Ultra HD 3840 x 2160 resolution.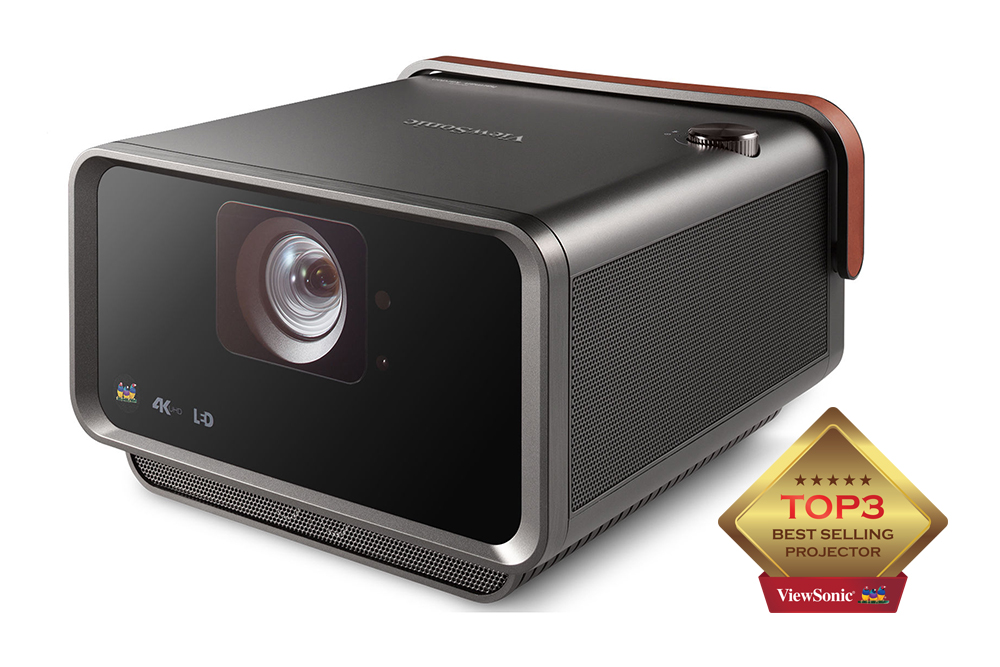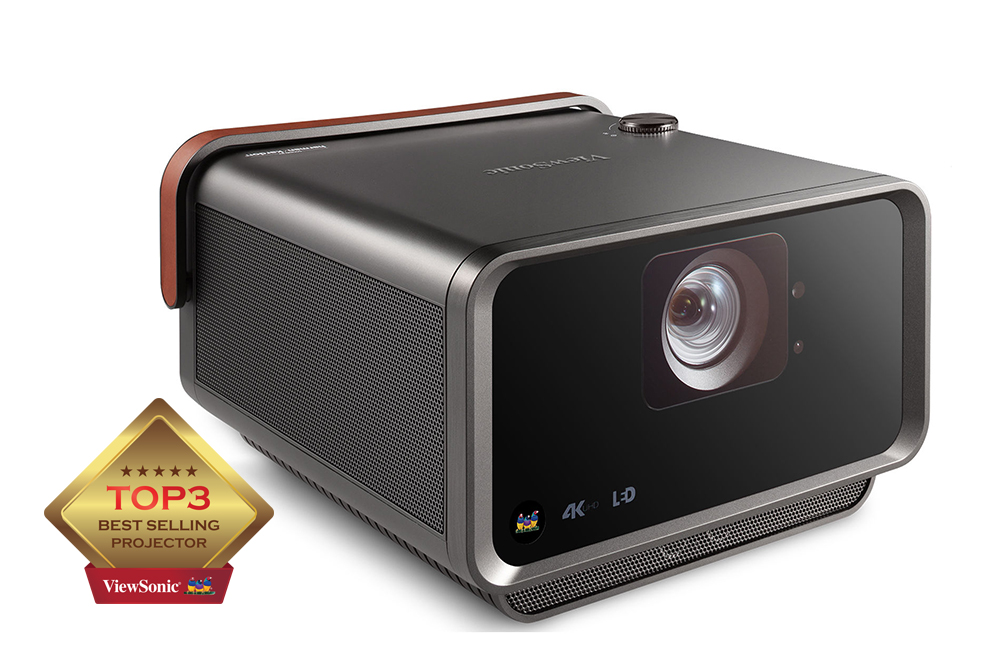 It comes with integrated Wi-Fi connectivity to let you stream your favourite content from your favourite smart devices, while support for both Amazon Alexa and Google Assistant deliver the convenience of voice control. Featuring built-in Harman Kardon Bluetooth speakers and projecting screen sizes up to 120", this compact 4K projector delivers an immersive, big-time home entertainment experience.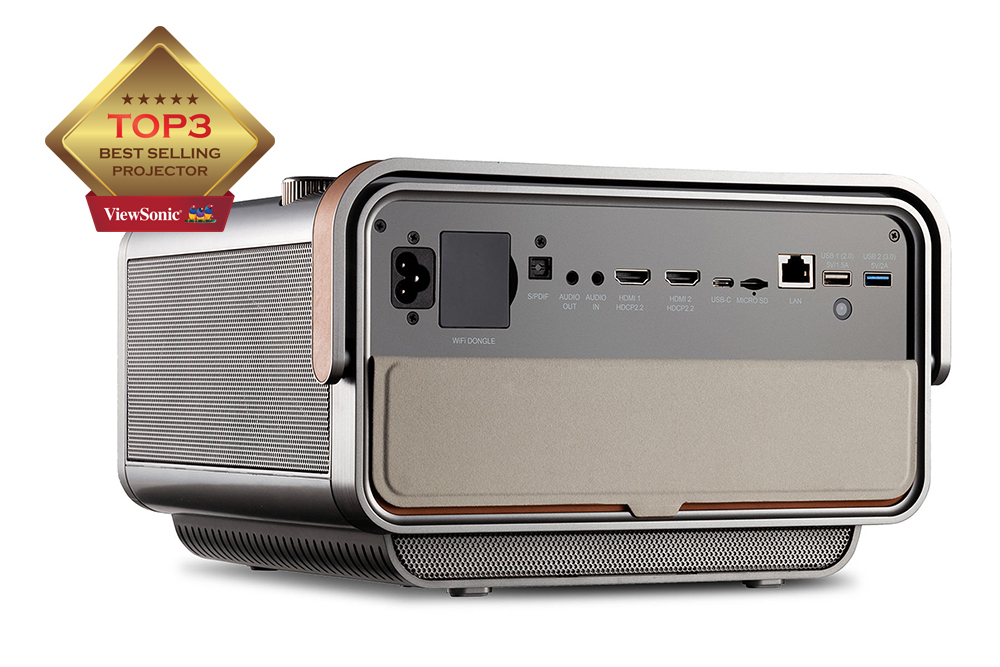 Viewsonic M1 series
The ViewSonic M1+ (RM1,499) is an ultra-portable WVGA LED projector that delivers convenient entertainment in any room. With a built-in battery and over 30,000 hours of operational life. Weighing less than 1kg, the M1+'s compact and lightweight design makes it highly portable. The projector's smart stand provides for simple 360-degree setup, while also doubling as a lens cover. Once the lens is uncovered, the projector automatically powers on with full brightness for instant entertainment.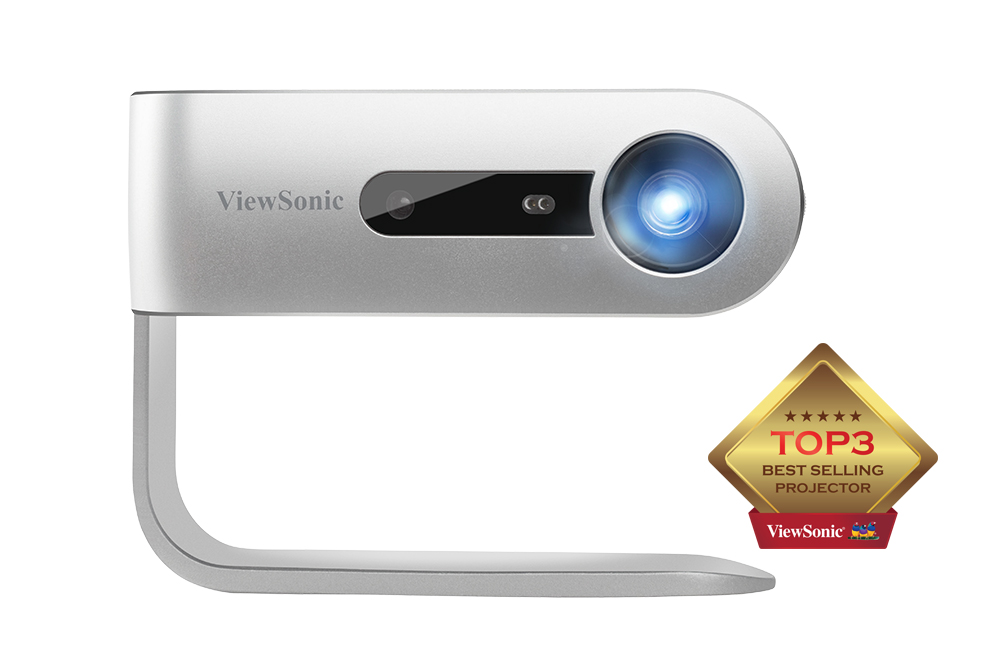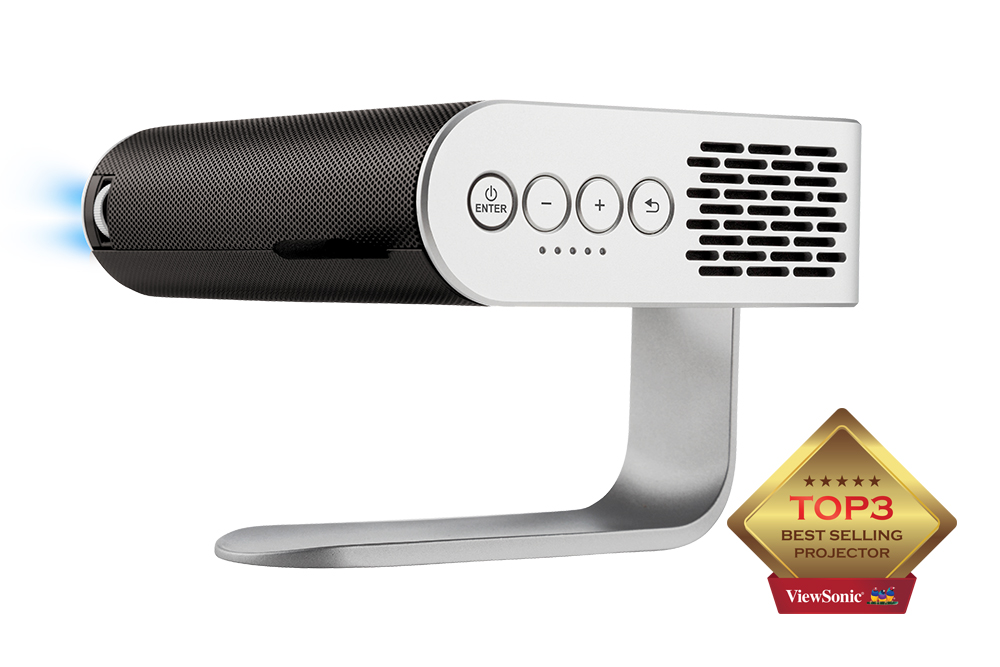 The lens also features a safety auto-off feature that powers down the projector when objects are detected too close to the lens. Dual Harman Kardon Bluetooth speakers provide crisp and clear sound for multimedia content, while a short-throw lens can display large images in small spaces. Integrated Wi-Fi connectivity lets you stream from your favourite smart devices, not only that it also has options to play contents directly from a MicroSD card slot, USB Type-A, and USB Type-C connections. While the Viewsonic M1 (RM1,349) has almost the same as the M1+ version, it has lesser input ports and no wifi connectivity.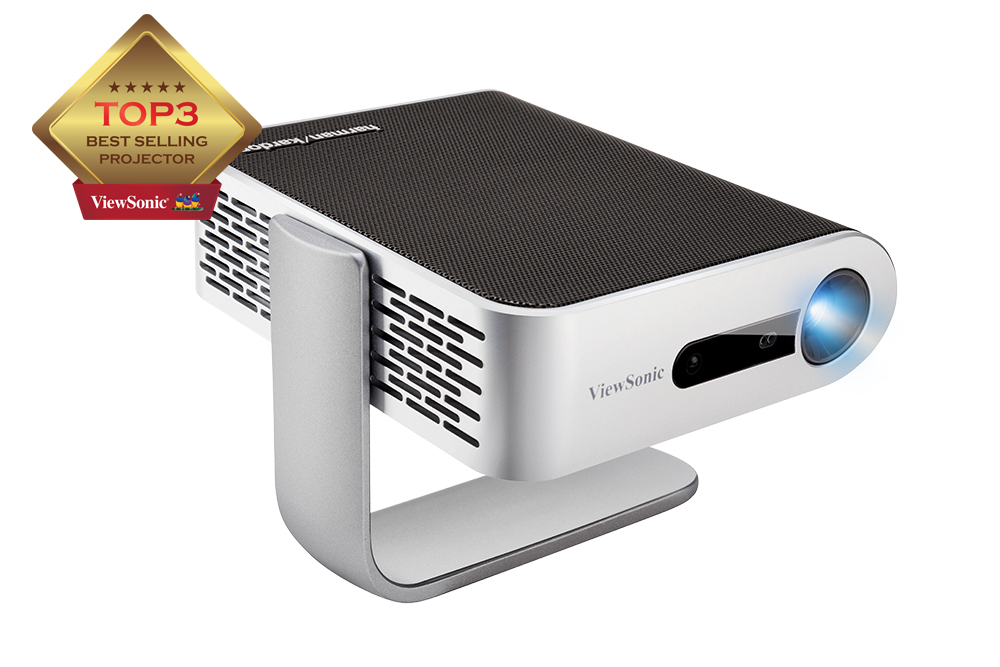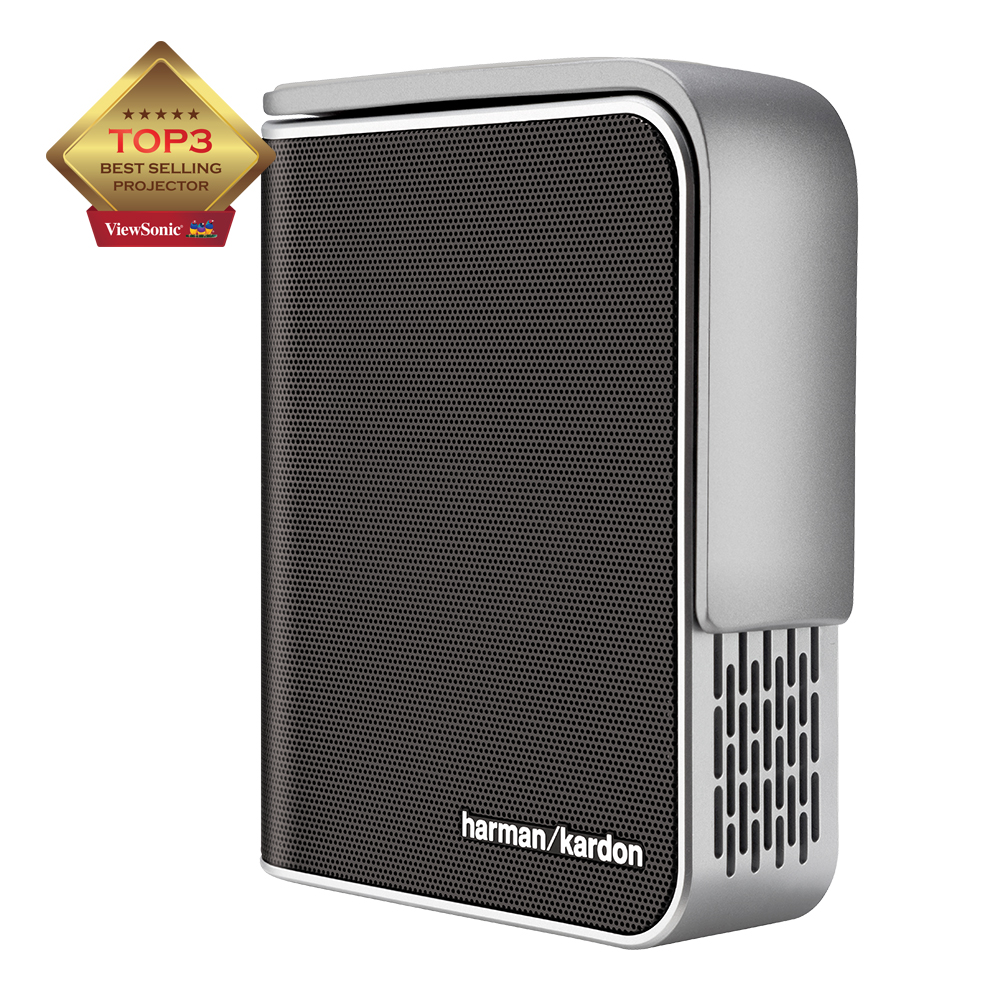 Viewsonic M1 Mini (price TBA)
The ViewSonic M1 mini is a pocket-sized projector is the lightweight, ultra-mini size and swappable coloured top which comes in three different colours – grey, yellow, and teal – so you can change the look of the projector to suit your style. The M1 Mini serves as a personal pocket cinema for your everyday life. The built-in battery, JBL speakers, and the ability to be charged by a power bank allow for on-the-go use. The adjustable stand offers flexible projection angles that can satisfy any viewing needs – even ceiling projection.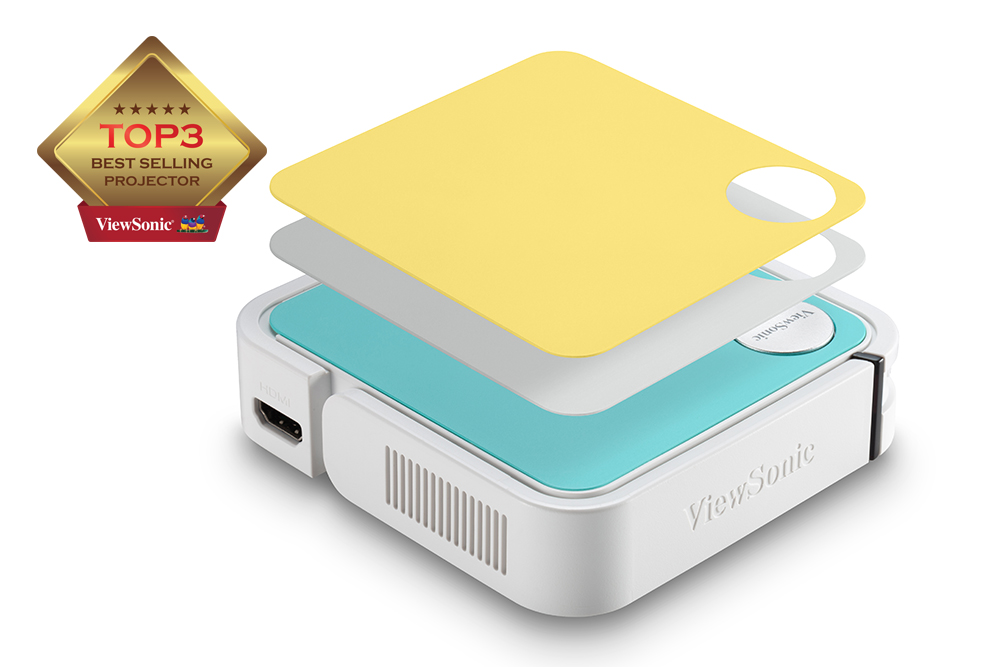 Your multimedia contents can be played through the connection of the HDMI port to a laptop or the built-in USB port with a thumb drive and is controlled by a sleek remote control that comes with it. This is a LED projector small enough to carry in your regular bag or handbag or even your trousers, be it for personal business presentation tool or leisure and you are sure to impress whoever is looking at it.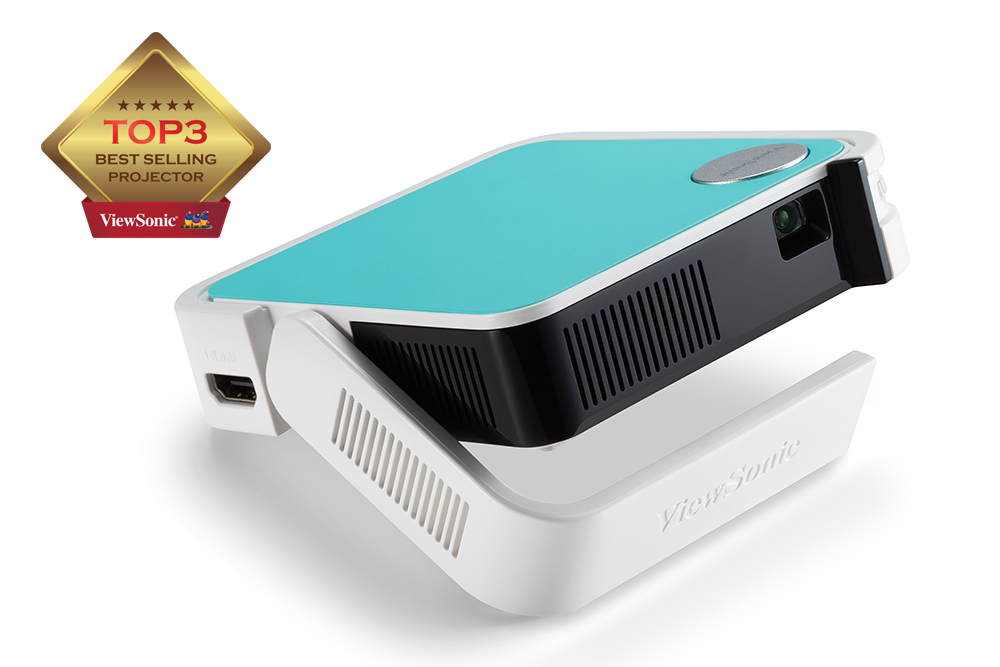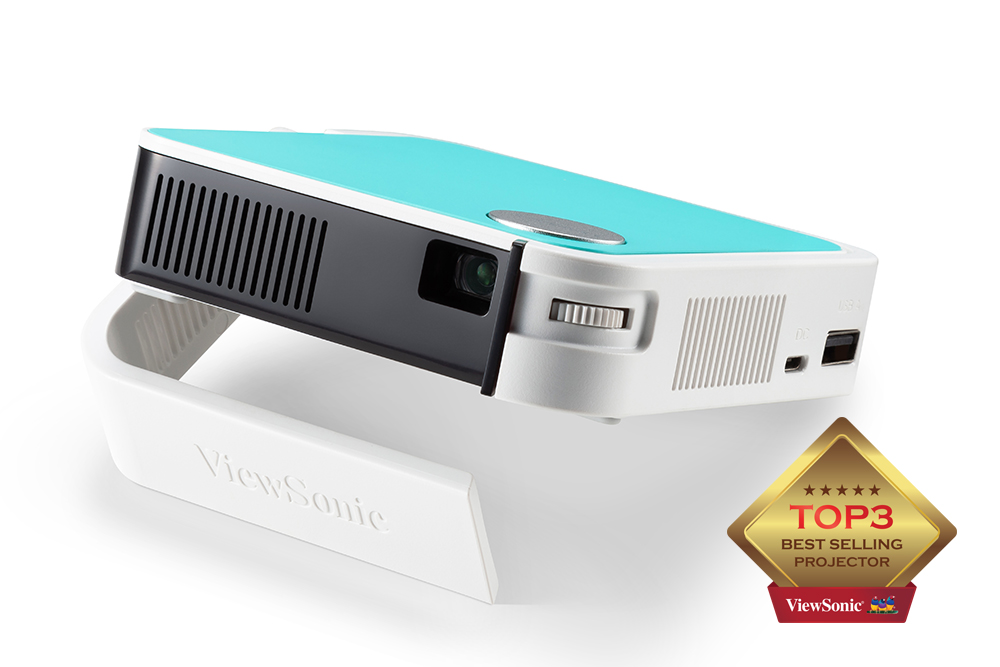 For more details and information relating to LED projectors and other Viewsonic products, please visit them here.