Sony is expanding its laser projector line up with the introduction of six new models, ranging from a 13,000lm high brightness model to 5,000lm mid-range compact models.
The high brightness offerings had been strengthened with three newly released WUXGA models: VPL-FHZ131L (13,000lm), VPL-FHZ101L (10,000lm), and VPL-FHZ91L (9,000lm). In addition, the 5,000lm medium brightness models will now include the VPL-PHZ12 (WUXGA), which has a 0.76-inch LCD panel with an incorporated optical compensator to deliver bright, vibrant images with high contrast of ∞:1 and true-to-life colour reproduction, as well as VPL-CWZ10 (WXGA) and VPL-CXZ10 (XGA), both portable and compact entry models with the most compact size in the industry.
Sony's lineup of laser projectors comprises of a total of 11 models across different brightness types from 4,200 to 13,000lm, providing a choice of options suited to a wide range of applications such as small classrooms, conference venues to large halls and auditoriums and exhibition facilities such as museums. This enables users to find the perfect model for their installation environment, application, and budget.
Features common to all models:
Intelligent Setting function for a faster, simpler set up
Choose one of the preset "installation location" modes to automatically adjust the image quality, light source output level, and cooling system to achieve projected images optimised to their usage environment. Users can easily change the settings from a choice of pre-set mode, including Meeting/Classroom Mode, a basic setting which emphasises the visibility of text in bright environments; Museum Mode, which prioritises low-noise; and Entertainment venues Facility Mode, which reproduces impactful image quality with high contrast.
In addition, VPL-FHZ131L, VPL-FHZ101L, and VPL-FHZ91L are equipped with an Advanced Intelligent Setting function with additional Multiscreen Mode, which optimises color when projecting on multiple units. The feature also automatically controls the temperature of the installation environment, frequency of usage, and several other parameters enabling the projectors to be used at suitable settings for long-term stable operation.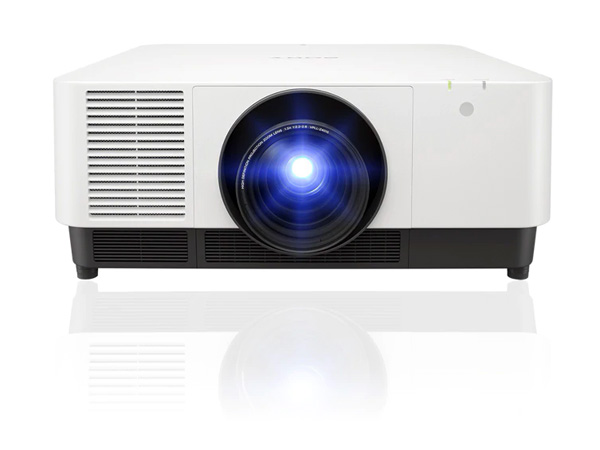 The benefit of laser projection and Sony's unique technology to support superb image quality
Long-lasting brightness of Sony's laser projectors reduces the burden of lamp replacement and other forms of maintenance, while also lowering operating costs. They also power on quickly to save on time and energy consumption. By combining Sony's original laser light source technology system Z-Phosphor™ with the 3LCD system, the projectors are able to produce images with high brightness, high resolution, and vivid color reproduction. Additionally, Sony's unique super-resolution technology Reality Creation is used to delivers enhanced image clarity without increasing digital picture noise.
Major features of VPL-FHZ131L/FHZ101L/FHZ91L
Flexible installation by combining a wide lens shift function with a short-focus lens
Its wide lens shift capability (Max. Vertical ±107%, Horizontal ±60%) enhance usability in a range of settings including difficult installation conditions, such as when a venue contains beams or piping, or when the screen is lower than the projector. When combined with the optional short-throw lens VPLL-Z4107, the flexibility of installation is increased in venues where a throw distance is limited.
Supporting a variety of interfaces and flexible system integration
Installing separately sold adaptor BKM-PJ20 to the optional board slot enables 3G-SDI input. This makes it possible to operate projectors in city halls, event spaces, and other locations where projectors are often used together with broadcast equipment.
In addition, the latest projectors now support the XTP Systems of Extron Electronics, enabling flexible system integration and operation.
Major features of VPL-PHZ12
0.76-inch panel with an incorporated optical compensator delivers excellent color reproduction
The 0.76-inch LCD panel with its incorporated optical compensator delivers bright, vibrant images with high contrast of ∞:1 and true-to-life colour reproduction. Images and text can be seen clearly even in bright environments.
Enhanced capability in system control
Equipped with dedicated terminal for HDBaseT™ and a LAN terminal for network control, users can monitor the status of units remotely using the LAN, while simultaneously transmitting video/audio/control signals long distance with the HDBaseT. The latest projectors also support the XTP Systems of Extron Electronics.
Major features of VPL-CWZ10/CXZ10
The most compact1 size in the industry
By adopting a small 0.64-inch panel, the VPL-CWZ10/CXZ10 are approximately 40% smaller (WxHxD = 371 x 100 x 319.3 mm) and 35% lighter (approx. 5.7 kg) than conventional models (VPL-PWZ10/PXZ10). This increases the flexibility when installing these projectors in small-to-medium sized class/meeting rooms with limited space, and also enables portability.
High resolution Full HD signals projected in high definition
By using the latest scaler chip and optimising parameter settings to Full HD resolution (1920 x 1080), widely used as input signals of PCs and recorders, VPL-CWZ10 is possible to project high quality and detailed images even with a WXGA LCD panel.
Availability details:
| | | | | |
| --- | --- | --- | --- | --- |
| Product | Colour | Description | Recommended Retail Price (RM) | Availability |
| VPL-FHZ131L | Black/White | WUXGA 13000lm Install Laser Series | 79,900 | July 2020 |
| VPL-FHZ101L | Black/White | WUXGA 10000lm Install Laser Series | 59,900 | July 2020 |
| VPL-FHZ91L | Black/White | WUXGA 9000lm Install Laser Series | 50,900 | May 2020 |
| VPL-PHZ12 | White | WUXGA 5000lm w HDBaseT Basic Install Laser | 13,900 | May 2020 |
| VPL-CWZ10 | White | WXGA 5000lm w HDBaseT Basic Install Laser | 6,900 | May 2020 |
| VPL-CXZ10 | White | XGA 5000lm w HDBaseT Basic Install Laser | 6,300 | May 2020 |
For more information visit: