OpenSys Technologies Sdn. Bhd. ("OpenSys Technologies"), a subsidiary of OpenSys (M) Bhd. has today launched buySolar, Malaysia's first one-stop online marketplace at Sheraton PJ. This online platform is aimed at empowering both consumers and business customers by providing them with the freedom to choose the solar products with the best financing options, as well as to facilitate the end-user market with the services offered by the key solar energy stakeholders.
The launch was officially graced by a few key stakeholders, and is supported by Sustainable Energy Development Authority (SEDA) Malaysia, an authorised government body in implementing the Feed-in Tariff (FiT) as well as Net Energy Metering (NEM) programmes; GSPARX Sdn. Bhd. (a subsidiary of TNB and a registered solar photovoltaic investor that provides end to end solutions from consultation, installation, maintenance, and monitoring), which will oversee solar quotations, to ensure the best value is provided to the consumers and businesses; TNBX Sdn. Bhd., a wholly-owned subsidiary of Tenaga Nasional Berhad ("TNB") which offers the Supply Agreement for Renewable Energy (SARE) scheme and provides contracting, metering, billing, collection, disconnection and customer management for asset owners and investors; as well as CIMB Bank Berhad ("CIMB Bank") and CIMB Islamic Bank Berhad ("CIMB Islamic") [collectively "CIMB"] as the financier to provide financing options specifically for solar energy, in the form of green loans.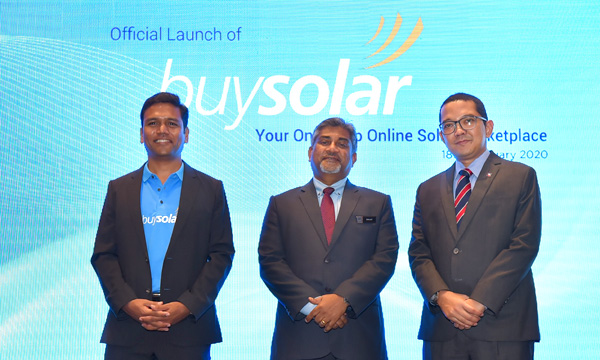 The buySolar platform provides end-to-end solar installation services, which include online status of application, cost estimation, solar installer selection, standardised quotation, financing, online monitoring maintenance and after-sales services. Upon choosing the solar supplier, customers can request for a quotation and opt for financing options from different banks. Users can also track their processes onsite and view their equipment performance on their dashboard. Aside from that, the platform also features a built-in chat that allows end-users to speak to solar providers directly.
"Sourcing for reliable solar panel installers and getting the right financing option can be challenging for Malaysian customers because of the complexity of the process and lack of awareness of the trusted financing partner," said Luke Sebastian, Chief Operating Officer of OpenSys Technologies. "The objective of buySolar platform serves to consolidate all the processes, which includes the buying, installing, and servicing the panels, making it a one-stop solution which is easy for Malaysians to utilise renewable energy in their everyday lives and businesses."
"Technology is the tool to bridge various stakeholders' solutions to achieve the objective of this initiative. As laid out by the government to achieve the 20% renewable energy target by 2025, we believe by developing buySolar, this helps to bring transformative impact of emerging technologies such as Internet of Things (IoT), Big Data, eBusiness marketplace to the industry." added Luke.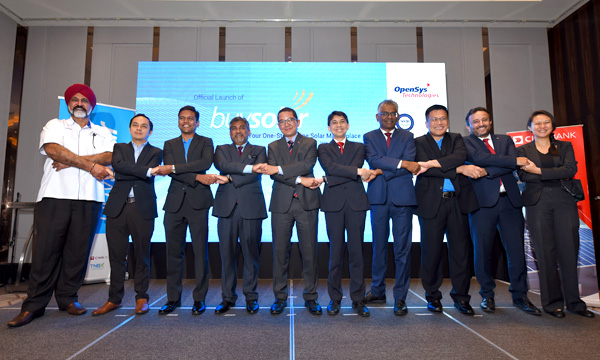 The launch of buySolar is timely as the Malaysian government is now set to maximise the potential of its green industry and renewable energy sector in 2020, in order to attain its objective of becoming Southeast Asia's green technology hub in the near future.
"SEDA Malaysia has been continuously promoting various programmes such as Feed-in Tariff (FiT) and the enhanced NEM programme (NEM 2.0) to support the Government's aspiration of achieving 20% renewable energy target in the electricity mix by 2025," said YBrs. Ir. Dr. Sanjayan Velautham, Chief Executive Officer of SEDA Malaysia. "Recently, SEDA Malaysia introduced a pilot run of a peer-to-peer energy trading programme to explore alternate programmes that could increase the renewable energy uptake in Malaysia. The launch of a solar solutions marketplace such as buySolar is a great indication of support to bolster the renewable energy industry in Malaysia and in facilitating more Malaysians to participate in using renewable energy," he added.
"CIMB's involvement as an official financier on the buySolar platform represents our support for Bank Negara's Value-based Intermediation concept as well as CIMB Group's sustainability pivot. To that end, CIMB is pleased to be the official financier for the buySolar platform and we have, in fact, allocated RM100 million for renewable energy financing. CIMB's financing – from as low as RM20,000 to RM1 million – covers 100% of the cost of acquiring and installing renewable energy technology. This collaboration also feeds into CIMB Group's commitment to UNEP-FI's Principles for Responsible Banking, and initiatives with positive Environmental, Economic and Social (EES) impact in our society," said En. Ahmad Shahriman Mohd Shariff, CEO of Group Islamic Banking, CIMB Group and CEO of CIMB Islamic Bank Berhad.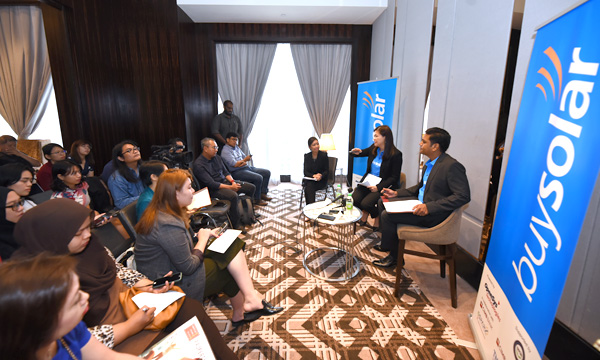 The new buySolar marketplace was specially designed to be a hassle-free, one-stop services platform that provides customers access to the best value options. As the solar providers are carefully selected by OpenSys Technologies, customers can have their mind at ease on the quality of products and services. Not only is buySolar user-friendly, it also helps customers to optimise their savings with quality after-sales services. By installing solar panels, customers can reap the benefits of energy savings that could potentially range from 54% to 87%, depending on the amount of energy used and the size of the rooftop.
For more information on the new buySolar marketplace, please visit www.buysolar.my.