Lenovo, the world's leading PC company is bringing back the newly-revamped Legion Battlecruiser. The 20-foot truck is packed with  a top-notch fully equipped gaming setup vehicle and it's making its way to Penang, Ipoh, Kuantan and Johor Bahru! Don't miss the chance to catch it at the locations and dates below –
Queensbay Mall, Penang: 29 February-1 March 2020
Ipoh Parade, Ipoh: 7-8 March 2020
East Coast Mall, Kuantan: 14-15 March 2020, from 12pm-9pm (parked outside of Starbucks Coffee)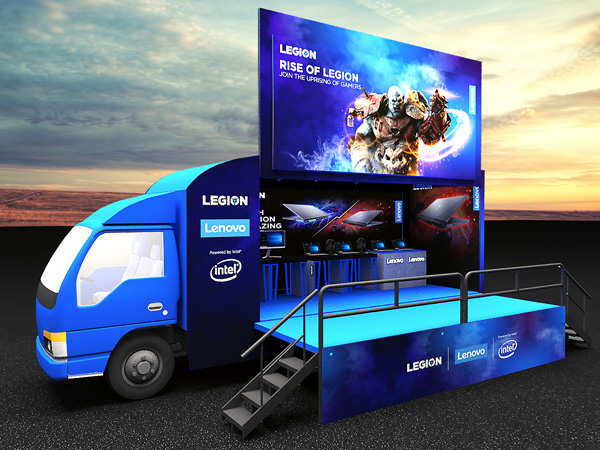 Hop onto the Legion Battlecruiser and flex your gaming skills on the new Lenovo Legion C530 Cube, Lenovo Legion Y545 as well as Lenovo Legion Y7000. Whether you are a professional or casual gamer, you can unleash your inner savage while playing popular titles such as Call of Duty, Red Dead Redemption 2 and FIFA 20. Bring your usual gamer gang so all of you can stand a chance to win Legion-branded swags and redeem discount vouchers worth up to RM350 for Legion devices!
If you're looking to refresh your gaming device, now is the best time as Lenovo has promotions with attractive deals on selected products. To sweeten the deal, those who redeem the discount vouchers at the Legion Battlecruiser, can use them when purchasing selected devices on top of the discounted price.
Lenovo Legion T530 Gaming Tower

Designed with a stylish exterior to its powerful components, a refined front grill accents its Raven Black chassis and rounded out by full red system lighting, it's truly a breathtaking gaming PC.

The T530 features the latest generation of Intel® Core™ processors with Intel® Optane™ memory, allowing you to accelerate your most frequently played games for fast launching and level-loading.

Lenovo Legion Y27q-20 Monitor

The Lenovo Legion Y27q-20 gaming monitor delivers an immersive gaming experience that's sure to get your pulse racing. The IPS wide viewing angle panel ensures stunning clarity with true colours.

This monitor will help minimized screen tearing, display stutter, and input lag allow you to enjoy distraction-free gaming.

Bundle Set Price: RM7,198
Battlecruiser Bundle Set Price: RM6,848 (RM350 off)
Lenovo Legion C530 Cube

The 19-L Lenovo Legion C530 Cube offers tower-level gaming in a more portable design. Dominate all the games with the latest processors and discrete graphics, plus a dual-channel thermal system to eliminate heat inside.

On the outside, the design presents a more refined look—from its compact Iron Gray chassis to details like a sleek front grill with integrated white LED "Y" lighting.

Lenovo Legion Y44w-10 Monitor

With the Legion Y44w-10, expect a 43.4″ curved display with peaked display brightness at 450 nits that gives you a viewing experience wider than your imagination. The blazing-fast response time with a 144Hz refresh rate reduces motion blur and offers a smooth visual experience while gaming.

The monitor is designed for gaming and multitasking at ease with the display of TÜV Eye Comfort certification which helps reduce eye strain even when your game goes on for longer hours.

Bundle Set Price: RM9,698
Battlecruiser Bundle Set Price: RM9,348 (RM350 off)
Lenovo Legion Y7000

This 15.6-inch laptop gives you exactly what's needed for a gaming experience that pushes performance and portability even further. The Lenovo Legion Y7000 comes with 9th Generation Intel® Core™ processors which deliver desktop-like performance.

Latest-generation graphics, memory, and storage guarantee you serious power behind a style punctuated by crimson red "Y" lighting and a full-sized, red-backlit keyboard.

Lenovo Legion Y7000 2019 PG0

Promotion Price: RM3,499

Battlecruiser Promotion Price: RM3,299 (additional RM200 off)

Lenovo Legion Y7000 2019

Promotion Price: RM4,549

Battlecruiser Promotion Price: RM4,349 (additional RM200 off including Red Dead 2 Game Code)
Become part of the Lenovo Legion community and take gaming to the edge by logging on to legion.lenovo.com and follow updates at www.facebook.com/lenovolegionMY.