Shopee welcomes 2020 with its Chinese New Year (CNY) Sale, setting the tone for a greater year of deals and discounts for Malaysians. Running till 28 January, the campaign features a wide array of new products, RM18 free shipping, a suite of new services as well as new games and entertainment – all to be enjoyed both on and off the platform.
Users will not want to miss the RM8 prosperity deals on CNY Hampers, 24-can Coca-Cola, Tefal Cookware set, Cheongsam, Khind stand fans and more. Premium gold bars are also up for grabs at RM1. Some CNY offerings to look out for include Mandarin Orange-flavoured KIT-KAT, Eu Yan Sang Bird's Nest Mouse Gift Box, Carlsberg beer, exclusive pineapple flower for prayers and bakkwa.
Shopee is all about giving users a good celebration, and its offline deals from F&B to services, hotels and theme parks via the Reloads, Vouchers and Bills feature on the App are must-haves. Go easy on the wallet during big reunions with discounts when dining at Shopee's new merchants' outlets – Michelin-starred Hawker Chan, Dragon-i, Purple Cane, SouperTang and Tony Roma's. Let the experts groom you by purchasing vouchers to beauty services or get help with cleaning services without breaking a sweat. As many will be travelling, getting the vehicle serviced is a must! Basic servicing options from changing tyres to a full car maintenance are available with the click of a button. Also, keep the little ones safe by getting child car seats from as low as RM88.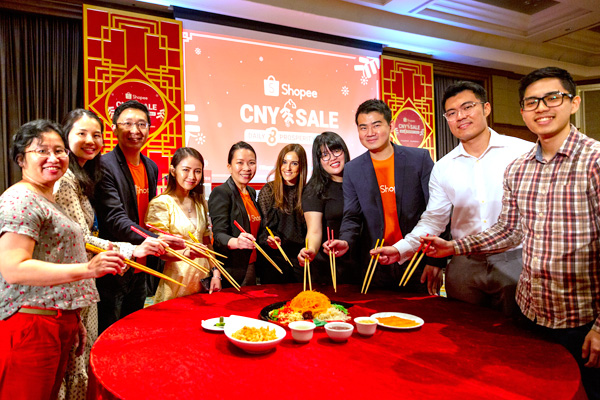 Looking to upgrade the home to impress relatives? Participating sellers on Shopee are upsizing the huat by guaranteeing Malaysians the lowest price on washing machines and dryers, air conditioners, refrigerators, televisions, ovens and more. Users in Peninsular Malaysia are in for an even bigger treat as they can get all these items shipped to them, free of charge, from now until 21 January.
Shopee is also expecting an influx of orders this CNY, especially for bulky items like dining sets, wardrobes, beds and sofas. As these items tend to be heavy, the appointment of third-party logistics partner, Ninja Van, is timely as they can handle shipments of up to 90kgs.
Amping up the CNY fever, Shopee introduces CNY-themed games like Shopee Ang Pow and Fortune Sticks, all with vouchers worth a total of RM88,000 and more than 18 million Shopee Coins to be won. For those who want to learn about their fortune, family, home, career, love and health can catch Fengshui Master Jane Hor on Shopee Live at 12.30pm on weekdays from now until 17 January.
With so much to look forward to, shoppers will still want to save the date 13 January for the Huat Ah! Huat Ah! Sale where the platform is offering unbeatable promotions from all categories, upsized Shocking Sale, and a 10gram Gold Bar worth RM2,250 for just RM1 in One or Not.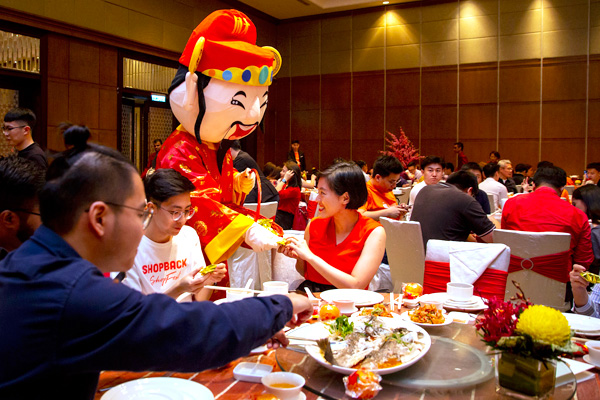 The Shopee CNY Sale is supported by brands such as Nestlé, Unilever, Vinda, P&G, Watsons, Enfagrow, Friso, Realme, Photobook, and Tesco, and partners such as FPX, RHB, Standard Chartered, United Overseas Bank, amongst others.
The efforts Shopee has pulled together to curate this CNY campaign is part of its strategy to maintain its strong growth momentum, having closed an impressive 2019. Shopee penned record-breaking achievement after achievement. Key highlights as follow:
Performance:

In Q3 2019, Shopee's Year-on-Year Gross Merchandise Value rose by 69.9%, from $US2.7 billion to $US4.6 billion and Gross Orders surged by 102.8%, from 158.5 million to 321.4 million.
Despite being in seven markets across Southeast Asia and Taiwan, Shopee is seeing a growing popularity across the globe. It was the 5th most downloaded App worldwide in the shopping category, according to AppAnnie.
Deepening user engagement:

Shopee also scaled up its in-app games from only Shopee Shake in 2018 to over 15 games to-date. Popular games that were introduced in 2019 were Shopee Quiz and Shopee Catch.
2019 was the year that Shopee introduced live stream feature called Shopee Live, to keep the Shopee experience entertaining, engaging and social, bringing users high quality content such as the Datuk Seri Siti Nurhaliza mini concert presented by Shopee and SIMPLYSITI, Ask-Me-Anything (AMA) with Cristiano Ronaldo, the exciting Piala FA finals, the much anticipated Ombak Rindu The Series and more.
As a result of the tech enhancements and interactive content on the platform, the amount of time users spent on the App has doubled. At its peak, users stayed on the App for over 2 hours and 15 minutes, as they were entertained while they shopped and participated in games to win exciting prizes, vouchers and discounts.
Collaboration:

Shopee held its first-ever concert with Datuk Seri Siti Nurhaliza in the Shopee X SIMPLYSITI Mini Concert and partnered with celebrities for its first-ever charity initiative called the #ShopeeMAKNA 11.11 Charity Challenge that was aired on Astro.
Shopee has also enjoyed a successful start to its partnership with brand ambassador Cristiano Ronaldo as the football icon's Shopee Dance performance trended worldwide.
To support the Government's quest to boost the country's digital economy by empowering local entrepreneurs, Shopee struck a partnership with the Ministry of Domestic Trade and Consumer Affairs to promote the Buy Malaysian Campaign (BMC). Prior to BMC on Shopee, only 196 orders were made for Buatan Malaysia products daily. This figure rose significantly to 845 orders daily, marking an uplift of 331%.
To help digitise rural Malaysia, Shopee inked a Memorandum of Understanding with the Ministry of Rural Development and Malaysia Digital Economy Corporation (MDEC) to provide rural entrepreneurs with the necessary knowledge and skills to operate an online store, as well as a platform for them to market and sell their products.
"We recorded stellar performance on all fronts of our business throughout the year, with robust shopping activities during the second half of the year. This was supported by major shopping festivals such as 9.9, 11.11 and 12.12. Our volumes have been steadily increasing campaign to campaign. Hence, the appointment of Ninja Van was imperative in order for us to ensure that our users are able to get their parcels on time," said Ian Ho, Regional Managing Director of Shopee.
Commenting on the industry's landscape, Ho added that there is a lot more potential for the e-commerce industry in Malaysia to grow. "Seeing as e-commerce contribution to total retail is still below 3%, and very much at its infancy, there is a lot more work to be done. We remain committed to this market and expect 2020 to be another exciting year as we unlock more opportunities and identify solid partnerships that would be beneficial to retailers, consumers and the economy."
To enjoy Shopee's CNY Sale, visit shopee.com.my/cny-sale.