Shell Eco-marathon is one of the world's leading energy efficiency competition programmes where students are challenged to design, build and test their energy-efficient cars on track. Recognising the value Shell Eco-marathon offers to students, Shell with the support from the Ministry of International Trade and Industry (MITI) and the Department of Higher Education, Ministry of Education, embarked on Shell Eco-marathon Access (SEM Access), a platform for future participating universities, seasoned teams, alumni and business partners to come together to discuss, design and decide on how to shape the future of energy together.
SEM Access, which was launched today by Y.B. Dr. Ong Kian Ming, Deputy Minister of International Trade and Industry (MITI), provides an avenue for our Malaysian university students to garner investment and mentorship for their participation in SEM Asia through collaborations with corporates and industry players. Students participate in a 'Make Your Future' pitch where a panel of business executives listen to their presentations and decide on the teams they want to collaborate with. The corporates and universities then enter into a partnership that provides student teams with the needed support that would enable them to represent the partners and Malaysia in the SEM Asia race.
"Shell Eco-marathon challenges our bright Malaysian students to leverage on STEM to not just compete against the best teams in the region but to also showcase our country's talent pipeline to the world. The SEM Access ecosystem provides a platform for students to showcase their innovations and energy solutions for a better tomorrow. I would like to applaud Shell for making this sustainable collaboration between the industry and academics possible, as it resonates with our drive to promote and accelerate the usage of innovative technologies in the globally competitive industries that are growing, such as the automotive industry," shared Dr. Ong Kian Ming.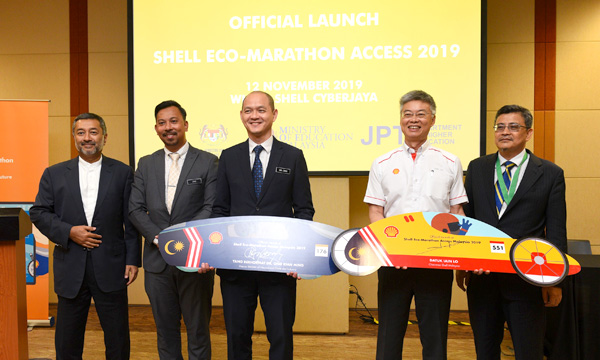 Besides the pitching session, four workshops by subject matter experts will be conducted from now till Shell Eco-marathon 2020 in June next year for student teams to upskill and prepare themselves in their pursuit towards designing and building the most energy efficient vehicles and to confidently compete in an international arena.
"We at Shell Malaysia are committed to build an eco-system which brings together the government, academia and industry partners to support our students who have the innovative capability and talent towards developing sustainable and cleaner energy solutions to tackle the energy challenges that we face today. This collaboration through SEM Access will help increase the participation of student teams from Malaysia while further driving Shell's vision of sustainable mobility – more energy efficient vehicles and cleaner road transport," said Datuk Iain Lo, Chairman of Shell Malaysia.
Another milestone under the SEM Access programme is the collaboration between Shell Malaysia and Universiti Teknologi MARA (UiTM) to introduce Shell Eco-marathon as a pilot capstone project in the university. The project allows students to demonstrate their knowledge and understanding in engineering and management principles by working as a team to design and build the most energy efficient vehicle. It is agreed between UiTM and Shell Malaysia that Shell Eco-marathon is a perfect example of a credible capstone project which will award academic credits to students who take on this project.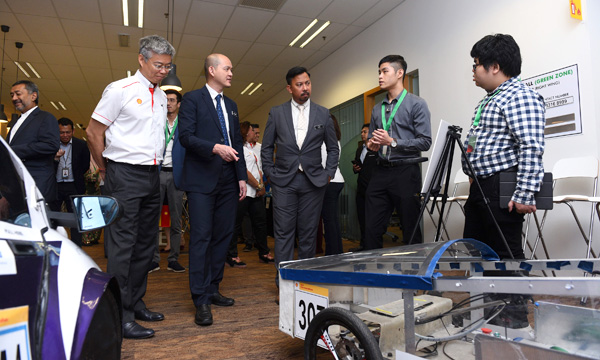 An introduction to SEM Access took place earlier this year at the Make The Future Live Malaysia where a MoU exchange took place between Shell Malaysia and six universities on a collaboration towards developing talent in energy efficiency using technological and innovative solutions. The universities involved in the MoU exchange were Universiti Malaysia Pahang (UMP), Monash University Malaysia, Universiti Teknologi MARA (UiTM), Universiti Tunku Abdul Rahman (UTAR), Multimedia University (MMU) and Universiti Malaysia Sabah.
Shell Malaysia aims to further drive the collaboration in STEM (science, technology, engineering and mathematics), innovation and Research & Development (R&D) by inviting the ministries, academia and industry partners to be a part of the SEM Access ecosystem.
For more information on Shell Eco-marathon, please visit: here.