TikTok, the leading destination for short-form mobile video, today announced the top 30 finalists from Malaysia that will compete in the regional round of TikTok All-Star Southeast Asia 2019. The region-wide All-Star talent competition aims to discover and incubate new creators in Southeast Asia as study reveals the importance of cultivating creativity.
Close to 23,000 submissions across all 3 categories (talent, acting and lifestyle) were obtained from Malaysia, garnering over 53 million views. Among these entries were:-
Talent category: wingkeh_keifth
Acting category: puspawangirauza
Lifestyle category: lofstedtdude
For a full list of the top 30 finalists that will go on to compete against 150 other creators in Southeast Asia, please see here.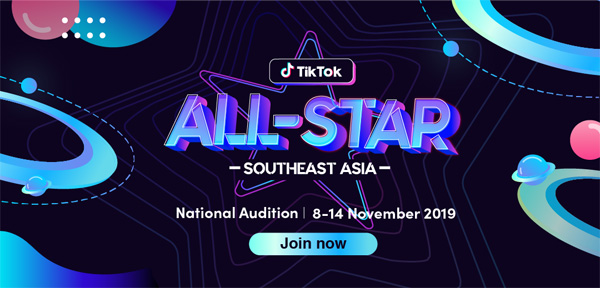 Users' response to this inaugural competition has been overwhelmingly positive with TikTok receiving more than 302K submissions from across the region resulting in a total of half a billion views; 507M views.
Based on a study conducted with YouGov (an international research and data analytics group), 82% of respondents from Malaysia agree creativity is important today with 84% believing it will be even more important in the future. The large majority, 77% of respondents from Malaysia also believe that the creative industry contributes significantly to the nation's economic growth. One example of this is the rising fame of Elizabeth Tan (singer, model and actress) amongst Malaysian fans. By partnering with Elizabeth, TikTok hopes to elevate the competition and excite the next generation of content creators.
By offering a home for creative expression with its easy-to-use video capturing and editing tools, TikTok is the perfect fit for budding talents seeking to showcase their ideas through short-form videos. In fact, study finds that 67%, 56% and 39% of Malaysians say that photos/illustrations, short-form video and music are the top three content formats preferred to express creativity.
"TikTok aims to provide a platform for creativity to flourish, and with the support of celebrity judges like Elizabeth Tan, TikTok All-Star Southeast Asia is a perfect reflection of that commitment," said Cheah Sheau Mei, User and Content Operation Manager of TikTok Malaysia. "We're extremely proud to recognize these 30 homegrown talented creators representing Malaysia in the next phase of this competition. We look forward to watching the impact these 30 make in their communities and across the region for years to come."
From 21 – 25 November, these top finalists will compete by uploading a second round of videos that showcase their creative talent. TikTok's celebrity judges including the likes of Elizabeth Tan (Singer/Actress), Ngo Kien Huy (Singer/Actor), WOODY (TV Host/Social Influencer), ANJI (Singer/Content Creator), Rico Blanco (Singer/Songwriter) and RRILEY (Singer/Artist) will choose who wins the Jury Award, while six candidates for each category move onto the final awards where public voting commences from 28 to 30 November.
TikTok is available in over 150 countries and regions in 75 languages. Download the TikTok app via iOS or Google Play.