From 26 August to 1 September 2019, Sony Expo 2019 will opens its doors to the public with an impressive showcase of the latest and upcoming Sony products. In conjunction with the unveiling of the new Truly Wireless headphones WF-1000XM3 to Malaysia, Sony Malaysia is dedicated to providing consumers and fans alike with a day's worth of experiential activities and product sharing sessions on 28 August 2019.
The Sony spirit of 'kando' has always been emphasizing in all kind of messages via its campaigns and activities. It represents the very best of the Sony's mission- which basically means emotional involvement or the power to simulate an emotional response. In other words, it is the power to make people say, "Wow." This is the heart of Sony and it's reflected in the design of all Sony products.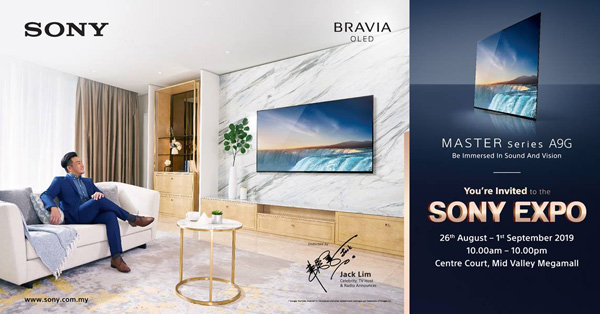 Fans are invited the privilege of witnessing the unprecedented BRAVIA OLED A9G, boasting pristine 4K HDR picture quality with the greatest sound you've never seen, as well as getting their dose of some powerful bass sounds with Sony's EXTRA BASS wireless audio systems. The "Sony experience" was also extended into the rooms of PlayStation, Audio and Digital Imaging, where fans were given the opportunity to experience and interact in gaming worlds with PlayStation VR, as well as to get up close and personal with the latest camera and personal audio lineup, including Sony Alpha, premium compact cameras, VLOG cameras and accessories, and One Signature Sound.
At the same time, all other areas of the venue will be opened to the public, hosting category zones with a variety of products that ranged from current offerings to future introductions.
Sony Expo 2019 would not have lived up to its full expectations without some taste of future Sony products. As such, consumers will have the first-hand privilege of experiencing new and unreleased Sony technologies, in the mold of AIBO robotic "puppy", Xperia 1, Sony cameras and home entertainment Dolby Atmos sound bars.
31 August 2019, Saturday, Main Stage
Time
Activities
 
10:30AM – 2:00PM
AIBO Special Appearance
2:30PM – 3:30PM
Alpha Professional Photographer Sharing
Nick Ng

Street & Documentary Photographer

3:30PM – 4:30PM
Alpha BF KOL Sharing
Allen Khor & May Ho

Photographer & Influencer

4:30PM – 5:30PM
Alpha Professional Videographer Sharing
Jonathan Chong

Wedding Videographer

6:30PM – 8:00PM
AIBO

Special Appearance
01 September 2019, Sunday, Main Stage
Time
Activities
 
10:30AM – 2:00PM
AIBO

Special Appearance

2:30PM – 3:30PM
#VlogWithSony KOL Sharing
Kittie Yiyi

Beauty/Fashion Vlogger & Influencer

4:30PM – 5:30PM
#VlogWithSony KOL Sharing
Cody Hong

YouTuber

6:00PM – 8:00PM
AIBO

Special Appearance
31 August & 01 September 2019, Saturday & Sunday, VLOG Café
| | | |
| --- | --- | --- |
| Time | Activities |   |
| 11:00AM – 11:30AM | Latte Art Workshop | #VlogWithSony cameras |
| 12:00PM – 2:00PM | Sound Tasting | Experience yourself with Sony's High Resolution audio on Sony's latest headphones including WF-1000XM3 |
| 2:00PM – 2:30PM | How To Make A Single Rose Bouquet | #VlogWithSony cameras |
| 6:30PM – 7:00PM | Cookies Making Workshop | #VlogWithSony cameras |
For more information on Sony Expo 2019, please visit here.