For fans of wireless earphones, today, we bring you an exclusive review and first look at Klipsch T5 True Wireless Earphones, having it's premier launch in Singapore ahead of the US and worldwide launch this week.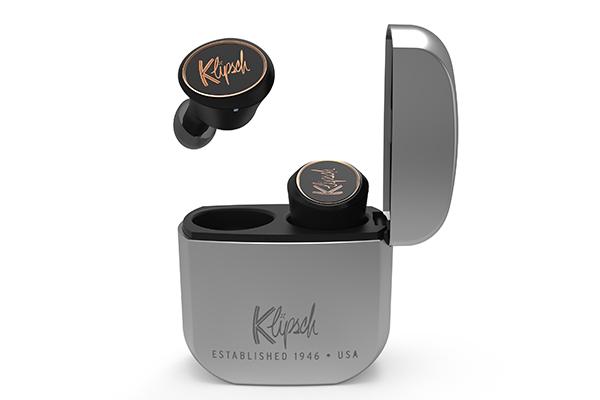 Wireless earphones are not new, but to come out with a design that turns heads while maintaining functionality is not easy while maintaining a good price point is another factor to consider as there are good ones for less than 20% of what T5 True Wireless Earphones offers. Let us take you for a spin on the T5 True Wireless to see if it could convince you to bleed your wallet with RM1099
Design
There are two areas to look at the T5 True Wireless. Aesthetically, the packaging has won hands down. We would say, the T5 True Wireless has the coolest case. At the first look at it, you will relate it to the famous lighter brand "Zippo" and yes, the case really inspired by that lighter, with brushed metal and the weight is just right to hold, feeling solid and premium, with just over 100gram. Some vendors may even engrave personalised text for you on the case to make it looks cooler.
You can't help but start playing with it naturally like a fidget as if you were clicking the Zippo lighter. Enough of the good look aside, the case actually holds 24 hours of charge juice for the earphones inside, with the charge and power indicator lights in between the opening.
The earphones itself are designed with a classic look. The gold logo on each side of the earphones makes the user feel premium, it looks like as if it was made of ivory with premium coating. The propriety and patented oval eartips design provide a perfect fit for best ear comfort. In the box, it comes with three different sizes of silicone tips to fit ears of all sizes for maximum sound experience and long use comfort. It is a bit of turn-off as it is not a full noise cancelling earphones like other brands are offering, T5 True Wireless uses the silicone tip design to double as a seal for noise isolation.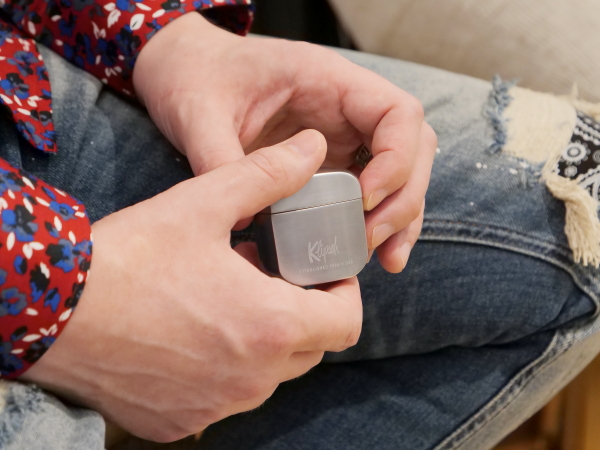 As for usability, once the earphones are out of the case, it's automatically activated for pairing, we will talk about the paring later in this review. Once it's back to its case, it will turn off and back to charging mode. Pretty neat.
Feature & Performance
Klipsch is well known for its vibrant and dynamic audio, and the T5 True Wireless has level this up a notch, with crisp trebles, soothing mids, and thumping bass frequencies. We listened to a few different genres of music from the youngster's popular Alan Walker mix to jazzy audiophile to contemporary pop music, we were impressed with the audio handling to bring out the best of each music genre.
The trick is, choose the right silicon earbuds that fit your ears to take the full audio output of the earphones. The earphones are made with 5mm dynamic moving coil micro speakers for full bass extension. It supports both Qualcomm aptX and AAC codecs offering high res audio.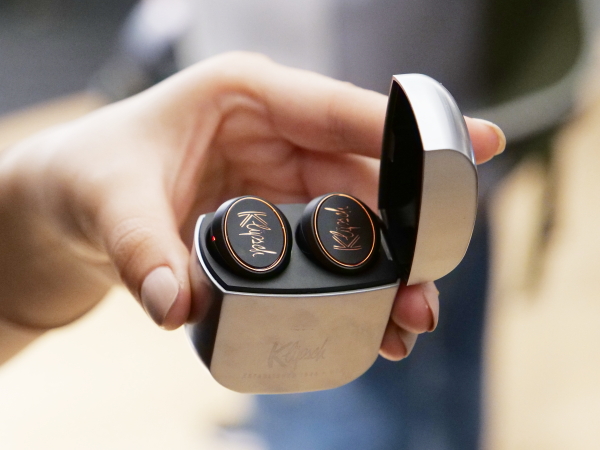 Pairing is easy with Bluetooth 5.0 standard. The new version of Bluetooth ensures no delay in sending the digital signal. You just need to pair either one side of the earphones and it will look to hook up the other one automatically before you even notice it. At times, for some reasons, when we can't make both earphones to work as a pair, we just simply put it back to the case, press five times on the left earphone and then five times on the right earphone for it to re-set and we are back to business. We can pair the T5 with up to eight different devices and connect it to two devices simultaneously as well. This is extremely cool and useful when we have multiple devices.
If you are wearing earphones for sports, the T5 True Wireless is sweat and water-resistant with IPX4 rating. So you don't have to worry much about sweating on it. We were testing it at the gym with five kilometres run on the treadmills to let our sweat pours on it with some techno upbeat music on. Both earphones sit snugly and securely in the ears even with rigorously running impact and sudden movements of the head, you know that it will not come loose. There is no sound dropout during use, but we wish the bass level could be improved, it becomes weak when we started to move rigorously, or maybe this is just personal. Cleaning it thereafter is no-sweat. What we do was, wet the towel and just wipe off the sweat on the earphones.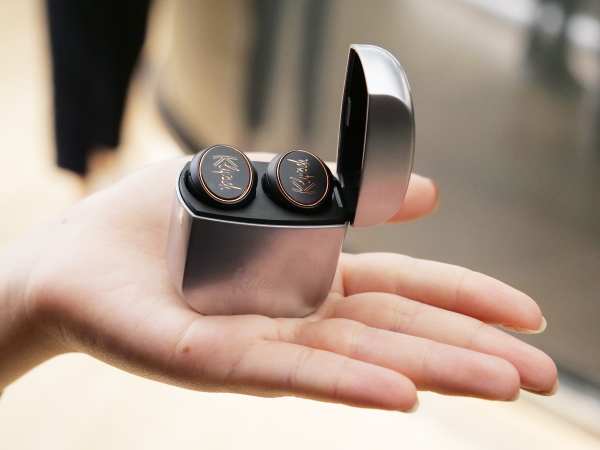 On a single full charge, the earphones alone can last you about 8 hours of straight use. Enough for non-stop music with a flight from Kuala Lumpur to Melbourne. Also, the case itself holds another 24 hours of power juice and you can charge the earphones on the go. The case with earphones inside could be charged with the power-bank through the USB type-C fast charging.
For user who talks on the phone frequently, the earphones itself has four cVc 8.0 microphones that automatically enhances voice clarity. It is a neat feature to have because we need to talk on the phone sometimes when we are on the earphones.
Controlling the volume on the earphones are easy, long press the right earphone will increase the volume and vice versa to the decrease the volume on the left. Double tap n the right to skip track forward, and on the left earphone, backward. Easy and straightforward.
For some reason, we can use either one side of the earphone if we like but that's a little weird because you could not take full advantage of the audio quality. According to the top guys at Klipsch, the T5 True Wireless will work seamlessly with Klipsch Connect App (which will be launched at a later date) and it will add extra features like mixing in ambient noise, stay on top of your battery level, EQ settings, firmware upgrades and more. Saty tuned.
Price & Availability
To buy this at RM1,088 price point, it is definitely not something you can part your money just with a blink of eyes, while some mainstream brands may offer at least 20% cheaper, that's before you look at the real thing. Once you see the real stuff, there will be no-stopping your hand to flip out the money for it. Available in Malaysia from July onwards. Distributed by www.tcacoustic.sg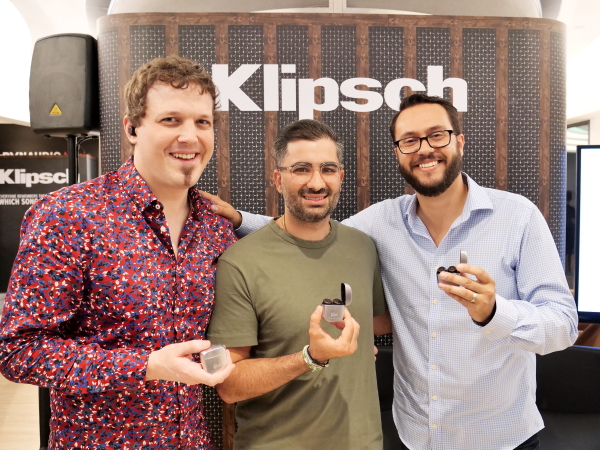 Final Verdict
To sum it up, we were really impressed by the Klipsch T5 True Wireless – and even more, impressed by their cool case. They possess that lively, energetic sound that Klipsch has become known for. Overall, the sound felt very well-balanced, although bass performance could be improved. The oval eartips are comfortable and the battery life as a whole is one of the longest so far. The noise cancelling could be improved further.
Specifications
Style : In-ear Monitor
Driver Design: Dynamic moving coil micro speaker
Driver Diameter: 5mm
MIC/Remote: cVc 8.0 Quad-Mic
Frequency Response: 10Hz-19kHz
Noise Isolation : -22dB
Input Connections: Bluetooth 5.0
Battery (earpieces) : 55mAh
Battery (Case) : 360mAh
Weight: 6g per earpiece, 96g for case
Dimension : 6.8″H x 4.4″W x 1.9″D