Battle Arena Malaysia will be organizing the inaugural "Battle Arena: Super Series" (abbreviated as 'BA:SS'), a homegrown DOTA 2 league specially designed for the community. Recognising that there are few avenues for more casual gamers to showcase their talents, the BA:SS aims to offer the experience of competing on a professional platform to the everyday DOTA 2 enthusiast.
The league will host up to 32-teams from around the country
First ever tournament to be fully-produced into reality-show style series
To give local casual / semi-professional players a chance to experience a professional tournament setting & VIP treatment
Event Highlight: Local Esports Talents
Over the past few years, esports content has grown to be much more than just a platform to impress with gameplay – content creators with charisma or a great sense of humor have proved to be just as or even more popular than professional gamers at times.
The first season of Battle Arena: Super Series (BA:SS) will thus provide a local platform to nurture undiscovered homegrown talents, not just gameplay-wise but also highlighting their individual personalities via documentary-style online video content, including exclusive interviews and moments captured. This will offer viewers the chance to understand the thought process of players competing in a DOTA 2 tournament.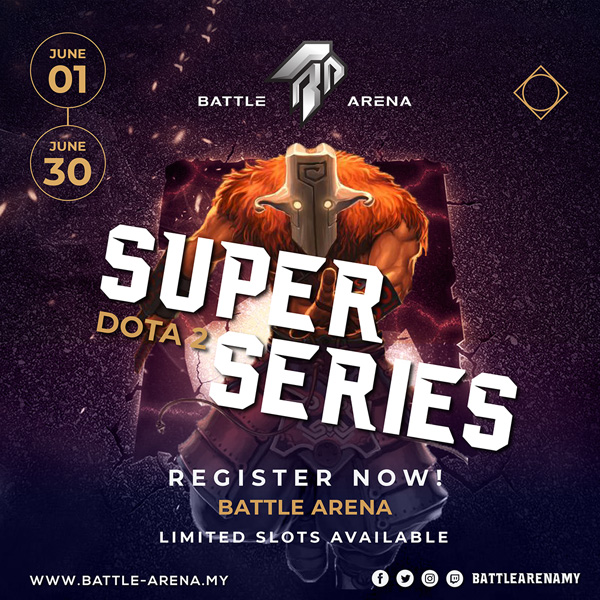 Sustainability
Through this initiative, Battle Arena Malaysia hopes to grow the amateur esports scene and complete the missing piece of the puzzle here in the Malaysian DOTA 2 circuit.
It is Battle Arena's ardent wish to contribute to the sustainability of the scene, and as such, the BA:SS will be a long-term and recurring league, something that is often lacking locally especially for semi-professional players.
Registration Details
Registration is open to ALL teams in the Malaysian DOTA 2 community. Dates of the tournament are as follows:
Qualifier #1 – 1st & 2nd June 2019
Qualifier #2 – 8th & 9th June 2019
Grand Finals – 29th & 30th June 2019
Battle Arena Malaysia calls all DOTA 2 fans to be a part of Super Series Season 1! Registration opens this 10th of May 2019. Bring your teams and join in the excitement!