Nestlé Ice Cream is officially launching its first Solar Powered Ice Cream Kiosks in the world, here in Sunway Lagoon, Petaling Jaya.
The launch is in line with Nestlé's efforts in addressing climate change and was officiated by Hans-Ulrich Mayer, Head of Nestlé Ice Cream Strategic Business Unit, Nestlé S.A., Teo Heng Keat, Business Executive Officer of Nestlé Ice Cream, Nestlé (Malaysia) Berhad and Calvin Ho, Senior General Manager, Sunway Theme Parks.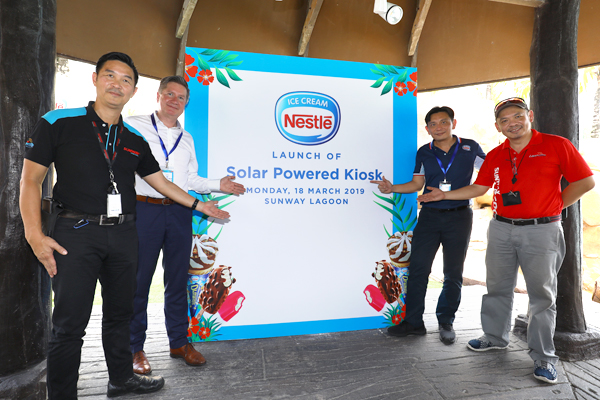 The revolutionary Solar Powered Ice Cream Kiosks draw solar energy through the photovoltaic (PV) panels located on the roof to keep the ice cream in the freezer cold, from the outdoor temperature of 35 °C to a maximum of -25 °C at zero-energy cost.
"It has been a journey of innovation for the research and planning in order to develop the technology for the Solar Powered Ice Cream Kiosks. We are very pleased to launch this new innovation for our freezers right here in Malaysia. Our efforts today are in line Nestlé's sustainability goals of achieving 100% electricity generation from renewable resources," said Mr Mayer.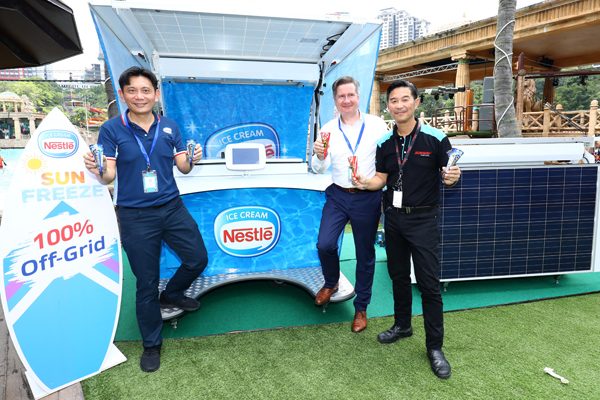 "We are introducing our Solar Powered Ice Cream Kiosks to further our sustainability commitment to the environment that we operate in. Prior to the Solar Powered Ice Cream Kiosks, we introduced over 13,000 Eco Freezers across Malaysia in 2015, these freezers require half as much energy as previous models and uses natural refrigerants to keep our ice creams at the right temperature," said Mr Teo.
Each Nestlé Solar Powered Ice Cream Kiosk works 100% independent of electricity and can reduce 263kg of carbon dioxide emissions into the atmosphere per year. The solar energy harvested from a day's worth of charge can keep the Nestlé's Solar Powered Ice Cream Kiosk running for up to two or three days.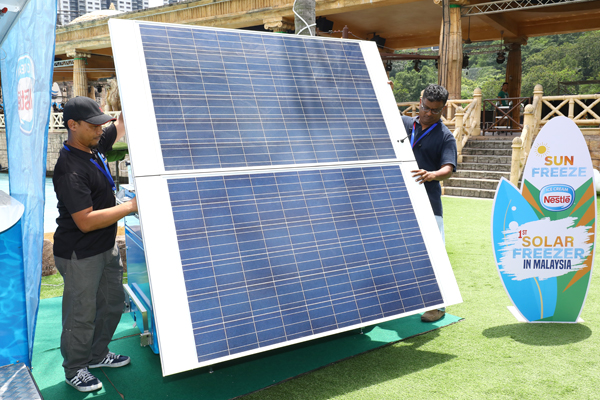 Furthermore, its standalone capabilities also enable these kiosks to be easily set-up at remote or high traffic locations, which do not have access to electricity – like night markets, the beach or parks.
"Malaysia is a perfect country to have our Solar Powered Ice Cream Kiosks, especially since the sun shines brightly all-year round. We hope that with these kiosks, we are able to inspire other companies to take action and look for new ways to reduce the carbon emissions and Go Green," Mr Teo concluded.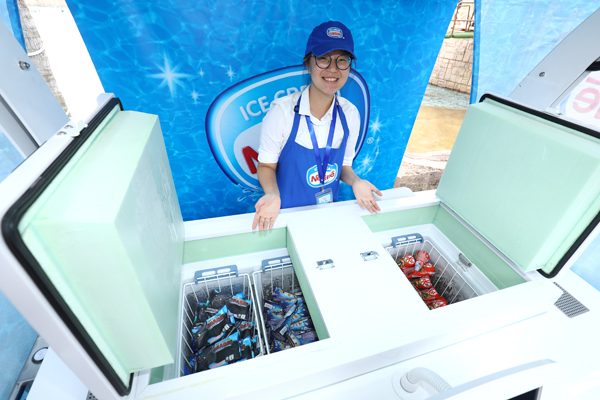 Nestlé Ice Cream Malaysia intends to roll out more of such Solar Powered kiosks across the country in the near future.
The Nestlé Ice Cream Solar Powered Kiosks were unveiled during the launch at Sunway Lagoon where the media had a chance to experience a demonstration of how the kiosks were set up and its functionalities. To commemorate the launch, Nestlé Ice Cream Malaysia also gave out free ice cream to the public.
The Nestlé Solar Powered Ice Cream Kiosk is currently located in Sunway Lagoon and is operational daily from 10am to 6pm.