The 10th Putrajaya International Hot Air Balloon Fiesta 2019 is set to return to Precinct 2, Putrajaya this coming March 28th – 31st. The Fiesta, now in its tenth year, is a free-for-all event that has garnered support and interest from international balloonists, corporate partners and the general public since its inception a decade ago.
The announcement of sponsors and international balloonists was revealed today at a press launch event at Dewan Seri Siantan, Putrajaya Corporation Complex. This year's announcement was made exciting with the event hosted in a balloon igloo and tethered balloon ride for media representatives.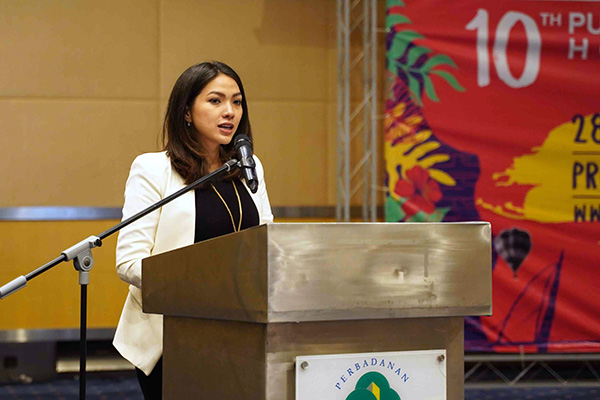 Mohammad Sobri Saad, Chairman of the Fiesta said that he was happy to see the young generation enjoying hot air balloons as he did when he first started too. Sobri is one of the first hot air balloon pilots in Malaysia. The 10th Putrajaya International Hot Air Balloon Fiesta is one of the main tourism events listed in Perbadanan Putrajaya's Calendar of Events.
Also present during the official launch is YBhg Datuk Dr Aminuddin Hassim, President of Putrajaya Corporation. "It's my first time being part of the Fiesta and I am over the moon. I would like to welcome visitors from all around the world to this city – and the balloon fiesta is a great vehicle to showcase Putrajaya as a tourist destination, not just an administrative capital."
The launch unveiled 20 balloons from fourteen countries including Spain, Slovakia, Brazil, Australia, Japan, Belgium, USA, United Kingdom, South Korea and many others. Seven special shape balloons will be making an appearance this year. Robot Woozi by Ricardo Almeida, Pink Gnome by Jordi Diaz, Bruno the Clown by Lubor Lelovits, Pink Elephant by Peter Van Overwalle, Tako the Octopus by Koji Ota, Happy Chan by Mamoru Endo and the Black Bear by Chiu Da Hi.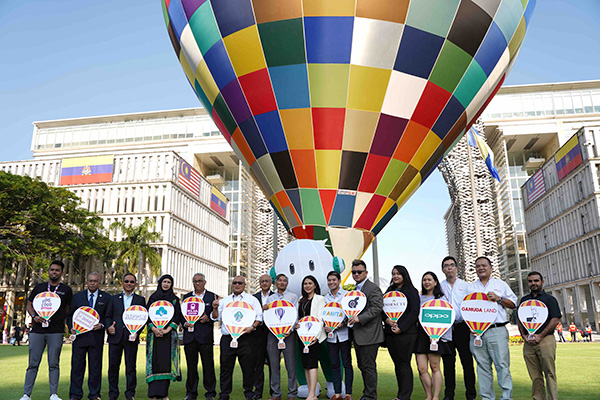 Committed to make this year's Fiesta happen are esteemed sponsors Oppo Malaysia (as Official Smartphone Partner), Gamuda Land Sdn Bhd (as Official Partner), Dorsett Putrajaya Hotel (Official Hotel), D'Tandoor Food Ind. Sdn Bhd and Doof The World Sdn Bhd (as Exclusive Partners), Rakita, Aforadio Marketing Sdn Bhd and Ripple (as Media Partners), Love Food Festival, Biji Biji Design Sdn Bhd and Express Rail Link Sdn Bhd (as Supporting Partners).
An exciting addition to this year's Fiesta is the balloon igloo, an initiative by a Spanish artist Jordi Enrique who recycles old hot air balloons into an igloo like structure that will showcase a light and motion show during the weekend at the Pink Zone from 7PM – 10PM.
Every morning from 7am to 9am over the four days of the fiesta, balloonists will participate in a competitive ballooning competition, vying for "Rudy's Trophy", a special trophy which has been named after the late-fiesta chairman and co-founder, Captain Khairudin Abd Rani. For the competition, one pre-determined balloon, known as the "hare" will take off first. The other participating balloons, known as the "hounds", will launch at pre-determined intervals after the hare. The hare balloon then lands at a suitable site and lays out a large piece of fabric at the landing spot. The hound balloons then attempt to drop their markers as close to the centre of the fabric as possible. The closest marker achieves the highest score.
In addition to watching these balloonists in action, visitors to the fiesta over the four days can look forward to a myriad of activities which will be made available to the public. They include MyBalloonClub which features an exclusive tethered hot air balloon ride, Launching Field Access and Night Glow Access, a chance for visitors to get closer with the balloons, Balloon and Breakfast that offers private area for visitors to enjoy their scrumptious breakfast while balloons fly over them, fun activities, an F&B bazaar as well as a corporate zone from the Fiesta's sponsors.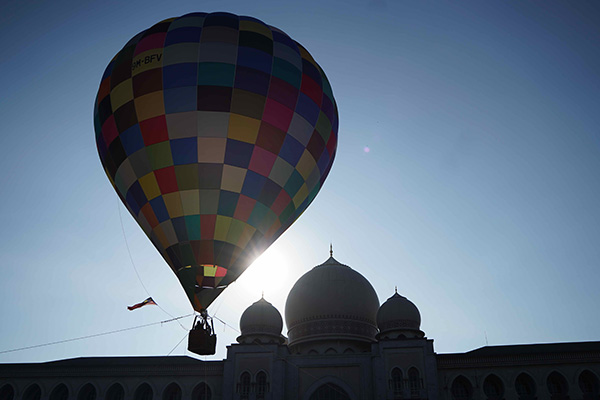 The 10th Putrajaya International Hot Air Balloon Fiesta 2019 will also see the return of the widely-talked about and highly anticipated "night glow", where the balloons light up in a synchronised manner to the sounds of music, culminating in a fireworks display during the weekend.
The opportunity to experience a free-flying hot air balloon ride during the Fiesta will be made available by MyBalloonAdventure.com. Tickets can be purchased beforehand at www.myballoonadventure.com.
Event's admission is free. Visitors who wish to find out more about the fiesta can log on to the official website at www.myballoonfiesta.com. Interested visitors are also encouraged to follow their official facebook page, Putrajaya International Hot Air Balloon Fiesta as well as their Instagram account, @myballoonfiesta #myballoonfiesta.
MyBalloonFiesta returns to Putrajaya for the 10th Year