aquariaKLCC will be making history in Malaysia's Book Of Records for the 6th time with Malaysia's very first Underwater Magic Show! Visitors at our Aquatheatre will witness the magic happen and have an opportunity to participate and interact with our mysterious magicians. The 15- minute show will feature 5 mind-blowing acts and is brought to you by The MADgicians, a team of top-notch Malaysian magicians! The spectacular show will make its debut to the public on Christmas Day (25th December) with encore performances on 29th & 30th December 2018.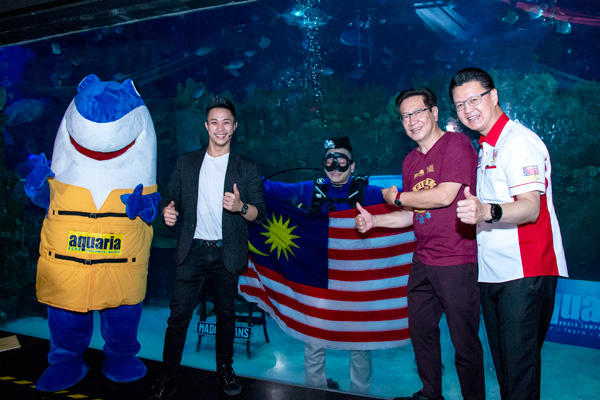 This newest achievement will add to our five existing Malaysian Book of Records achievements for 1st Live Underwater TV Broadcast with TV3 and 1st Live Underwater Radio Broadcast with FlyFM in 2006, 1st Underwater Board Meeting held in 2011, Biggest Stingray in Captivity in 2014 and Longest Jalur Gemilang in an Underwater Aquarium in 2017.
Have an Enchanted Christmas In line with Aquaria KLCC's Enchanted Christmas theme, visitors will get to wonder through Aquaria KLCC and be mesmerized by our amazing salt & freshwater animal species amidst the enchanting Christmas decorations. Keep a lookout for the MADgicians team who will be doing Magic Walkabouts, with visitors able to watch the magic unfold right before their very eyes! The Magic Walkabout will take place around Aquaria KLCC for 3 days only so be sure you don't miss it!
Back by popular demand, our iconic Underwater Santa will make his appearance during our feeding frenzy! Santa will appear alongside his marine friends including Kismet the Green Sea Turtle, Daryl the Blotched Fantail Ray and many more! Don't forget to whip out your camera for that instaworthy selfie!
There is so much happening, after all, it is truly the most wonderful time of the year to visit Aquaria KLCC! Have a Holly, JAW-lly Christmas!
For more information, visit www.aquariaklcc.com.