Sharp Electronics (Malaysia) Sdn Bhd (SEM) today launched its new product range for the coming year and reaffirmed the company's focus on technology and innovation in line with its consistent brand direction.
As a prominent player in the consumer electrical industry, Sharp has been a major innovator in the LED TV technology, particularly in the 8K segment. However, Sharp's direction in this segment goes beyond TV panel as it works to create and develop an 8K ecosystem through partnerships with related parties to build up a series of value chain in 8K solution. This strategy will see Sharp's imprint in various fields, particularly in industrial, security, medical, education, entertainment and broadcasting.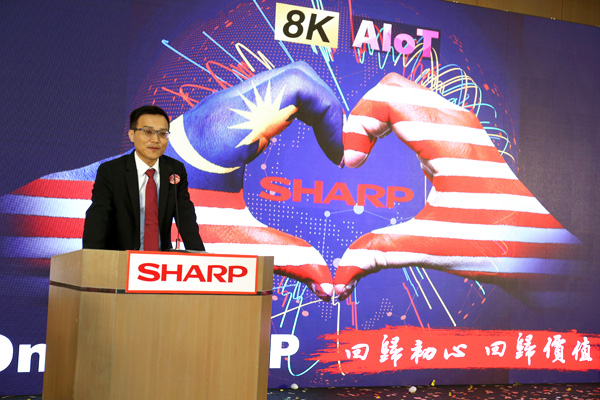 Sharp also announced its plan to expand its Artificial Intelligence and Internet of Things (termed as AIoT by Sharp) offering. Riding on big data application, Sharp intends to create an AIoT ecosystem with focus on bringing in products, services and platforms that are truly people oriented, connecting homes and social systems. Sharp currently offers IoT-applicable flagship models for air conditioners and air purifiers and further expansion will see it launching small and beauty appliances in the near future.
"Fuelled by our DNA of Sincerity and Creativity, we will always forge ahead to create unique, first of its kind products that will contribute towards the improvement of human living and the advancement of society as a whole, in line with our brand value proposition of Be Original," said Mr. Robert Wu, the Managing Director of Sharp Electronics (Malaysia) Sdn. Bhd.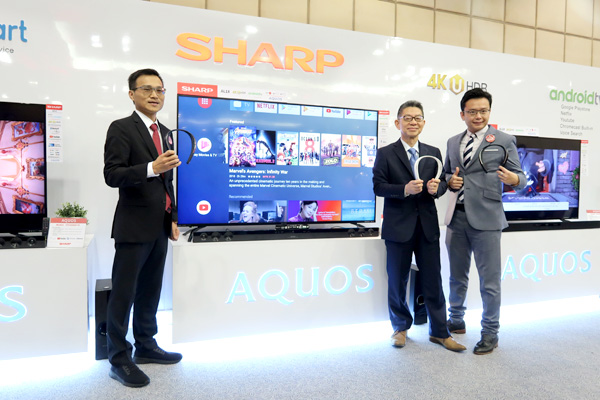 Through R&D, merger and acquisition, talent cultivation with an understanding of globalization and driven by the spirit of always challenging to be the best, Sharp is now moving as one towards our direction of creating and growing an 8K ecosystem as well as creating appliances that feature artificial intelligence and internet of things (AIoT)," he further added.
One of the major highlights of Sharp's new line-up for 2019 are 7 new AQUOS 4K UHDR models which features Real Contrast, Real Detail and Real Colour technology. There are 2 series launched – the AL1X series operating on Android TV platform which offers the widest range of apps available from Google Play and the AH1X Easy Smart series.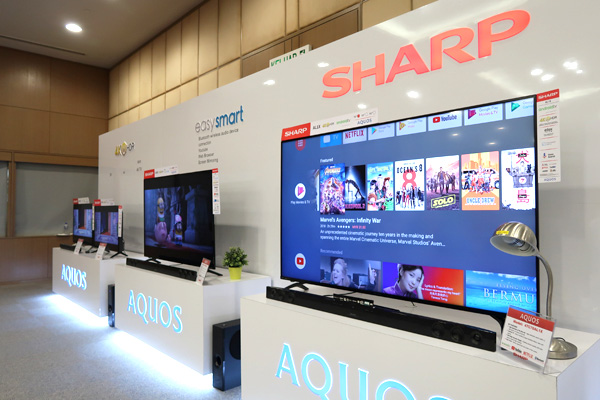 Both series come with Dolby Audio but the AL1X series also features superb audio experience using Eilex PRISM technology, which utilizes data from the entire frontal space of the TV to produce the perfect sound. The AL1X series are available in 3 sizes – 70", 60" and 50".
For the AH1X series, which comes in 70", 60", 50" and 40", its Advanced Audio Distribution Profile (A2DP) enables stereo streaming directly to Bluetooth compatible devices. This series is the World's First Azan TV with its unique feature that allows easily set reminder on prayer time for Muslims based on the prayer time zones provided by Department of Islamic Development Malaysia (JAKIM).
Meanwhile, under Sharp's COCORO+, essentially a cross product AIoT platform, which analyses big data to determine the usage pattern to provide proactive service, Sharp unveiled its FPJ80L air purifier model with IoT function. Unlike most air purifiers which rely only on indoor air quality to determine operation mode, an internet connected IoT air purifier will also consider outdoor condition to determine optimal operation mode, predict useful life span of the filter, and recommend timely cleaning or replacement of the filter to maintain the best result.
Besides these two product categories, Sharp also announced the expansion of its 4-door and Side-by-Side refrigerator range to further strengthen its presence in this segment. Other products launched were the Ractive vacuum cleaner, the Healsio water oven and Healsio vacuum blender as well as the Plamacluster hair dryer and Plasmacluster hair iron brush.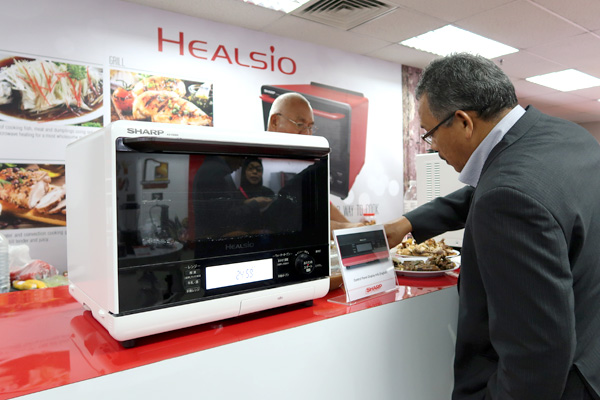 During the launch, Sharp also invited the media to visit its R&D test lab for a demonstration of the rigorous tests that its products, especially the Made-in-Malaysia Sharp products are put through to ensure they fulfil Sharp's high quality standards.
Meanwhile, in the spirit of "My Malaysia, My Sharp", Sharp also took the opportunity to hand over its contributions to selected charities as part of its Corporate Social Responsibility program to support the local community. The 3 deserving charities were the House of Victory charity home, Joy Garden old folks home and Cheras home for special people.
Besides SEM's Managing Director, Mr. Robert Wu, the launch was also attended by Mr. Yoshihiro Hashimoto, Executive Managing Officer, Head of President's Office, Sharp Corporation, Mr. Ting Yang Chung, the Deputy Managing Director of SEM, Mr. SM Tok, the General Manager of Consumer Electrical Division and Mr. SG Lau, the General Manager of Product Marketing Division.