Razer, the leading global lifestyle brand for gamers, today announced that the official Razer Game Store will launch on Lazada Malaysia and Lazada Philippines on November 11, just in time for the 11.11 shopping festival.
With this expansion, the Razer Game Store on Lazada is now available in a total of four Southeast Asian markets – Singapore, Thailand, Malaysia, and the Philippines – bringing unprecedented convenience and ease of access to 65.1 million gamers in the four countries.
In addition to regular launch promotions, the Razer Game Store on Lazada will celebrate 11.11 with exclusive discounts off the popular game titles of up to 90 percent, including the latest blockbuster titles like Assassin's Creed Odyssey. Well-loved titles like Cities: Skyline, Far Cry 5, and Cuphead will also see massive price cuts.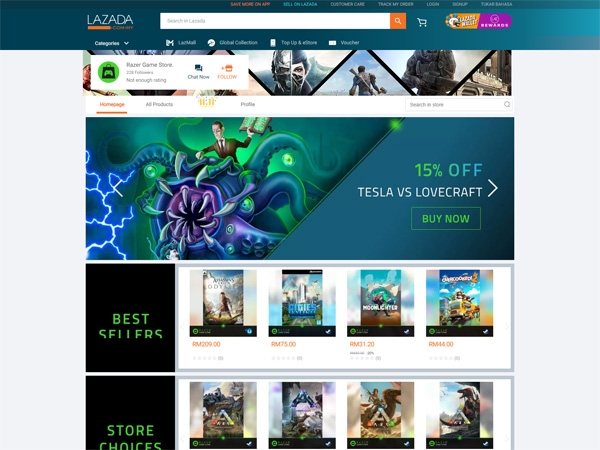 Plus, Razer Game Store promotions will leverage fresh new shopping mechanics pioneered by Lazada, such as Surprise Boxes, Mega Flash Sales, and "Slash It" gamification experiences.
"11.11 is the largest online shopping phenomenon in Southeast Asia, and the perfect time for Razer Game Store to fulfil its promise of expanding our digital offerings to even more gamers in the region," said Matthias Castell, Director, Digital Store, Razer. "Our close relationship with game publishers and Lazada's leading e-commerce capabilities allowed us to bring great and exclusive deals to gamers in Singapore and Thailand, and we're incredibly excited to extend this to our fans in Malaysia and the Philippines as well."
Razer Game Store is an exclusive source of great PC games on Lazada, providing fans with the ease of buying digital games in their local currency and through local payment methods that they're already familiar with.
Lazada shoppers in the Philippines, for example, can enjoy credit card instalments serviced by BDO Unibank, the largest bank in the country, or Gcash, a mobile wallet offered by Globe Telecom. Likewise, shoppers in Malaysia may choose to pay for their online purchases physically at 7-Eleven stores around the country, or via instalment plans serviced by Maybank.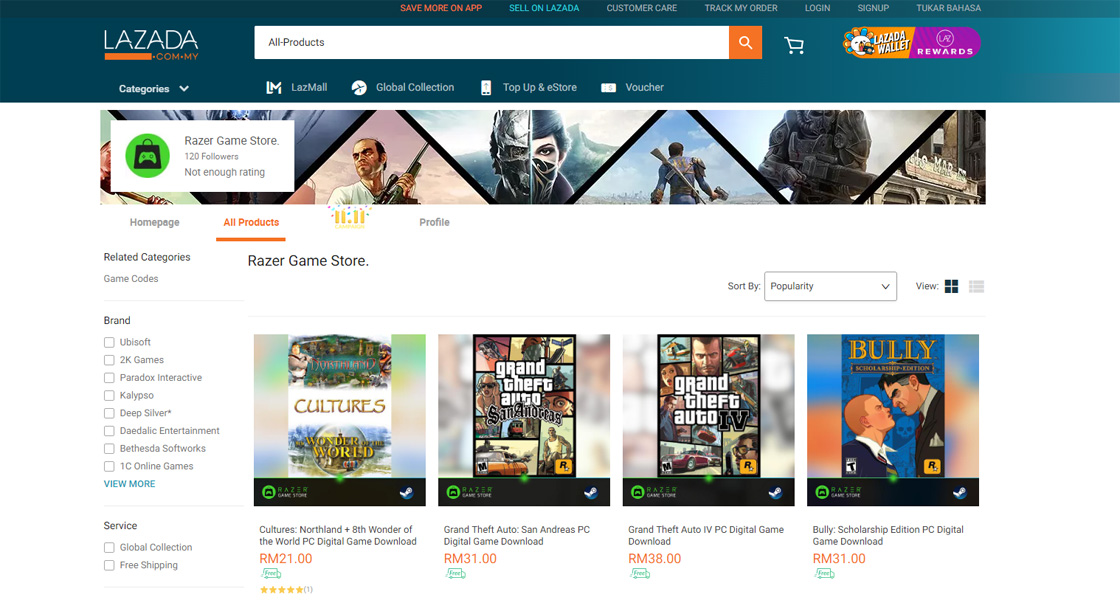 These local pricings and payment methods make it seamless for gamers in Malaysia and the Philippines to access and buy the latest and greatest PC games without having to deal with complicated exchange rates or uncertainty in the authenticity of purchases.
Razer and Lazada are committed to ensuring that all games sold on the store are authentic and fully licensed, working with some of the biggest names in gaming such as Ubisoft, Bethesda, Deep Silver, 2K and Rockstar.
For more details, please visit: Razer Game Store on Lazada Malaysia and Razer Game Store on Lazada Philippines.