Catering to consumer behavioral change in their entertainment preferences, ViewSonic Corp., a leading global provider of visual solution products, showcases their latest invention, the M1 ultra-portable LED projector with built-in dual harman/kardon® speakers. With mobility and convenience being one of the key features of the iF Product Design Award-winning ViewSonic M1 ultra-portable LED projector, it allows users to experience entertainment at any space and location.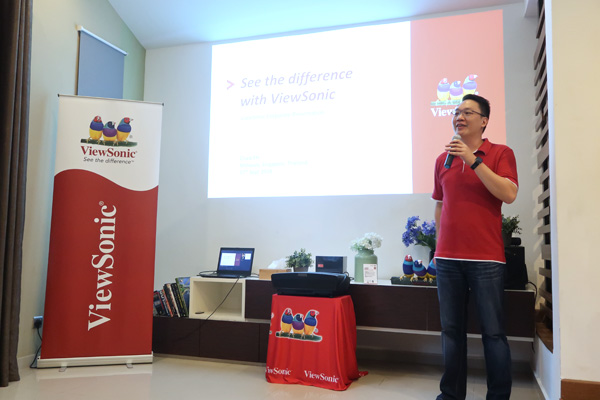 "With the M1 ultra-portable projector, ViewSonic aims to share the perfect entertainment companion at home and on the go for our customers," said Chaw Foo Hong, Country Manager of ViewSonic Malaysia. "We see that due to the shift in technology where everything is going mobile, consumers are seeking for a convenient and versatile method to still enjoy high quality entertainment even at home. Home entertainment should still be at the same level of enjoyment as in a professional dark room, and with the M1, ViewSonic aims to deliver great picture and sound."
"In addition to that, we are seeing more 4K UHD entertainment being produced than ever before in the form of TV, movies, and streams. Hence the launch of our new 4K UHD projector has been designed for the most demanding users who want to incorporate all that 4K content and into their big screen experience. Our customer will be able to get a perfect model for their living room at a very accessible price without worrying the environment lighting, giving them an excellent opportunity to upgrade their home entertainment experience."
ViewSonic M1: The Perfect Entertainment Companion
For entertainment on-the-go, the ViewSonic M1 performs confidently with a built-in battery that provides up to six hours* of power, 16GB of built-in memory, and LED technology that offers up to 30,000* hours of usage. The portability of the ViewSonic M1 Projector creates a flexible viewing experience for the individual and family.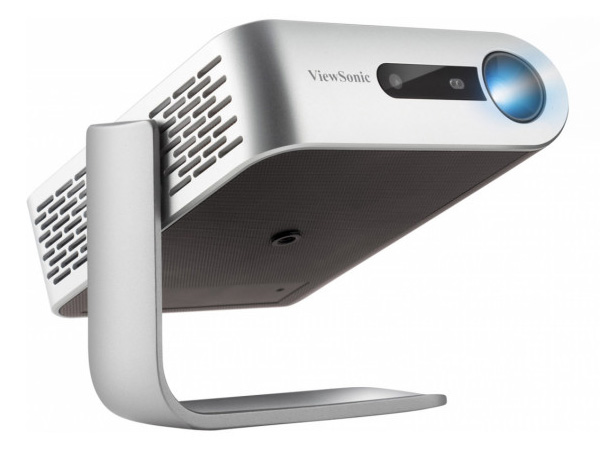 Featuring 250 lumens of brightness, the M1 projector is engineered with a 120,000:1 contrast ratio, as well as a short-throw lens that can display large images in small spaces. An integrated smart stand provides for simple 360-degree setup, allowing users to project their content to a big empty wall or even watch their favorite movies projected up to the ceiling. Doubling as a lens cover, the M1 automatically powers on with full brightness for instant use once the lens is uncovered. A built-in safety feature temporarily turns off the lens when objects are detected too close to the projector. Users can also comfortably enjoy perfectly proportioned images at every angle every time via the auto keystone feature that corrects images projected by the M1.
Dual harman/kardon® Speakers
Be immersed with an all-round audio experience with the integrated dual harman/kardon® speakers which deliver deep, loud, 360-degree room filling sound perfect for music and movies at home, or on the go. With a touch of a button, the M1 instantly transforms into a harman/kardon® speaker, ready to play any audio users choose with the highest quality.
Versatile Connectivity for Plug & Play
The M1 also allows versatile connectivity options for easy sharing and displaying videos and other multimedia content with the built in MicroSD card slot, USB 2.0 and USB Type-C, Audio Out and HDMI. The M1's USB Type-C connection allows users to stream videos, facetime and project content directly from their phone or tablet, anywhere they go. Gaming sessions are made more enjoyable as users can connect their gaming and project it onto a bigger screen. 16GB of onboard memory also allows users to save their favourite content directly onto the projector itself making entertainment on the go more convenient.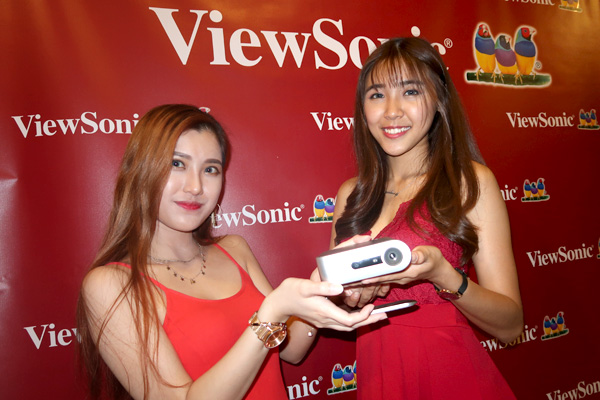 ViewSonic New 4K UHD Projector: Stunning Home Projector System
Introducing the world's first** high brightness DLP 4K Ultra HD home projector with the ViewSonic PX747-4K. Designed for the most demanding users who want to incorporate 4K content into their big screen experience, the latest addition to the company's award-winning line of home entertainment and multimedia projection solutions delivers stunning 4K Ultra HD (3840×2160) resolution at a brightness level of 3500 lumens. Users will be able to get the a perfect model for their living room at a very accessible price without worrying the environment lighting, giving them an excellent opportunity to upgrade their home entertainment experience.
Utilizing the latest XPR technology to display a jaw dropping 8.3 million pixels onto the display surface, the ViewSonic® PX747-4K delivers enhanced clarity and increased details that comes along with a resolution four times that of Full HD. For entertainment spaces with high ambient lighting, the PX747-4K comes equipped with 3500 ANSI Lumens which allows for clear, detailed images and no need to turn off the light. To take the movie theatre experience one step further, ViewSonic has incorporated Academy Award®-winning TI DLP® DMD display technology, which is the same technology used in 90% of the world's movie theaters for digital projection, ensuring that the PX747-4K produces accurate, and long lasting color with high native contrast ratios.
PX747-4K also comes with dual HDMI ports and HDCP2.2 support making it compatible with home entertainment devices such as 4K Blu-ray players and PS4 Pros can. Dongles such as Google Chromecast and other TV sticks can be connected directly through the projectors' USB ports for streaming media content directly to the big screen and also acts as a power supply for wireless devices, eliminating the need for any external power connection.
The M1 and PX747-4K is available now at RM1,349 and RM5,999 respectively on their official Lazada and 11Street stores as well as authorized distributors.
For further news and information about ViewSonic, visit ViewSonic.com/my.