Canon Marketing (Malaysia) Sdn. Bhd. introduced the Océ Colorado 1640, the first 64-inch roll-to-roll large format printer which enables customers in Malaysia to benefit from its revolutionary new Canon UVgel technology that provides significant enhancements in cost savings, quality and speed while providing greater media versatility.
Offering an unparalleled breakthrough in digital large-format printing, print service providers will gain a competitive edge with the Océ Colorado 1640 through greater profitability and cost savings. The Océ Colorado 1640 has been engineered to meet the peak production requirements of businesses of all sizes, to deliver high quality prints with quicker turnaround times, without compromising on efficiency and reliability. The new printer offers lower cost of operation, automated maintenance and ability to print on a wide range of media.
The increasing demand for diversified printing needs including shorter turnaround times and production of a broader range of applications within the commercial print segment has spurred the shift to digital printing with the exceptional flexibility and customisation it offers.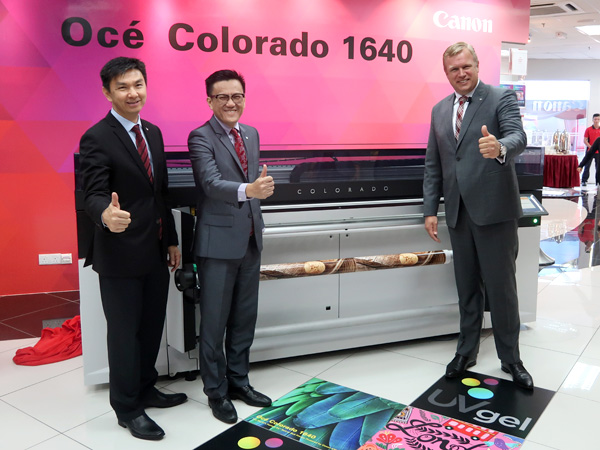 Andrew Koh, President and Chief Executive Officer of Canon Marketing Malaysia said, "As a leader in digital imaging solutions, Canon is aware of the demands within the commercial printer segment for imaging technology that produces faster, more flexible output, while maintaining superior quality.
"Our Canon UVgel technology is a game changer in large format printing that is redefining the boundaries of commercial printing production. The Océ Colorado 1640, built on our UVgel technology, is testament to Canon's culture of innovation; we remain committed to providing effective solutions to help customers improve their business productivity and realise new revenue opportunities."
Canon's Océ Colorado 1640 with its breakthrough UVgel technology produces precise, durable prints for both indoor and outdoor use, offers a large colour gamut, is odourless and is environmentally safe. Customers can enjoy superior quality applications including posters, banners, vehicle graphics, billboard prints, backlit, window graphics, decals and wall coverings.
Prints with UVgel ink dry instantly upon LED curing, not requiring an evaporative drying process. Based on the instant dry and cure process, the Canon UV gel print is suitable for immediate post-processing and lamination, further improving end-to-end productivity. At 159 m2 per hour, the Océ Colorado 1640 is the fastest 64" roll-to-roll printer in the world – its speed and automation facilitates productivity and convenience during production without sacrificing quality.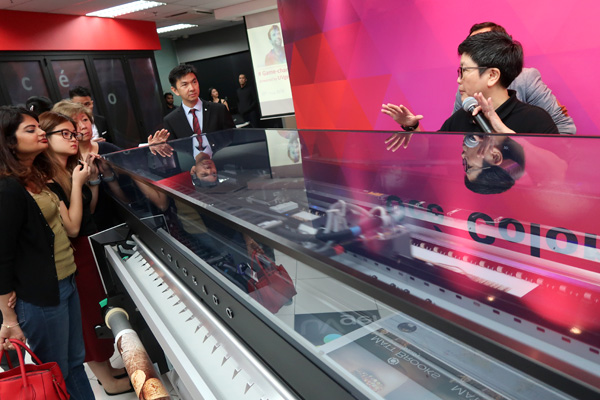 "The Océ Colorado 1640 with its Canon UVgel technology allows for a reduced operational cost with up to 40 percent less ink usage and almost a third less in manpower costs thanks to the automation built in the printer which allows print service providers to be more competitive," said Albert Mah, head of the Professional Printing Products Division at Canon Marketing Malaysia.
Mah explained that Canon's digital print technology is designed to support print service providers for speedier, versatile and hassle-free printing capabilities. "The new printer overcomes the limitations of current offerings by striking an optimal balance of quality, productivity and automation. The improved application range provides graphic producers the opportunity to reduce operating costs, while extending their capabilities and improving return on investments."
Canon Marketing Malaysia also recently introduced the Océ VarioPrint 6000 TITAN series, a range of cut-sheet monochrome production presses. The printer, a workhorse on the production floor is designed for high volume printing of up to 328 images per minute and 10 million impressions per month. It can handle a 24,000-sheet paper input and 18,000-sheet output capacity and run uninterrupted for four hours. The printer features a host of technologies that allows dual side printing with almost near-perfect registration, reduced paper distortion offering a matte output and sharp (180 lpi) nuanced images with up to 237 shades of grey. Print service providers will enjoy a wider range of applications and the printer can print on lightweight 45 gsm stock.
"The Océ VarioPrint 6000 TITAN series is ideal for the most demanding monochrome production jobs – its significant speed, reliability and uptime produces high volumes efficiently with enhanced print quality and media versatility. The printer also improves sustainability with a 30 per cent lower overall energy consumption compared to competitors, close to zero ozone emissions, lower heat and lower noise output for a better working environment*," said Mah.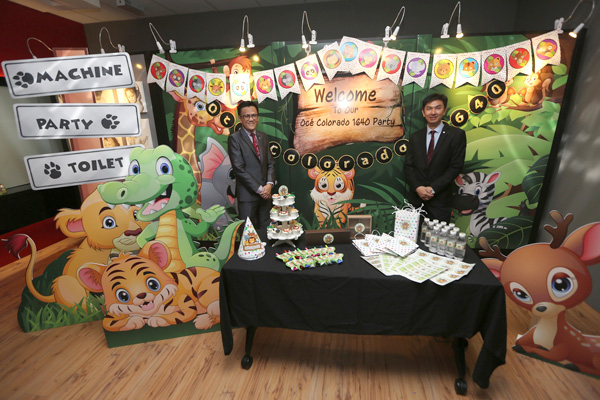 The introduction of the Océ Colorado 1640 and VarioPrint 6000 TITAN series are part of Canon's Professional Printing Products line-up that feature end-to-end solutions for commercial printers to navigate the complexities and high demand of production printing.
For more information, visit my.canon, or follow the Official Facebook page at www.fb.com/CanonMalaysia.