Taiwan Excellence is the mark of quality for some of the best products coming out of Taiwan and is participating in this year's premium architecture exhibition, ARCHIDEX, from 4th to 7th of July. 25 Taiwanese manufacturers across different industries brought a total of 66 high quality smart home and city solutions to Malaysia to explore business opportunities.
Taiwan Excellence is Taiwan's official certification for products that have met and exceeded stringent standards in their research & development (R&D), designs, quality, marketing and other aspects of innovation and creativity. The symbol has been around for 26 years and products are carefully selected each year to bear this mark of excellence. The products to be showcased in this year's Taiwan Excellence Pavilion will centre on smart solutions for building, office and homes. Equipment such as Buder's three temperature water dispensers Amobile – the world's first integrated thermal imaging and Push-to-Talk Mobile Inspection Assistant, and Caesar hydropower Sensor Faucet are some of the cutting edge smart living solutions to be revealed.
His Excellency James Chang Chi-ping, Representative of Taipei Economic and Cultural Office in Malaysia stressed the importance of getting on board the smart living solution train in this interconnected era. Taiwan is a world leader in the global communication industry and is ready to share its high quality products and solutions with the world. Chang hopes that Malaysian companies can gain further understanding of Taiwan's innovation and its value through the exhibition.
According to Datuk Matthew Tee Kai Woon, President of International Federation of Asian and Western Pacific Contractors' Associations, the government of Malaysia is actively looking to develop smart cities as well as expanding the uses of smart technologies within the country. The desire to develop smart homes has been around for years and some minor inroads have been made, but more needs to be done for the technology to truly take off. Foo is confident that Taiwan's highly developed innovative products and solutions will provide the perfect synergy for Malaysia to grow in this segment and accelerate the country's progress.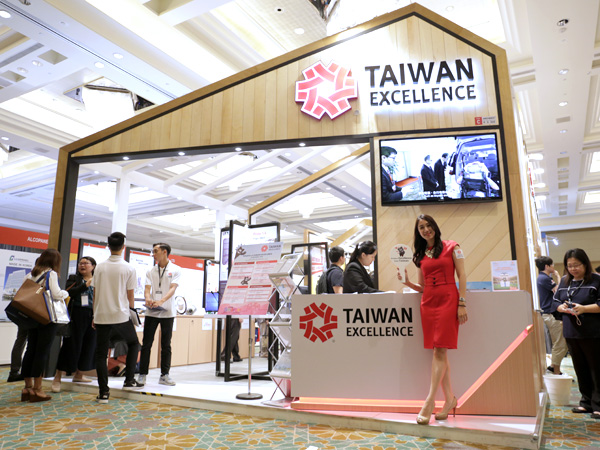 Capturing Imagination with Innovative Smart Living
To better facilitate Malaysian companies' understanding of Taiwanese smart technologies, the Taiwan Excellence Pavilion organized a forum titled "Smart Living with Taiwan Excellence" on the 5th of July. Speakers from four leading smart technology brands from Taiwan, including the world famous D-Link, TUMA, Ardomus and SoftChef shared their expertise, insights as well as the future of smart living solutions.
The forum attracted many representatives from public works department, real estate developers, building systems contractors and institutes of higher learning as they gathered to learn about the latest developments in the market. According to a participating building system contractor, although Malaysia has put forth plans to develop smart technologies and the internet-of-things, many of these value-added services are still in its infancy. On the other hand, Taiwan is a leader in these technologies with a highly matured industry, making it the ideal partner for Malaysia's own development.
Taiwan Excellence Lends an Eye to Enforcers
During the "Taiwan Excellence, Malaysian Guardian" press conference held on the afternoon of the 5th of July, Malaysian supermodel Amber Chia acted in a short skit that features some of the smart living products in everyday use, such as the water purification system, smartphone connected lighting controls, and magic suction hooks.
James Chang also witnessed the presentation of 18 units of body cameras by Transcend to the Federal Territory of Putrajaya. The Wi-Fi enabled cameras provide monitoring for officers on duty and serve as evidence against any disputes that may arise in the course of duty. Chang added that the use of Taiwan Excellence products in Malaysia's administrative capital of Putrajaya represents a great start to future working relationships.
Putrajaya Corporation (PPj) Town Services Vice-president Datuk Azizi Ahmad Termizi represented the city to receive the cameras and personally tried the functions of the cameras and was highly impressed by their functions. He believes that the wearable cameras designed for enforcement officers will be invaluable in recording the events, reducing conflicts and ultimately protecting all stakeholders.
ARCHIDEX has entered its 19th installment this year and is the largest and most influential architecture and building material exhibition in Malaysia as well as the region. Exhibitors from twelve countries and regions including the US, Switzerland, Austria, South Korea and Taiwan participated in the four-day exhibition which attracted some 36,500 visitors. Taiwan Excellence Pavilion is located in Hall 9 in the grand ballroom of the Mandarin Oriental Hotel KL.