United Overseas Bank (Malaysia) Bhd (UOB Malaysia) and leading business software provider, SAP, today announced a tie-up to offer UOB SmartBusiness to the Bank's small-and medium-sized enterprise (SME) customers. The tie-up marks the first time SAP is offering its enterprise software, SAP Business One®, to Malaysian SMEs through a bank.
UOB SmartBusiness is a cloud-based integrated digital business solution designed to help SMEs make cost savings and improve their operating efficiency. It enables SMEs to streamline and to digitise their back office processes such as accounting, payroll, and business management through a secure and integrated digital solution. SMEs can also link their UOB SmartBusiness account to their UOB current account, thereby enabling an automated bank reconciliation process through the matching of transactions to sales invoices or bill payments.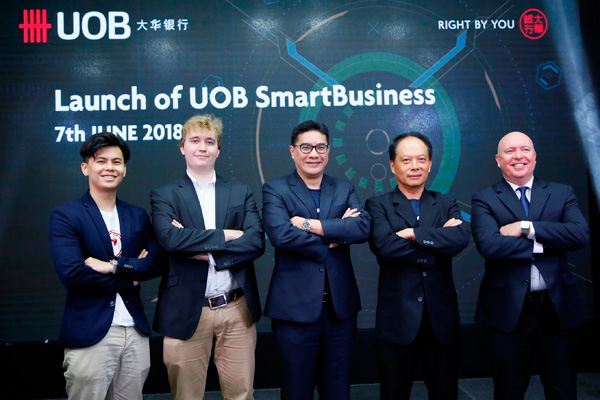 SMEs can choose from three options, depending on the functionalities they require and the number of employees in the organisation. The most basic package will be complimentary for UOB Malaysia's Business Banking customers.
Mr Raymond Chui, Executive Director and Country Head of Business Banking, UOB Malaysia, said, "As SMEs progress through different growth stages, managing a larger and more complex business poses new challenges. To help our SME customers improve their operational efficiency as they grow, UOB Malaysia is working with SAP to provide SMEs a scalable and affordable digital solution that will save them time and money."
SAP, a market leader in enterprise application software, is tying up with UOB Malaysia in light of both organisations' common goal to help Malaysian SMEs harness technology to help them progress and raise productivity levels.
Mr Brad Gray, Head of General Business for Southeast Asia, SAP, said that with SMEs making up more than 98 per cent of business establishments in Malaysia, this community is indeed the cornerstone of the Malaysian economy.
"SMEs can 'up their game' further by digitising their core business processes to help them achieve success with instant access to information and streamline everything from finance to talent management. UOB SmartBusiness can help SME business owners make the transition to digital and take away the hassle of managing complicated operational tasks manually, empowering them to focus on their core business models and driving business outcomes," Mr Gray said.
Other collaborators on UOB SmartBusiness include human resources software provider, HReasily and mobile business software provider, Enterpryze.
More than half of Malaysia's SMEs want to go digital
In a recent survey conducted by UOB, EY and Dun & Bradstreet titled ASEAN SME Transformation Survey, almost seven out of 10 Malaysian SMEs thought automating and digitising their business processes was the best way to raise productivity levels and to reduce overall operating costs in the long run.
When asked to rank on a scale of one (not important) to five (very important) the most effective methods to manage costs, 69 per cent of the Malaysian SMEs surveyed said that raising productivity through automation, greater use of technology and business process simplification would be important or very important to driving productivity.
"From the ASEAN SME Transformation Survey, we know that managing costs while raising productivity is a challenge and a concern for SMEs in Malaysia. While SMEs are keen to reap the benefits of digital technology, it can be costly to implement such technology. To help SMEs overcome this challenge, UOB Malaysia is committed to building small business solutions that will help prepare businesses for the digital age and enable them to progress through different stages of growth more effectively," Mr Chui said.
In line with their focus on harnessing technology to help drive performance, 65 per cent of companies surveyed said they intend to invest in technology infrastructure, while 71 per cent indicated that they would welcome funding assistance to help them adopt digital technology faster. Of the companies surveyed, 77 per cent said they would invest in strengthening their Information, Communications and Technology hardware and network systems while 78 per cent said they would invest in digital marketing and mobile application solutions to help deliver strong business performance.
To encourage more small businesses to digitalise, UOB is launching the Tech My Biz competition on 11 June 2018. Through the competition, three small businesses from Malaysia, Singapore and Thailand will win a two-year subscription to UOB SmartBusiness and other digital solutions from the SAP Business One® suite, on-site implementation support and employee training. To join the competition, small businesses will have to complete an online entry form, which is available at www.UOBgroup.com/techmybiz, and share the reasons why they need a digital business transformation.
To find out more about UOB SmartBusiness, customers can visit uob.my/sb or their nearest UOB Malaysia branch.